Last we spoke with winemaker Holly Turner of Three Rivers Winery in Walla Walla, Washington, she had some big news to share. That news was about her brand new label—Headturner Wine Co. Today, we catch up with Holly and dive deep into the two new releases under her Headturner label.
Holly is an Oregon native and longtime Washington winemaker who worked at Chateau Ste. Michelle and in 2019 was named Wine Business Monthly's Winemaker of the Month.
When she's not out foraging or cruising around Walla Walla in a '61 pink Cadillac, she's making some pretty stellar wines. We know that FFWS fans are going to love Headturner, so read all about it and get ready to stock up.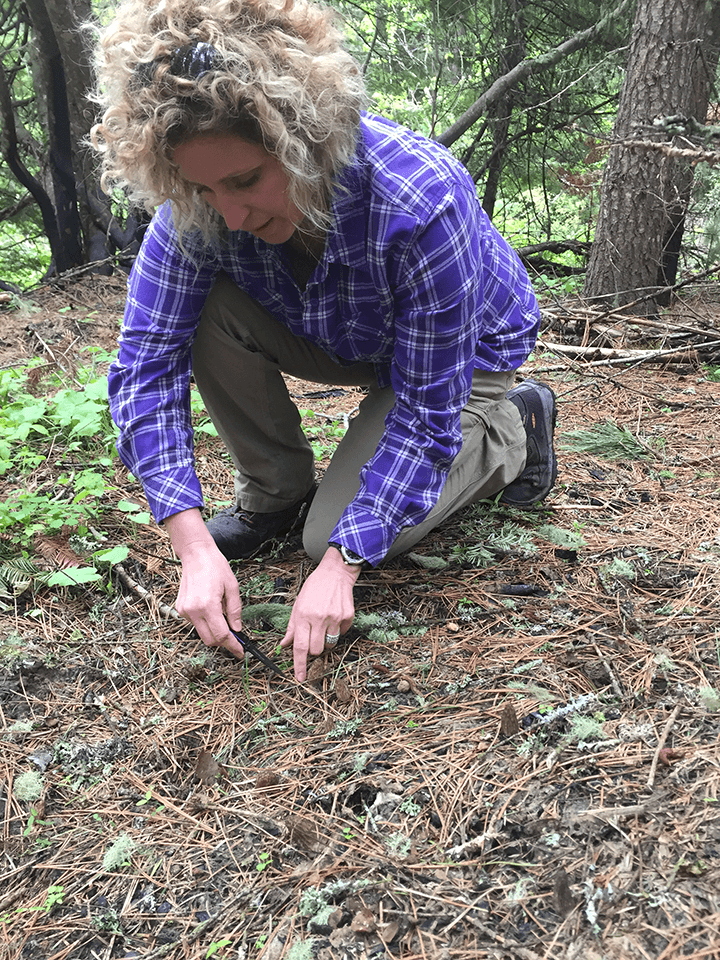 Headturner Wine Co winemaker Holly Turner foraging for Morels.
FFWS: First, let's dive into the name and the brand identity. Why the name Headturner? And why Washington state vineyards?
HT: Our initial goal was to create a brand that was focused not just on me but my curly hairdo too; it's kind of hard to miss. As we were batting around possible brand names HEADTURNER became the clear winner. It's a play on my name, hair, and really says something about the stunning wines we're producing, they are definitely Headturners! I've been part of the Washington wine industry for over 20 years, I love this place and am so excited to showcase the vineyards and AVAs from this land I've grown with.
FFWS: You make two wines under this label, currently. There is Horse Heaven Hills "Flyaway" Chardonnay and Red Mountain "The Nerve" Cabernet Sauvignon. First, tell us about these proprietary names and what the meaning is behind them. Second, talk style and what you're going for on this red and white.
HT: We wanted to give these wines more identity and make them part of the story; it's not just about me, it's the wine that has a personality too. "Flyaway" represents my freedom of expression, the wind whipped Horse Heaven Hills, and what that does to my hair of course. "Flyaway" gives me the feeling of kicking up my feet and enjoying life, who wouldn't love a glass of Flyaway Chardonnay? Stylistically, I'm making this wine to be complex, mouthfilling, balanced, and intriguing. Barrel fermentation, sur lie aging, malolactic fermentation are all contributors to this classic style.
"The Nerve" evokes a different kind of feeling. We chose "The Nerve" as it represents this arid desolate landscape of Red Mountain where the first pioneers who planted the first grapes, definitely showed grit, passion, and a lot of Nerve. As a pioneering female winemaker in the Washington wine landscape, the same is true for me, it takes a lot of Nerve to compete in the boys club of winemaking. Cabernet Sauvignon from Red Mountain is full of character, richness, and depth. I'm trying to evoke all of the classic nuances that Red Mountain Cab is known for; dusty tannins, concentration, and some new barrels to tame the beast.
[Editor's Note: As of early December 2020, the Chardonnay is available for purchase and the Cabernet is coming online soon! Keep checking back in!]
FFWS: "Flyaway" is from Destiny Ridge Vineyard in the Horse Heaven Hills AVA. Why does Chardonnay grow well in this vineyard? What's special about this site?
HT: I worked in the Horse Heaven Hills, (actually it was not an AVA until 2005) in the 1990s. I have a great appreciation for the landscape and have seen first-hand the complexities it brings. The Chardonnay from Destiny Ridge Vineyard is later ripening allowing for a nice acid balance that allows for secondary fermentation to fill out the palate. The vineyard's location is up on a bluff overlooking the mighty Columbia River which has a huge influencing factor for this site. The river helps to moderate the temperatures and produces pressure differentials that produce significant winds. This all influences the time on the vine, minerality, and balance of this beautiful Chardonnay.
FFWS: "The Nerve" is from Artz Vineyard in the Red Mountain AVA. Why does Cabernet Sauvignon grow well in this vineyard? What's special about this site?
HT: I've sourced fruit on and off of Red Mountain for years and the transformation of this AVA has been mind blowing. It's actually a sub-appellation of the Yakima Valley and didn't break out to be its own AVA until 2001. Cabernet is king on Red Mountain. This AVA, with its lack of soil nutrients, which is something that helps controls vine vigor, and dramatic nighttime temperature shifts, which help to retain acidity and prevailing winds, yields to thick-skinned small berries with ample tannins all contributing to the success of this wine. Artz Vineyard is located on the southern slopes of Red Mountain and showcases all that this AVA has to offer.
FFWS: Any plans to host in-person tastings in the future or open a tasting room for Head Turner Wine Co?
HT: Stay tuned for this one.
FFWS: Favorite food pairing for The Nerve? Favorite for Flyaway?
HT: One of my favorite foods to enjoy with the Flyaway Chardonnay has to be a luxurious crab melt, all the better when you catch the crab yourself and for The Nerve Cabernet Sauvignon I'd say filet mignon with a wild mushroom demi glace, let's make sure there are some foraged morels in there…