Each December, one of the things Foley Family Wines Chef de Cuisine Alex Graham always looks forward to whipping up for his family are Christmas morning eggs benedict with homemade English muffins.
Homemade English muffins? We demanded the recipe so that all our Foley Food & Wine Society members could do like Chef Graham. We also asked him to offer up his favorite main course and side dish for Christmas dinner—or for whatever holiday you celebrate.
Belove you'll find recipes for Chef's show-stopping Roasted Leg of Lamb and Potatoes Au Gratin with Spring Pea Salad, as well as an alternative take on Potatoes Au Gratin for the Gryuere lover.
"This Au Gratin Potato recipe is deceptively simple, and a surefire way to impress your guests this holiday season," says Graham. "Ultra-thin layers of potato and cheese melt together in a low-temperature oven to create the pinnacle of holiday comfort food."
He also suggests preparing a Bordelaise sauces, "for anything from pork to poultry, and even on roasts. Duck fat adds great depth to the sauce, but can also be substituted out with any other fat of your choosing."
So, pull out your best bottles from the cellar and pair these inspired dishes with generous pours of your favorite Foley Family wines. Happy Holidays!
EGGS BENEDICT WITH HOME MADE ENGLISH MUFFINS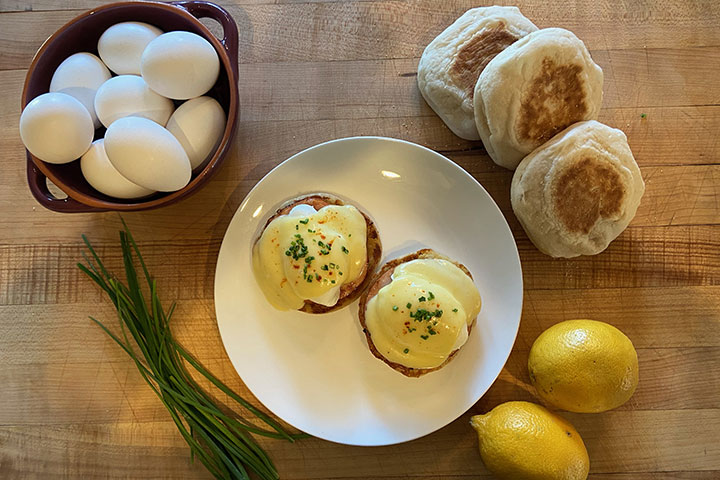 Serves: 6
Time: 2 and ½ hours
INGREDIENTS:
For the English Muffins
2 cups AP flour
1 tsp active dry yeast
2 tsp sugar
1 tbsp plus 1 tsp melted butter
1/3 cup milk
1/3 cup warm water
¼ tsp salt
½ cup cornmeal
For the Hollandaise
1 ¼ sticks unsalted butter
3 egg yolks
1 tbsp lemon juice
½ tsp salt
12 slices Canadian bacon
12 eggs
2 tbsp white vinegar
4tbsp chives, finely chopped
PREPARATION:
Combine sugar, yeast, butter, milk, water, and salt in the bowl of a stand mixer, and whisk thoroughly to combine. Let stand for 10 minutes. Add flour, and mix on low speed until a smooth dough forms. Cover and let rise for 1 hour, or until doubled in size.
Punch down the dough, and roll it into a ½ inch thick sheet. Cut 6 3-inch rounds out of the sheet. Sprinkle cornmeal on a baking sheet, place the rounds on the sheet, and sprinkle with more cornmeal. Let rise for ½ hour.
While the muffins rise, heat a large pot of water on medium heat. Add vinegar and salt to taste.
In a small pot, melt the butter. Blend the egg yolks, lemon juice, and salt in a blender until smooth and light, about 30 seconds. Switch the blender to low, and slowly stream in the melted butter. Pour back into the pot, and keep in a warm space near the stove.
Heat a cast iron skillet to medium low heat. Working in batches, cook the English muffins for about 10 minutes on each side, and let cool for 20 minutes.
Preheat your oven to 400 degrees Fahrenheit. Split the English muffins in half, and arrange on a baking sheet, cut side up. Arrange the slices of Canadian bacon on another baking sheet, and bake for about 5 minutes.
While the base is in the oven, poach the eggs by swirling the water, and cracking an egg in the middle. Cook each egg for about 2 minutes, or until the yolk is at the desired doneness, and use a slotted spoon to transfer cooked eggs to a paper towel lined plate.
To assemble, place a piece of Canadian bacon on top of a half of an English muffin, top with an egg and a spoonful of hollandaise, and garnish with chives.
ROASTED LEG OF LAMB WITH AU GRATIN POTATOES AND SPRING PEA SALAD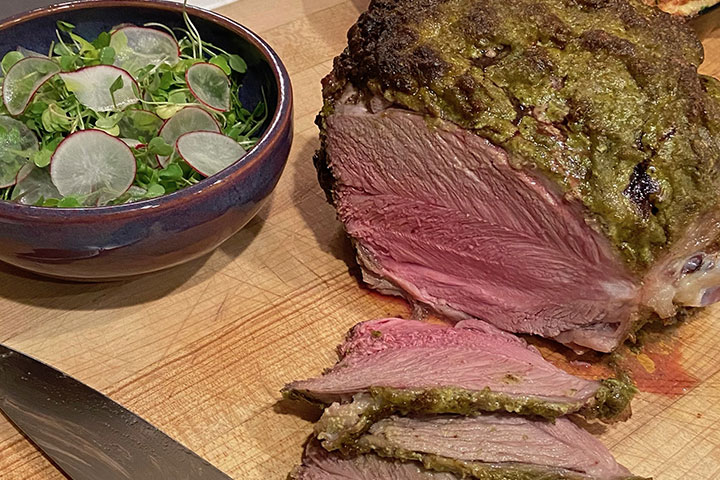 Serves: 10
Time: 2 and ½ hours
INGREDIENTS:
For the Lamb
1 7-8 Lb Bone-in Leg of Lamb
2 tbsp Dijon Mustard
2 tsp kosher salt
2 tsp ground black pepper
2 tbsp chopped garlic
2 tbsp olive oil
1 tbsp chopped rosemary
1 tbsp chopped mint
1 tbsp chopped oregano
1 tbsp chopped parsley
For the Potatoes
6 large Yukon gold potatoes
3 cups heavy whipping cream
3 cups shredded sharp cheddar
Salt and pepper to taste
1lb Pea shoots
1lb Arugula
½ lb sugar snap peas
6 large radishes
1 large carrot
1 cup crumbled queso fresco
¼ cup lemon juice
1 cup olive oil
Salt and pepper to taste
PREPARATION:
Preheat oven to 450 degrees F. Remove lamb from wrapping, and trip excess fat away, leaving about 1/8th of an inch. Score the leg using a criss-cross pattern, slicing about ¼ inch into the meat.
In a small bowl, combine the mustard, herbs, salt, pepper, garlic, and oil. Mix together to form a paste, then work the paste into the lamb, covering evenly, and working the seasoning into the meat. Let sit for 20 minutes.
While the lamb is resting, peel the potatoes. In a large bowl, combine cream and cheese, and season with salt and pepper. Using a mandolin, slice the potatoes as thin as possible into the cream mixture. Once all of the potatoes are slices, toss in the cream and cheese, and spread the mixture evenly in a baking pan.
Place the lamb on a lined baking sheet with a rack, and bake for about 20 minutes, or until the lamb is a golden brown. Reduce the temperature to 325 degrees, and add the potatoes to the oven. Cook the potatoes and lamb for about an hour. Using a meat thermometer, the lamb will be done when the temperature reads 135 degrees F, and the potatoes will be done when a knife can be inserted into them with no resistance.
To assemble the salad, place the pea shoots and arugula in a large mixing bowl. Trim the ends off the snap peas, cut them into small pieces, and add to the bowl. For the radish, use a mandolin to slice as thin as possible. Peel the carrot and discard the peel. Use your vegetable peeler to shave thin ribbons of carrot. Combine all the veggies in the bowl, season with lemon juice, salt, pepper, and olive oil. To serve, top with crumbled queso fresco.
Make sure to let the potatoes and lamb rest about 20 minutes before slicing and serving.
AU GRATIN POTATOES WITH GRUYERE CHEESE
Serves: 8
Time: 1 hour 15 minutes
INGREDIENTS:
6 large Yukon gold potatoes
3 cups heavy whipping cream
1 cup sharp cheddar cheese, shredded
1 cup Monterey jack cheese, shredded
1 cup gruyere cheese, shredded
2 tbsp garlic, minced finely
Salt and pepper to taste
PREPARATION:
Preheat oven to 300 degrees F
In a large mixing bowl, combine cream, garlic, and cheese, and season with salt and pepper. Peel the potatoes, and slice them into the cream and cheese mixture using a mandolin on the thinnest possible setting. Toss evenly to coat.
Pour mixture into a greased baking dish, and spread out evenly. Bake for at least an hour, until top is golden brown, and a knife can be inserted into the centre of the dish with no resistance.