We are honored and humbled by all the praise and attention that our portfolio of wines has received over the past year. Despite all the madness of 2020, both critics and consumers alike have shown a sincere appreciation for our wines, and for that we are grateful.
Many of our Foley Family Wines earned 90+ scores, landed several Top 100 honors, and enjoyed a host of awards and praise from professional wine publications and competitions.
To celebrate, we've put together this "must-have" list of our 12 top wines of 2020 from across our Foley Family Wines portfolio. And lastly, here's a big shout of "Thanks!" to all of you—our Foley Food & Wine Society fans—for all your continued support.
2017 CHALK HILL ESTATE CHARDONNAY, CHALK HILL AVA (MAGNUM)
Sonoma Magazine Top 100 Wines of 2020 & 91 Points, Robert Parker's Wine Advocate
For lovers of rich, unctuous Chardonnays, this is your bottle. The wine has inviting aromas of honey and lemon curd, then a gush of ripe golden apple, pineapple, and Meyer lemon flavors on the palate, with baking spice and a buttery accent. For all its richness, it finishes with snappy acidity. — Linda Murphy, Sonoma Magazine
2018 CHALK HILL CHARDONNAY, SONOMA COAST
92 Points, Tasting Panel & Hot Prospect Award for the 4th Consecutive Year
Barrel-aged 10 months sur lie and with 100% malolactic fermentation result in a pillow-like, creamy, voluptuous wine. Lemon curd, mandarin and toasty char awaken the palate. Notes of buttered hazelnut may be unctuous but this elegant white is certainly not flabby: it supports a fine acidity and underlying minerality with aromas of creme brulee and banana. — Meredith May, Tasting Panel
2018 CHALK HILL ESTATE CHARDONNAY, CHALK HILL AVA
92 Points, Robert Parker's Wine Advocate
The 2018 Chardonnay Estate has lush scents of baked apples, honeysuckle, honeycomb and hay with notes of quince paste and almonds. The palate is medium-bodied, rounded and slightly buttery with a long, uplifted finish.
2016 CHALK HILL ESTATE RED BLEND CHALK HILL AVA
Sonoma Magazine Top 100 Wines of 2020
Cabernet Sauvignon and Malbec dominate this blend, with Petit Verdot and Merlot accenting the rich, jammy palate. It's intense in its blackberry pie, black cherry, dark chocolate, and cigar box characteristics, and at 15.2% alcohol, it's potently attractive to fans of this style. The fresh finish balances the richness. — Linda Murphy, Sonoma Magazine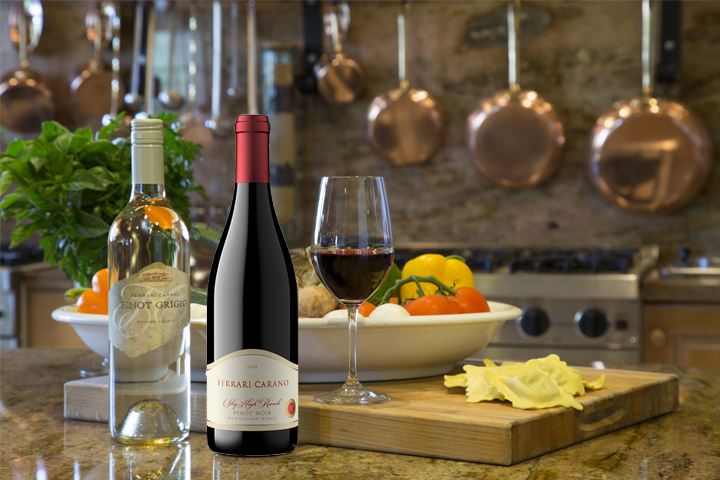 2019 FERRARI-CARANO VINEYARDS AND WINERY SONOMA COUNTY PINOT GRIGIO
Sonoma Magazine Top 100 Wines of 2020
VALUE Simply put… Forget the thin, neutral-tasting Italian Pinot Grigios that sell at this price point, and embrace the ambrosial peach, apricot, and pineapple fruit in this rewarding wine, which has the acidity to balance the lush flavors. Aperitif time. — Linda Murphy, Sonoma Magazine
2018 FERRARI-CARANO SKY HIGH RANCH PINOT NOIR MENDOCINO RIDGE
95 Points, Wine Enthusiast & #48 on Top 100 Cellar Selections of 2020
This wine wraps beautiful, concentrated fruit and dark-spice flavors in a velvety texture. Focused flavors of black cherry and wild raspberry are accented with clove and cassis on the expansive palate and lingering finish. Best through 2025. — Jim Gordon
EL PINO CLUB: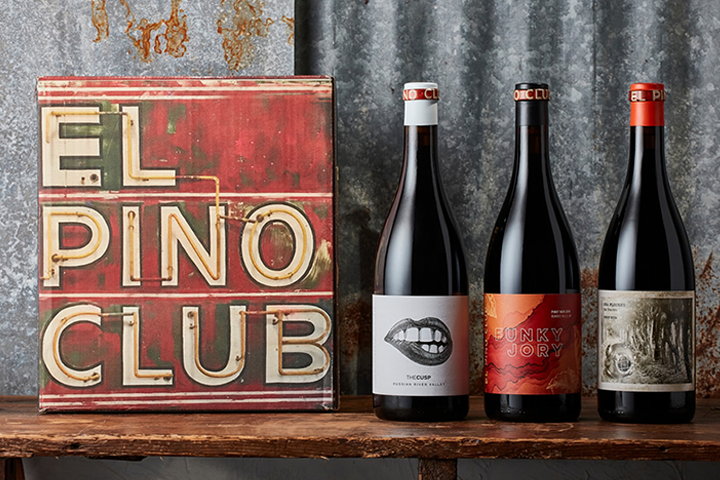 Inaugural vintage releases of our three Pinot Noirs receive top scores!
2018 THE CUSP PINOT NOIR RUSSIAN RIVER VALLEY (EL PINO CLUB)
90 Points, Wine Spectator
Fresh cherry and dried raspberry flavors show a lot of cedar spice accents in this red, with a firm, minerally finish that has plenty of toasty notes. Drink now through 2023. 1,000 cases made. — Kim Marcus
2018 SEA FLOORED PINOT NOIR STA. RITA HILLS (EL PINO CLUB)
94 Points, Tasting Panel & 93 Points, Wine Enthusiast "Cellar Selection"
Bright aromas of red rose petals, damp leaves, and cranberry cola…a silky mouthfeel, with earth, slate, pomegranate, red tea, and cinnamon. — Meredith May, Tasting Panel
Coiled aromas of raspberry and red cherry meet with a hint of loamy soil…then come flavors of black raspberry paste and cardamom. — Matt Kettmann, Wine Enthusiast
2018 FUNKY JORY PINOT NOIR DUNDEE HILLS (EL PINO CLUB)
93 Points, Tasting Panel
Black cherry tannins create a dry, dusty entry. Asian spice, dried heather, and red tea come in mid-palate. Damp earth and ripe strawberry lend character into a juicy finish. — Meredith May, Tasting Panel
2017 THE FOUR GRACES DUNDEE HILLS RESERVE PINOT NOIR
94 Points, Wine Spectator & #29 on Spectator's Top 100 Wines of 2020
A delicate and polished beauty, with expressive violet and raspberry aromas that open to gracefully layered cherry and spiced cinnamon accents that build richness toward refined tannins. Drink now through 2029.
SOLD OUT
2017 LANCASTER ESTATE CABERNET SAUVIGNON
91 Points, Robert Parker's Wine Advocate
The 2017 Cabernet Sauvignon Estate is blended with 7% Malbec, 4% Merlot, 4% Cabernet Franc and 1% Petite Verdot. It has a nose of blackcurrants and cherries with accents of loamy earth, cedar, dried herbs and sweet spice. The palate is full-bodied with lush fruits and a minerally undercurrent, grainy and with just enough freshness on the finish.
SOLD OUT
2016 MERUS CABERNET SAUVIGNON, COOMBSVILLE
93 Points, Wine Spectator
This offers a fun blast of blueberry and açaí berry fruit, backed by violet and cocoa notes, ending with a graphite edge that should soften with brief cellaring. Reveals a lingering violet accent. Best from 2021 through 2030.
SOLD OUT