After a whirlwind playoff season of huts, hikes, gasps, and edge-of-your-seat drama, the showdown between the Cincinnati Bengals and the Los Angeles Rams is finally upon us. Will the Bengals prevail in this new 'Year of the Tiger,' or will the Rams get a leg up playing on their home turf in Los Angeles's SoFi Stadium?
At last year's big game audience attendance could only be at half-mast. But this year, when the Bengals and the Rams face off against each other, they'll play before a stadium packed with cheering fans. As such, even if your favorite team or office betting pool favorite doesn't take home the trophy, this year's big game is an occasion to celebrate! And what better way to meld the joy of a football party with the revelry of the nation's most popular sporting event than with some sparkling wine cocktails?
In between making nachos, yelling "Go, go, go, go, go!" at the television, and sitting in your lucky chair, we're offering here a few suggestions for sparkling wine cocktails worthy of the big game.
If you're the type to scream in triumph when your team intercepts the ball, we recommend making these cocktails using Banshee's Ten of Cups Brut, (made in the Champagne method, and running out the gate with 91 points from Wine Enthusiast). Or, for the rosy optimist, our Lucien Albrecht Crémant d'Alsace Brut Rosé, a refreshing and zippy sparkler from Alsace, France. Either choice makes for an easy touchdown.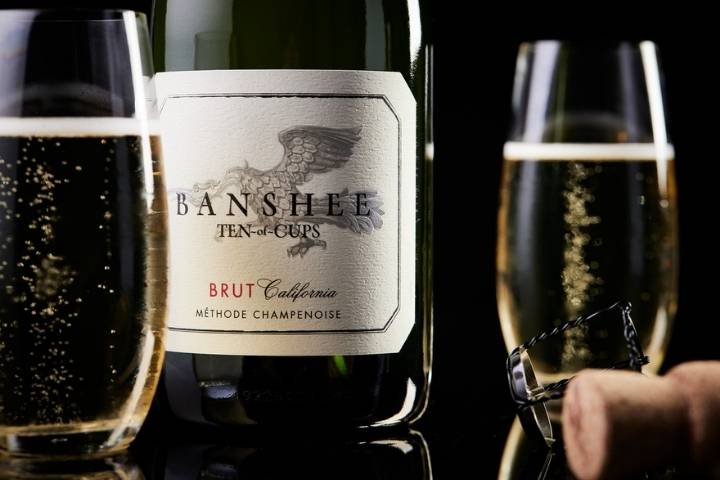 Aperol Spritz
The Aperol Spritz is a simple cocktail, but more importantly for Bengals fans, it's an orange cocktail. Cincinnati fans don't have to just wear their team colors; they can drink them too! Bonus: An awesome pairing with chips and guacamole.
Make it:
3 oz. of Banshee Ten of Cups Brut
2 oz. Aperol
1 oz. of club soda.
1 orange slice (garnish)
Steps:
Mix and stir the Brut, Aperol, and club soda in a wine glass with ice.
Drop in the orange slice.
Congratulations, you're a Bengals superfan.
(Inspiration for this cocktail came from this original recipe on Liquor.com.)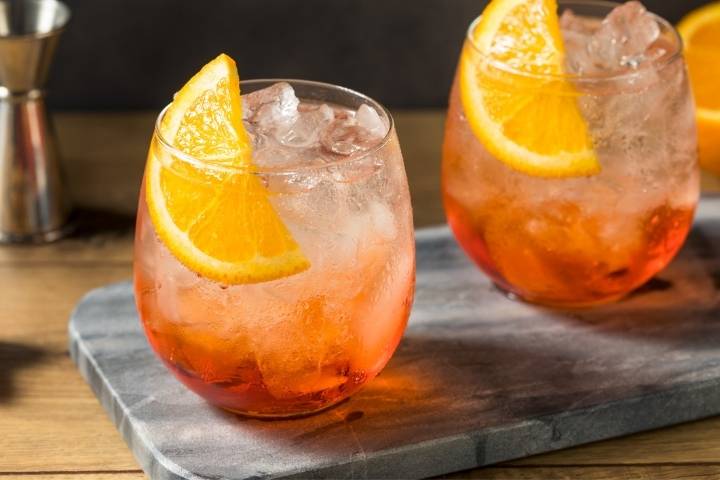 Mezcal Sunset
A little more complicated than the Aperol Spritz, but no less important for showing support for the opposing team. The Mezcal Sunset captures the unparalleled beauty of a Los Angeles sunset when the sun, the clouds, and (eternal) air pollution—are in perfect alignment. A Mezcal Sunset is just a Los Angeles sunset in a glass—but with a superlative taste; a classy counter-balance and a surprisingly appropriate pairing companion to big game favorite fare like homemade chicken wings.
Make it:
(For the cocktail:)
1 oz. Mezcal
1 oz. Lucien Albrecht Crémant d'Alsace Brut Rosé
2 oz. orange juice, no pulp (fresh is always better)
(For the syrup:)
½ cup of sugar
½ cup of pomegranate juice
Steps:
Make the pomegranate syrup: mix and stir the pomegranate juice and sugar in a small saucepan over medium-high heat. After about five minutes, the sugar should be dissolved and the liquid reduced. Transfer syrup into a heatproof container and chill for half an hour until cool. (This step can be done at least a whole week before game day.)
Mix all the cocktail ingredients into a rocks glass; add one large ice cube.
Pour in 1 tbsp. of pomegranate syrup. (It will sink to the bottom and look amazing.)
(Inspiration for this cocktail came from this original recipe on Epicurious.com.)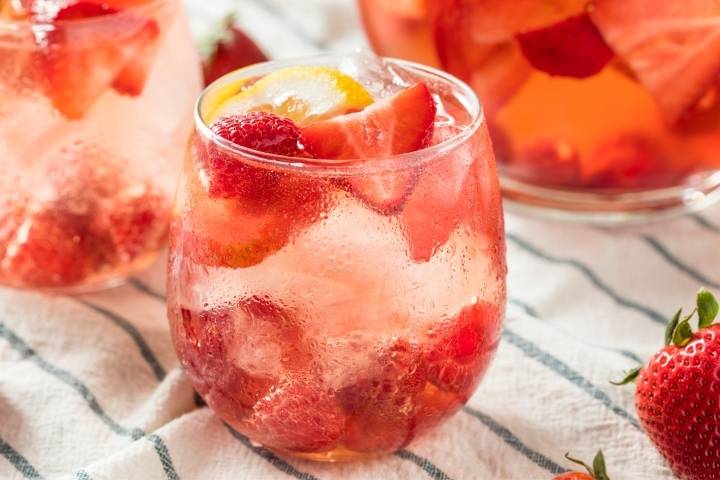 "Champagne" Sparkling Wine Bowler
A cocktail that doesn't take sides, the Champagne Bowler is a no-brainer pick for all things and puts a fresh spin on the old punch-bowl kitchen sink cocktail. For our purposes, we're using our California-made sparkling wines, and perhaps some California-grown strawberries (though, Football season coincides more with orange seasons, so orange slices are a fine substitute). The fizzy and fruity Bowler pairs well with plenty of traditional salty big game treats, but given the addition of Cognac, we suggest pairing this Bowler with a fine cigar during the halftime show.
Make It:
½ oz. Cognac
½ oz. simple syrup
3 sliced fresh strawberries or orange slices
1 oz. white wine
3-4 oz. of either Banshee Ten of Cups Brut or Lucien Albrecht Crémant d'Alsace Brut Rosé wine.
Strawberry or orange slices (garnish)
Steps:
Mix strawberries and simple syrup into a cocktail shaker.
Muddle those strawberries into a nice pulpy mash. If using orange slices, be sure to peel before you muddle.
Add the white wine and Cognac, then fill the shaker halfway with ice.
Shake, shake, shake.
Pour contents (and ice) into a large goblet.
Splash generous amounts of sparkling wine on top.
Wedge the strawberry or orange garnish onto the side of the glass.
Impress your friends. Impress yourself.
(Inspiration for this cocktail came from this original recipe on thespruceeats.com.)