We paid a visit to the Point Reyes Farmstead Cheese Co. where we spent a wonderful, fog-laden afternoon with Point Reyes Farmstead Cheese Co. Co-Owner and CMO Jill Giacomini Basch and Jennifer L. Luttrell, the Executive Chef and Culinary Director.
Basch and Luttrell prepared a gorgeous—and royally delicious—cheese board for us. They offered pairing advice for our wines so that you can give the perfect wine and cheese to friends and family. We've published the conversation in two parts. The first part is Bubbles and Cheese, and this second part features four pairings.
The Point Reyes Farmstead Cheese Company is a women-owned small business and has even been awarded the official certification from The Women's Business Enterprise National Council (WBENC). So, order your wine, order your cheese, and toast this year to you, your family, all you've overcome in the last year, and make sure to fill mom's glass just a bit higher each time you come around asking 'who wants more vino?!'
BAY BLUE
This is a milder blue made with a traditional rennet which delivers a more umami flavor and salty texture with a salted caramel finish. "It's the gateway blue for most," says Basch, "it's mellow and more like a Stilton.
COOK: Add on top of apple pie or sprinkle into a persimmon arugula salad. Melt into a butternut squash-infused macaroni and cheese! But on its own, it's just creamy and gorgeous with unexpected layers.
BAY BLUE WINE PAIRING: This is an ideal accompaniment to a creamy white, or even a sweet wine, though a laser-focused rosé would come alive, and of course, you can't go wrong with sparkling.
Pairs perfectly with Our Chardonnays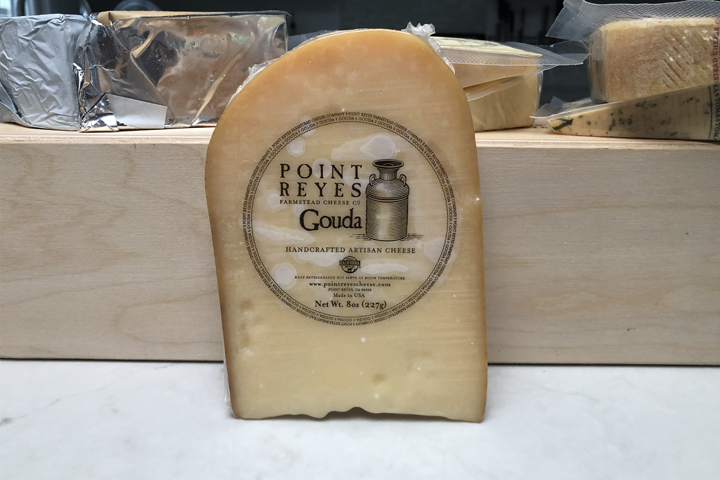 GOUDA
Here is a royally unexpected rendition of Gouda—DO NOT SCROLL PAST THIS! Aged 16-18 months, it has excellent butterscotch notes. The cheese is flecked with protein crystals, which are naturally created in aged cheese. The crystals that form result from a breakdown of amino acids and not the oft-mistaken assumption that these are salt crystals.) Think of the 'crunch' in a hunk of Parmigiano Reggiano. "I call them 'flavor pops,'" says Basch, "that develop after about 12-14 months of aging. At about 16 months, you still get the buttery quality, and those flavor pops, but the cheese is not overly acidic—it's still balanced."
COOK: This is as creamy and butterscotchy as Gouda gets! It pairs well with dark chocolate, like Tcho 68% dark (which is what we had it with, and this was an unstoppable pairing, one we couldn't stop eating—so good. You could also try it shaved over the marshmallow in s'mores, or—get this—shaved over dark chocolate ICE CREAM!
GOUDA WINE PAIRING: Because this cheese pairs so well with chocolate, here is your perfect red wine pairing—but a red wine that also has decadent, rich chocolate, mocha, or cacao notes (from aging in oak). You could pair any of our big, bold Cabernet Sauvignons' with this and be content—for as long as the cheese, and the wine last. And don't be afraid to pull out your favorite Tawny Port or settle into a cozy chair in your study to take a quiet moment away, and bring your a hunk of Gouda and your favorite Scotch.
Pairs perfectly with Our Cabernet Sauvignons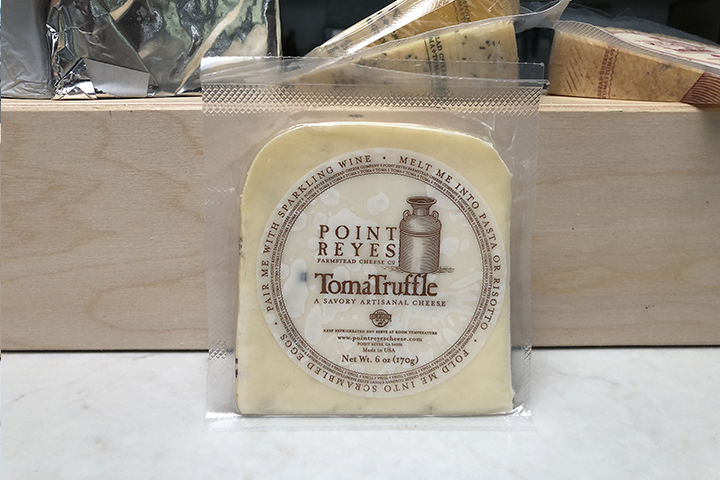 TOMA TRUFFLE
You might want to give up and just order POUNDS and POUNDS of this cheese. It was our favorite—though, challenging to admit because all these cheeses are so balanced and flavorful.
The TomaTruffle is made with Sabatino Black Truffle paté—not an oil. The result is, admittedly, our favorite creation—one that isn't overtly truffly but is creamy, with aromatic pops of decadent, earthy black truffles.
COOK: Let it melt into risotto, pasta, or elevate your favorite Mac'n cheese recipe. Try it in scrambled eggs for Brunch.
TOMA TRUFFLE WINE PAIRING: There is no other option than to snack on handfuls of this delectable cheese with glassfuls of any of our Pinot Noirs—especially the 2018 Chalk Hill 2018 Pinot Noir, a dark-berried, earthy, juicy Pinot which makes for a perfect marriage with this creamy truffle cheese.
Pairs perfectly with Our Pinot Noirs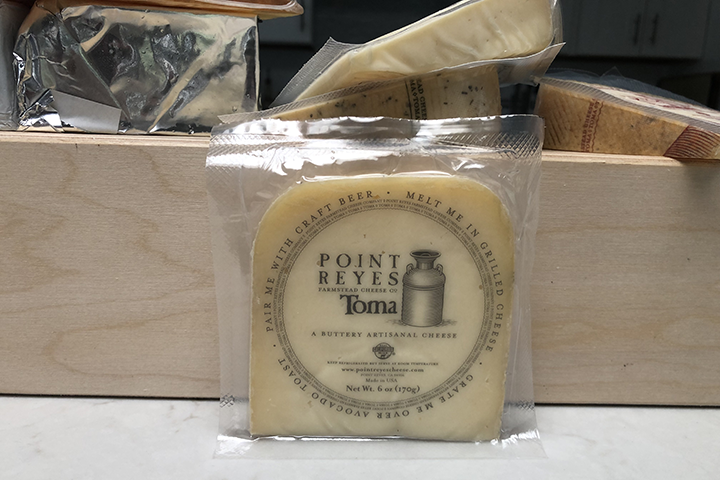 TOMA
"This is really buttery and a great melting cheese," says Chef Luttrell. "It has a grassy tang at the finish, and is very versatile. Kids love it. Foodies find it interesting."
COOK: Shave it over roasted Brussels sprouts or salad with persimmons, almonds, and pistachios, or over any salad with a maple balsamic dressing. "It's also so good on a cracker with salami," offers Basch. Try it in a grilled cheese with turkey and cranberry. You could also add a little non-stick spray to parchment paper, and shave the cheese into thin layers, pop it in the oven at 375 degrees for 10-15 minutes and let it crisp up—you'll have a crispy cheese snack in no time.
TOMA WINE PAIRING: With delicate buttery notes, you'll want to stick to light rosé wines that don't overpower the delicate tangy cheese or, best of all, pair a steely and crisp Sauvignon Blanc or unoaked, or lightly-oaked Chardonnay.
Pairs perfectly with a bottle of 2019 Chalk Hill Estate Chardonnay