Rather than simply tell you about our delectable collection of 90+ point wines, we thought we would do something a little different.
As you evaluate bottles for yourself or for giving to your friends during the holidays, a deeper understanding of the critical reviews will help improve your selections. All too often, wine critics use descriptive words that can be as maddeningly precise as they are confusing. Additionally, hidden within each review are code words that have the power to indicate the drinkability of wine for both the short term and long term.
And if you really take the time to dig into critical scores, you'll begin to notice significant differences in the preferred styles of the world's major critics. Understanding each critic's personal preferences means you can align yourself with certain critics that match your own taste preferences. If we look at those who are US-based, on a surface level, critic Jeb Dunnuck tends to like wines that are big, opulent, and full-flavored, taking after his mentor Robert Parker.
On the flip side, The Wine Advocate (the publication Parker established in 1978) is now helmed by Lisa Perotti-Brown, a Master of Wine. She brings a serious sensibility and keen intellectual insight to her reviews. So, if you're more interested in a classic, textbook, academic reading of wine, you might subscribe to Wine Advocate these days. If you're more a hedonist (aren't we all, in some way?) get on board with Dunnuck, or ride the middle of the road with notable critics James Suckling or Antonio Galloni of Vinous. Both of these critics boast decades of tasting experience, and if you want to read tasting notes that read like poetry, check out Galloni's reviews of his top-scoring wines. If you're in a hurry, James Suckling is the guy for you.
Personal, critical tastes aside, we've broken down keywords in the critical reviews below and offer an explanation of what the critics are actually saying. So, here's to both your newfound savvy skill at reading tasting notes and to filling up your cellar!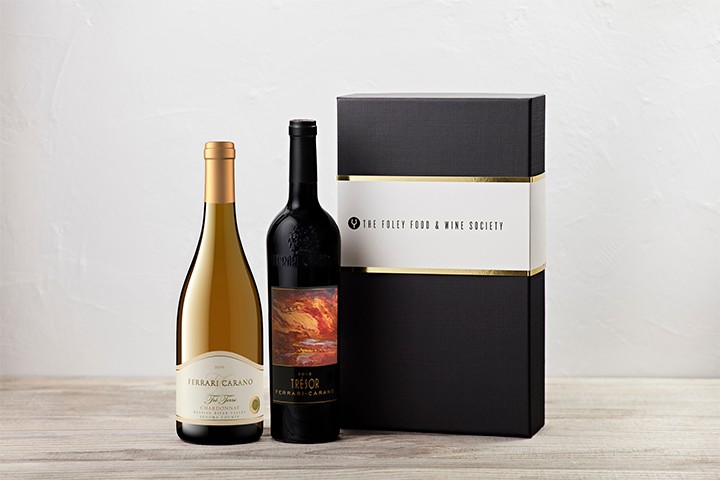 FERRARI-CARANO DUO
FERRARI-CARANO 2019 TRÉ TERRE CHARDONNAY, RUSSIAN RIVER VALLEY (750ML)
90 WINE SPECTATOR
The review: "This big white is filled with ripe richness to the concentrated apple pastry and pear tart flavors. Open-textured mid palate, with a plush and well-spiced finish. Drink now through 2024."
The critic's words explained: Let's pick apart "ripe richness," in this review. These words indicate the grapes were likely picked at peak ripeness levels—or Brix levels, which is a measure of the sugar content in grapes, and helps determine final alcohol levels. "Richness" also hints that the wine was likely stirred on its yeast lees, and/or aged in oak, and the combination of ripe flavors and lees stirring/oak aging results in a "richer" style of wine. And, indeed, this wine was stirred on its fine lees, adding richness, and aged in one-year-old French oak for 15.5 months.
FERRARI-CARANO 2015 TRÉSOR, SONOMA COUNTY (750ML)
93 WINE SPECTATOR
The review: "Delightfully rich, charming and accessible, with ripe, firm tannins and a compelling core of rich dark berry, licorice, sage and cedar flavors. Impressive throughout. Cabernet Sauvignon, Malbec, Petit Verdot, Merlot and Cabernet Franc. Drink now through 2030."
The critic's words explained: "Firm tannins" in this review by Wine Spectator's James Laube, offers up the notion that the wine was aged in excellent oak barrels, which tend to impart the most firm, fine-grained tannins. Tannins come from both grape skins and oak barrels. In this case it is surely a combination of both the excellent grapes and the barrel used to age the wine.
A great gift set for: The entertainer who delights in serving crowd-pleasing, food-friendly wines.
CHALK HILL DUO
CHALK HILL 2019 ESTATE CHARDONNAY, CHALK HILL AVA (750ML)
92 ROBERT PARKER WINE ADVOCATE
The review: "The 2019 Chardonnay Estate is bold and ripe, with creamy, toasty character that will have wide appeal. The nose opens with savory tones of charcuterie and graphite over a core of baked apples and lemon cream. Medium-bodied, the palate is lushly fruited, ripe, creamy and long, with a streak of freshness carrying the honeyed finish. "
The critic's words explained: "Savory tones of charcuterie" — wait, what is this note in my white wine?! Charcuterie notes? Absolutely possible. This could result from a few things: the yeast that fermented the wine, for one, might produce unique aromatic and flavor qualities in the finished wine that yields aromas and flavors, which upon one whiff, fires the "savory" receptors in your olfactory brain. This could also result from the integration of oak in the aging process. So, that 'cured meat' quality could result from the marriage of aging new wine in contact with an element in the barrel staves that creates the aromatic sensation of 'charcuterie.' Pretty nifty.
CHALK HILL ESTATE 2017 RED BLEND, CHALK HILL AVA (750ML)
91 ROBERT PARKER WINE ADVOCATE
The review: "Opaque purple-black in color, the 2017 Estate Red is a blend of 49% Cabernet Sauvignon, 40% Malbec and 11% Petit Verdot. It offers slowly unfurling aromas of cassis and black plums with notions of graphite, clay, mint chocolate and cigars. The full-bodied palate offers minerally fruits with a gently chalky frame and very good freshness to lift the finish. 3,845 cases produced."
The critic's words explained: Let's break down the word 'graphite' in the context of this review by Erin Brooks at Wine Advocate. Graphite is a hallmark quality of Cabernet Sauvignon and it literally smells and sometimes tastes like pencil shavings or asphalt or crushed rock—and when your olfactory receptors pick up on one, or a combination of those elements, the brain translates that as 'graphite,' but in a really deliciously, liquidy scrumptious way. And at the end of the day graphite really refers to minerality in wine, and actually could result from the interaction of fruit flavors with earthy spices and oak. If you chewed on your pencil in grade school, you get this immediately.
A great gift set for: The foodie who designs creative menus around complex, multi-layered wines.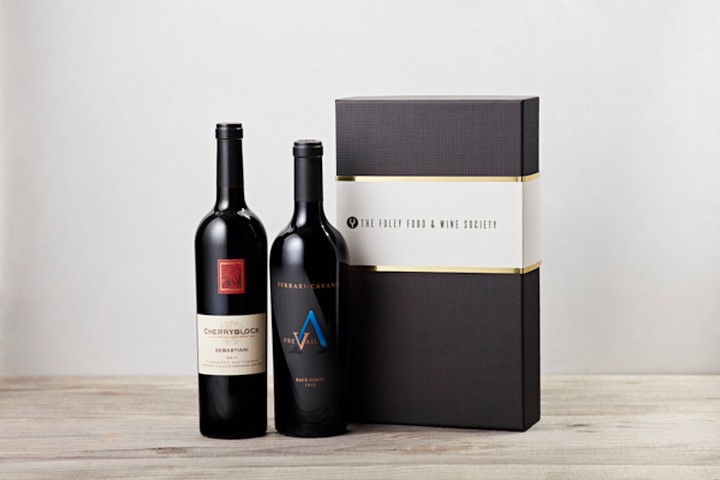 CABERNET CONNOISSEUR SONOMA COUNTY SEBASTIANI
2017 CHERRYBLOCK CABERNET SAUVIGNON, SONOMA VALLEY (750ML)
93 ROBERT PARKER WINE ADVOCATE
The review: "The 2017 Cabernet Sauvignon Cherryblock Vineyard, deep ruby in color, has slowly opening scents of cherry jam, tar, grilled meats, dried rose petals and graphite touches. The medium-bodied palate has excellent restraint and great balance of fruit, savory and spicy character, and it's firm but finely grained and fresh with a long finish."
The critic's words explained: Now, "excellent restraint" is an interesting one. What the critic is suggesting, is that this wine has the potential to open up—the secret hint, or suggestion here, is that this is a young wine; it's tight and maybe even closed off to its greatest potential, but with time in the bottle, it will begin to release some of that restraint and show possibly even more opulent fruit flavors more savory textures and spices. It's essentially a call-out to say, 'Hey this is wine do want to cellar because it's going to wow in the long run.'
FERRARI-CARANO 2015 PREVAIL BACK FORTY, ALEXANDER VALLEY (750ML)
93 ROBERT PARKER WINE ADVOCATE
The review: "Medium to deep garnet-purple colored, the 2015 Cabernet Sauvignon PreVail Back Forty is scented of warm redcurrants, black cherries and black plums with touches of underbrush, baking spices, chargrill and cigar box. The palate is full-bodied with bags of vibrant fruit, an impressively well-played structure of ripe, grainy tannins and a lively line lifting the fruit to a long finish."
The critic's words explained: "Cigar box" what!? Okay—let's break this down. A cigar box holds cigars. And typically, these boxes are cedar-lined. And really, 'cedar' is the keyword here. What the critic is picking up on is cedar, which comes from aging the wine in oak barrels. This wine was aged in 74% new French oak, and 26% older oak. So, it's that new French oak that is kicking up those intricate aromas. The critic is also picking up tobacco spices, which also come from the marriage of fruit and toasty oak—if you ever get the chance to stick your head in a newly toasted barrel, depending on the cooperage, it might smell just like a freshly rolled cigar or cigar box with a bit of cinnamon-toasted graham cracker spices. In short: yum.
A great gift set for: The collector of ageable and powerful Cabernet Sauvignon wines.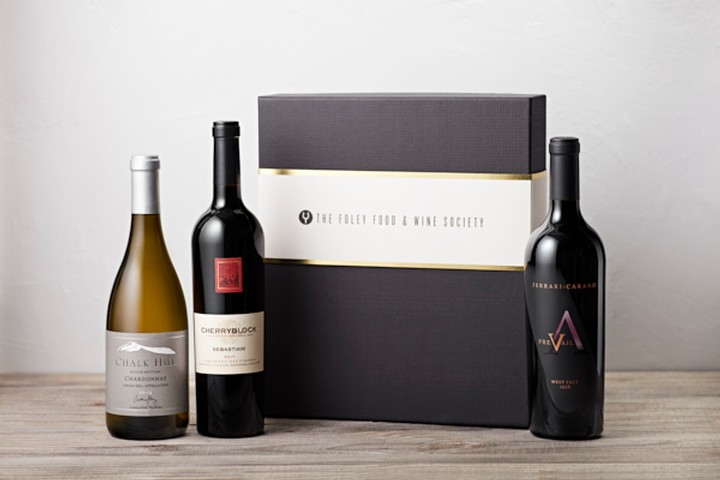 FOUNDER'S SELECTION
CHALK HILL 2019 ESTATE CHARDONNAY, CHALK HILL AVA (750ML)
92 ROBERT PARKER WINE ADVOCATE
(Review above)
SEBASTIANI 2017 CHERRYBLOCK CABERNET SAUVIGNON, SONOMA VALLEY (750ML)
93 ROBERT PARKER WINE ADVOCATE
(Review above)
FERRARI-CARANO PREVAIL 2015 WEST FACE, ALEXANDER VALLEY (750ML)
91+ ROBERT PARKER WINE ADVOCATE
The review: "A blend of Cabernet Sauvignon and Syrah, the 2015 PreVail West Face is medium to deep garnet-purple in color with a nose of crushed blackcurrants, black berry pie and blueberry compote with hints of cedar chest, wild thyme, lavender and wood smoke plus a waft of spice box. The palate is medium to full-bodied with lovely purity and an approachable frame of ripe, grainy tannins supporting the intense fruit, finishing long and savory."
The critic's words explained: "Long grainy tannins" tell us something about the interaction of the fruit and the barrel during the aging process. The word 'grainy' brings to mind granules—sand, which is gritty. The opposite is fine-grained, which means the fruit and tannins are silky and will glide over the tongue, while a wine with more granular tannins will have more grip in its youth. It's a hint from the critic that the wine could use some time in a decanter to let those tannins clump together and form longer tannic chains, which will lead to a smoother drinking experience. You could achieve the same with a bit more swirling than usual, or, better yet, letting the wine age in the cellar for a few years before popping corks.
A great gift set for: The traveler who wants to explore and taste Sonoma County's diverse terroir.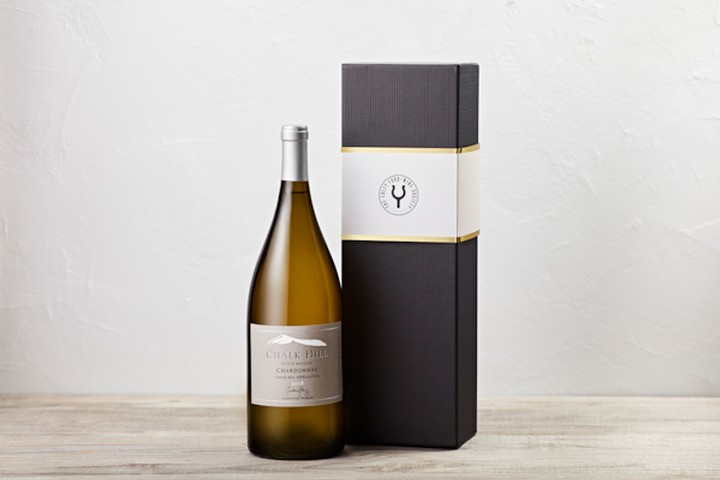 2018 CHALK HILL ESTATE CHARDONNAY (1.5L MAGNUM)
92 ROBERT PARKER WINE ADVOCATE
The review: "The 2018 Chardonnay Estate has lush scents of baked apples, honeysuckle, honeycomb and hay with notes of quince paste and almonds. The palate is medium-bodied, rounded and slightly buttery with a long, uplifted finish."
The critic's words explained: We need to pick apart a couple of things here: "honeycomb" and "uplifted finish." First off, honeycomb is obvious, right? There's clearly a honeycomb in the wine. Okay, that was a test. If you find an actual honeycomb, that's a serious flaw! Don't drink it! Call us, and we'll send you a new bottle. All kidding aside, what the critic is picking up on is a marriage of lofty, floral aromatics mingling with delicious oak spices—giving way to lifted aromatics that are slightly sweet in nature. And speaking of 'lift,' what exactly is an 'uplifted finish' you ask? Well, if you think about a finish that is lifted, the critic is suggesting the lingering aftertaste is vibrant and high-toned, bright, and refreshing—not dull and falling off the cliff. All this is to suggest that there's a good acid lift on this wine, and good acidity equates to freshness, and also the ability to age very well—all incredibly good things that make for a delicious (and ageworthy) bottle of wine.
A great gift for: The book-clubber who wants to offer the entire group a storied chardonnay with a perfectly composed charcuterie board.