From the bar cart to the cheese board, follow these tried-and-true recommendations to get your tasting party flowing as smoothly as the wine.
We're fast approaching the time of year when gatherings of friends and family become highlights of the season. This makes it the perfect time to turn one of those gatherings into a tasting party for us wine lovers out there (not that we needed an excuse, right?).
Most would probably agree that holiday season activities require something a bit extra, though. So how do you maximize your chances of making that wine-tasting party as close to perfection as possible? This brief guide will get you on the right track.
To be clear, there are no hard and fast, stuffy, or stringent rules for a wine-tasting party (the focus is on having fun and learning, after all), but you and your guests should avoid anything that could overpower your ability to smell and taste your wines. That means no scented candles and no strong perfumes, please.
If a fantastic party flow is your main focus, then you're going to want to purchase all of the wines yourself rather than asking guests to go BYO (it's best to make this very clear on your invitations, as well as sorting out if any guests will be contributing to the wine supply fund, well beforehand). With this approach, you can perfect selections to pair with any pre-dinner nibbles, as well as ensure both the quality and quantity of your selections.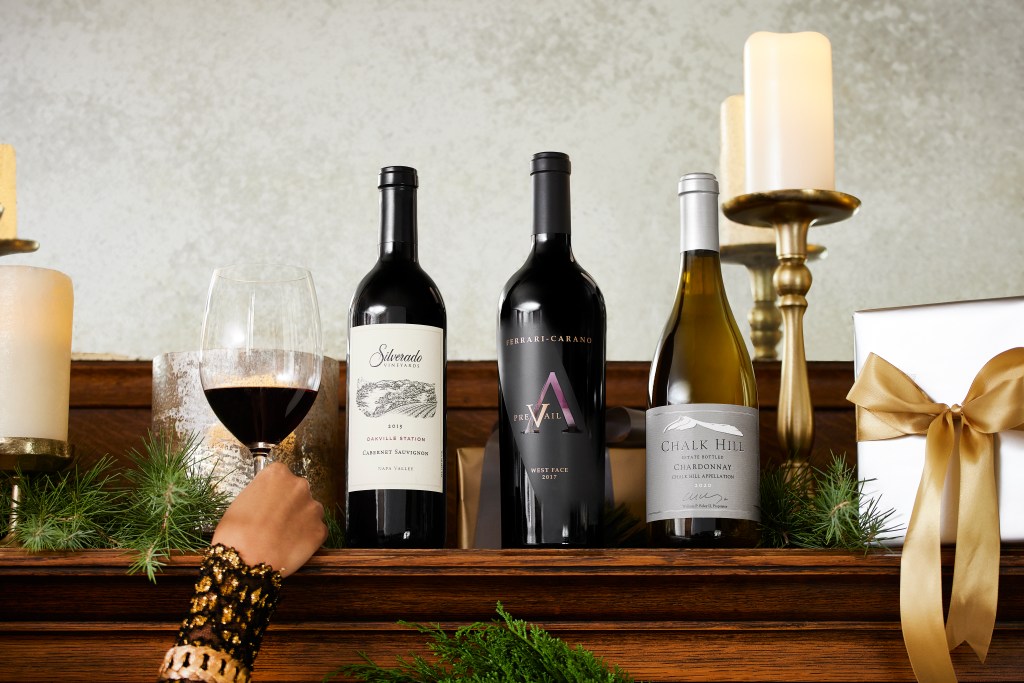 Select Icon Wines and a Theme
Regarding the quality, if you're looking to impress, then you'll want to go with icon wines —Chalk Hill, Silverado Vineyards, and Ferrari-Carano wines for you California vino fans. Regarding quantity, it basically comes down to math: one bottle will yield about six generous pours, so plan accordingly. When in doubt, err on the side of buying more bottles of each wine than you think you'll need (in other words, always round up those calculations). This will allow your guests to revisit their faves later and maybe provide you with some tasty leftovers as well.
We came upon an extremely helpful guide written recently by East Coast-based wine writer Joe Roberts. In his book Wine Taster's Guide, Roberts strongly recommends a wine theme for your tasting party. "Whether it's exploring a style, like bubbles from across the world, or a grape variety showdown like U.S. Pinot Noir vs. Burgundy, or a region (coastal Northern California, anyone?), choosing a theme is the best way to maximize your tasting flow, and is limited only by your imagination," says Roberts, who adds, "and your budget."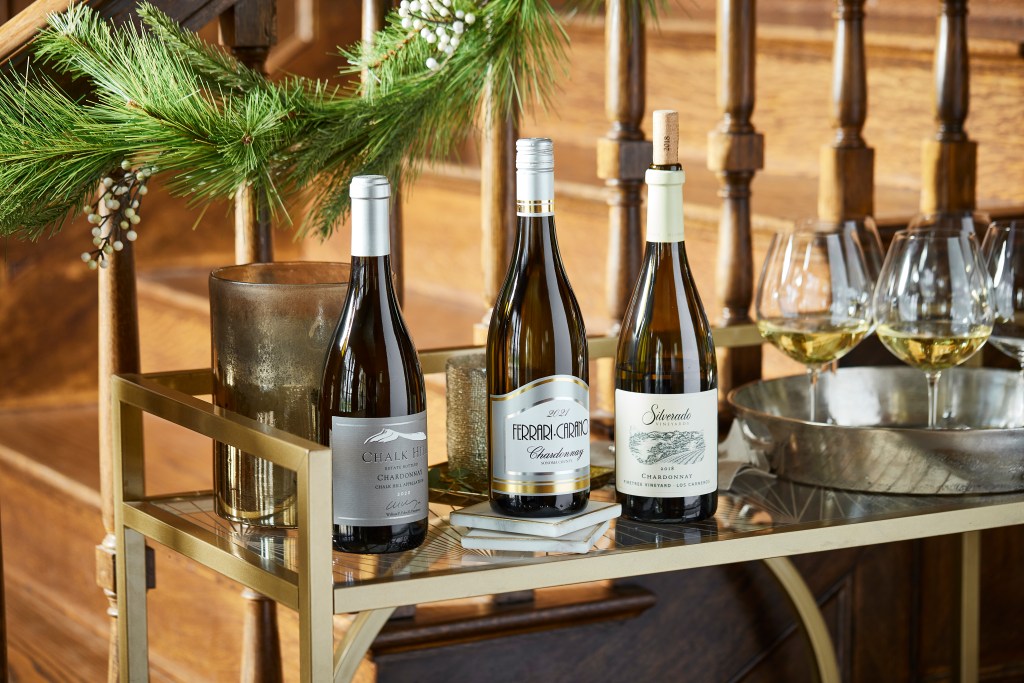 Use Your Bar Cart
To make even more room for tasting, you could have some of your wines ready to go on a handy serving cart. A wheeled welcome bar cart is a fantastic idea for tastings in general, and a great way to get things rolling (no pun intended). We like to keep ours stocked with inviting glasses of chilled sparkling wine, like the Banshee Ten of Cups and Foley Sonoma's Brut Sparkling, both of which are available in our ​​Double Bubbles set. You could also plan on pouring a full-flavored, delicious still white—it's no secret that we're fans of Chardonnay, and our Chardonnay Showstoppers set includes offerings from Chalk Hill, Ferrari-Carano, and Silverado Vineyards. If you want to get advanced, augment your cart with printed index cards that include interesting facts about the wine, producer, region, or grape variety for guests to pour over while they pour a second glass.
Glassware Tips
Speaking of glasses, you needn't get too fancy with your stemware. You'll want to avoid poorly made or colored tasting glasses, but any decent transparent glass that's tulip-shaped (to expose the wine to air and focus its aromas) and has a thin rim (so that the wine lands gently on the tongue) will work just fine for sparkling and still wines. You'll definitely want at least two glasses per guest; that way, they can compare wines side by side if they wish and have a spare in case one of their glasses breaks).
If sweeter wines are your thing, they're best left for after dinner or paired with dessert. The same goes for stronger fortified wines as well. The general rule of thumb: order your wine tasting from lighter to stronger alcohol by volume, and/or from drier to sweet sugar levels.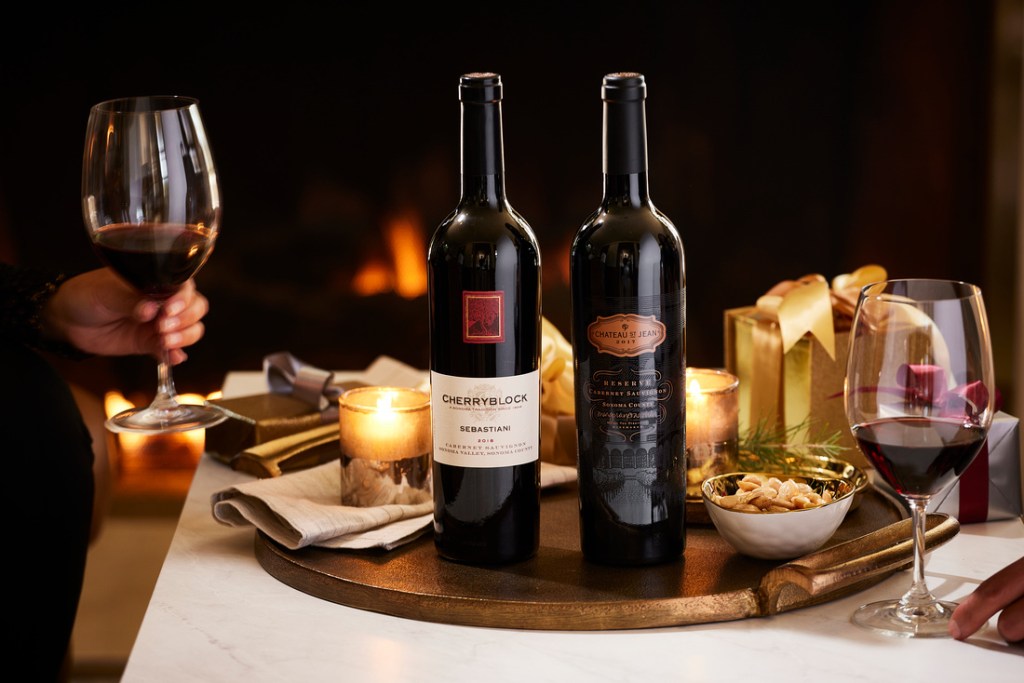 Offer a Cheese Board and Snacks
To feed your intrepid fellow tasters, Roberts advises to go easy on the flavor-factor, "you'll want snacks that aren't over-the-top flavorful so that your wines can be the focus before dinner," he says. To make life much, much easier on yourself, have snacks ready to go beforehand, plated on serving trays that are easily moved on and off the dining table. That will ensure you always have plenty of table room for multiple glasses of wine.
As far as having snacks ready to go, cheese boards are perfect for this—not only do cheeses make exceptional hors d'oeuvres to pair with your wine selections, but they're also easily swapped out for other pre-prepared boards with additional cheeses or other nibbles.
And that's it! Cheers to an easy party format for holiday gatherings, and wine discoveries for all your guests.