Most people may not be aware that February 9th is National Pizza Day, but with over 3 billion fresh pizzas sold in the United States every year, we're surprised National Pizza Day isn't already celebrated each day of the week. Though the historical origins of pizza are still somewhat mysterious, it's widely accepted that the world's first pizzeria is Antica Pizzeria Port'Alba in Naples which started out as a food stand in 1738 (when George Washington was six years old) and opened a proper store front in 1830.
Almost two whole centuries and countless dough tossings later, pizza endures as one of the most universally beloved foods in the Western world and beyond. These days, thanks to companies like Ooni and Roccbox, pizza ovens are increasingly becoming a household fixture, enabling people to get creative and channel their inner pizzaioli at home. We thought we'd take this moment to share some of our favorite pizza ideas and, of course, their amazing wine pairings.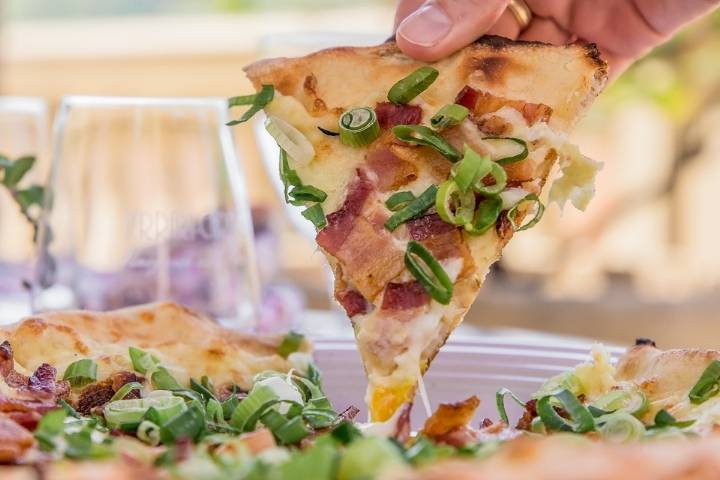 Bacon & Leek Brunch Pizza
Most pizzas are great for lunch and dinner, but the bacon and leek pizza (a signature Ferrari-Carano experience) is one of those rare pies that can also be breakfast. Top with an egg if you're so inclined. And for those special breakfast occasions, Ferrari-Carano offers a strong wine pairing with textures suitable to complement those sauteed leeks and savory bacon: the 2019 Ferrari-Carano Chardonnay from Sonoma County (90 points from Jeb Dunnuck, who described it as "a clean, fresh, yet toasty, richer style offering notes of buttered stone fruits, toasted brioche, and white flowers").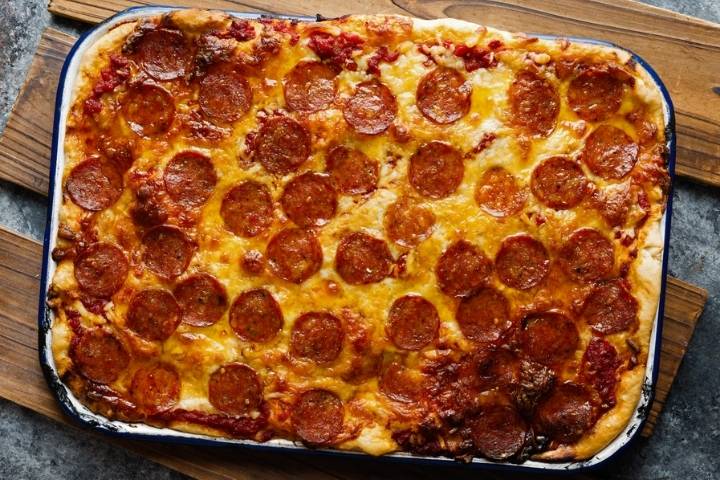 Sicilian and/or Detroit-style
Before you begin, make sure you have the proper pizza-making tools, be it a pizza stone, or a pizza pan. Otherwise, a baking sheet will suffice—only for this deep-dish style, you'll want a pan with slightly higher ridges than normal. Sicilian pizza's rectangular shape and robust thick crust makes it the perfect bed for pepperoni, as is almost standard for the iconic Detroit-style slice. When there are cured meats in a pan pizza, you'll want a spicy, juicy, acid-driven red to counter the fat, and to tie in the Italian/Sicilian theme, look no further than the 2018 Sebastiani Barbera, Sonoma Valley.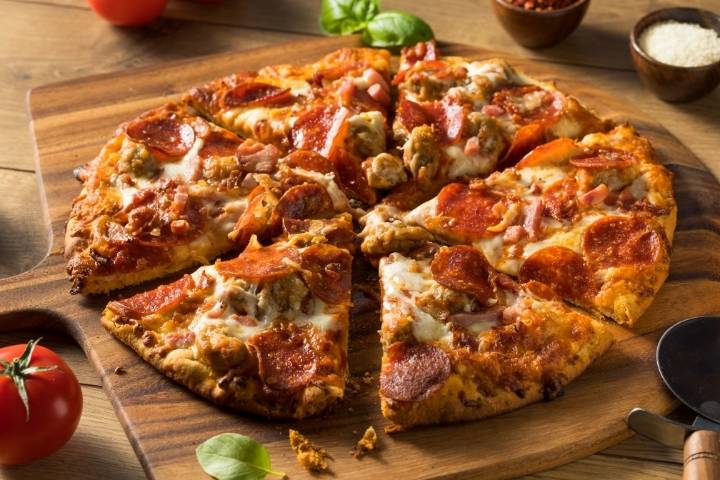 Meat Lovers'
Some people like to choose between either sausage, pepperoni, beef, or ham as a pizza topping. But not you! You choose all of the above. So what kind of wine can handle all this meat? You'll of course want to search red-ward with the 2017 Kuleto Estate Cabernet Franc , which offers the spiciness and robust tannin structure that will melt into a silky smooth texture when flooding over bites of your pizza packed with toppings.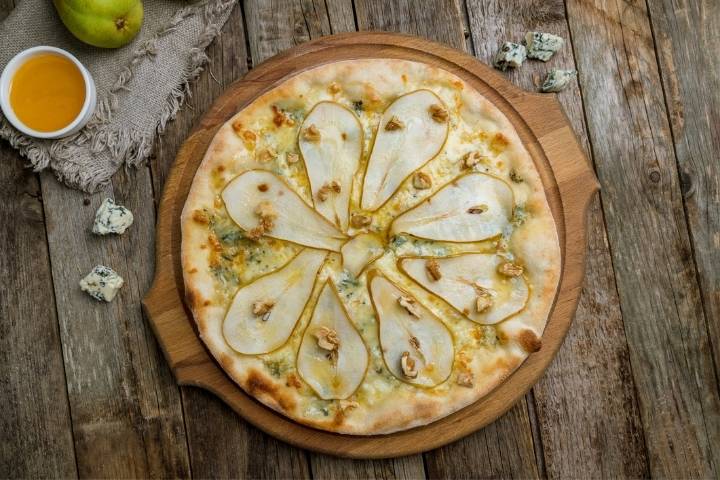 Pear and Gorgonzola
If you're looking for a pizza flavor that's meatless, yet has an intense flavor, look no further than a sliced pear and gorgonzola topping with onion and balsamic drizzle. The 2020 Ferrari-Carano Viognier is perhaps one of the few wines that can pair well with each of these distinct flavors. Of course, there's no going wrong with bubbly, and for that the Banshee Ten of Cups Sparkling Wine has you covered.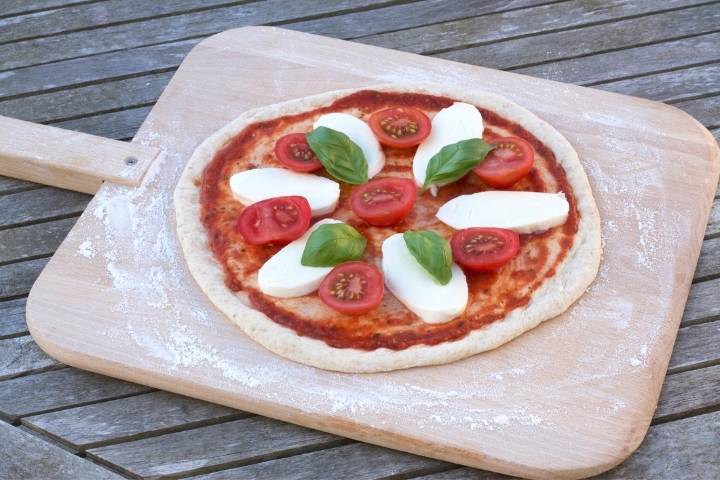 Classic Neapolitan
When creating the classic Neapolitan pizza, there are some strict rules: The only cheese is Mozzarella from Mediterranean buffalo milk; the only tomatoes are either San Marzano or Pomodorino Vesuviano. If you attempt this feat of culinary tradition at home with your Ooni oven, don't skimp on the dough. Better yet, visit the backdoor of your favorite pizzeria and see if you can buy some of their fresh dough. Tell them it's for an "experiment." Mozzarella thankfully pairs well with lots of wine types, but if you're adding basil to this pie (and you should), you'll want to go with white. We recommend the juicy, cherry-driven 2017 Chalk Hill Pinot Noir from Sonoma Coast in 375ml half bottles — perfect for picnicking.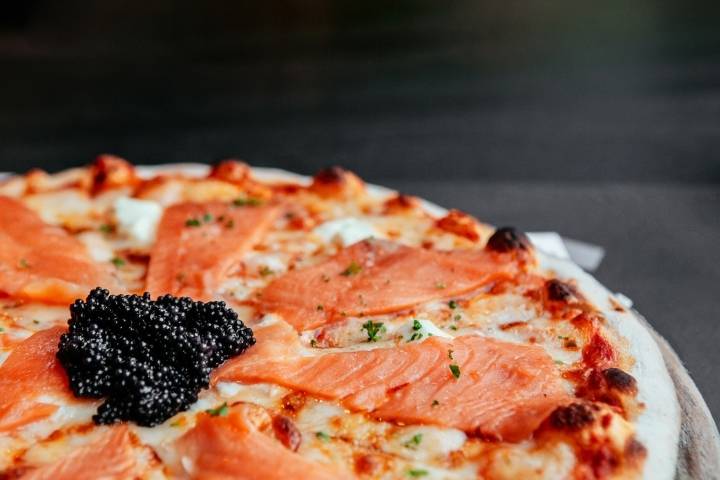 Utmost Decadence
Listen, when you're making your own pizza, no one is stopping you from indulging in culinary grandeur. Who's to say you can't top your pizza creation with shaved black truffles, or thinly-sliced smoked salmon and caviar? Nobody, and that's exactly why you'll help yourself to a caviar-topped pizza. For a wine that stacks up against this opulent blast of umami, reach for the smooth, earthy 2017 Four Graces Doe Ridge Estate Pinot Noir.