Continuing with our coverage of updates from downtown Healdsburg in Northern California's Sonoma County, we turn the spotlight on Hôtel Les Mars, the 16-room boutique hotel with European trappings, and Chalkboard Restaurant, which features seasonal menus inspired by our estate gardens at Chalk Hill.
Hôtel Les Mars, a Relais & Châteaux member property, was recently featured in Forbes' 2020 Travel Guide, and dubbed "A splash of 18th-century elegance in Wine Country." For the uninitiated, "Relais & Châteaux" members are part of a select group of privately owned hotels and restaurants worldwide setting benchmark standards in excellence, centered around its "5 C's": charm, courtesy, character, cuisine, and calm.
On Friday, June 19, Jensen Norelius, the General Manager for Les Mars received some exciting news! "Leisure tourism was allowed to resume," he explains. "This includes all lodging: hotels, vacation rentals, campgrounds, etc. Essentially, Sonoma County has aligned with the California state guidelines. Fortunately, we already set up the operational processes required for ensuring safe hospitality, so we have been able to start welcoming guests for arrivals. Additionally, we resumed inside dining at Chalkboard Restaurant last weekend, and are currently open Wednesday through Sunday beginning at 5:00 p.m. on weekdays and 11:30 a.m. on weekends."
Norelius says that the hotel elected to close for all travel in mid-March, and have since "followed all guidelines to a 'T.' We changed our lobby a bit, so there are fewer options for congregating," he says, "and we have posted signs and plexiglass shields in the front desk reception area. We also embarked on a thorough deep clean—from the drapes and carpets to rigorously wiping down and disinfecting guest rooms, and creating a cleaning rotation and calendar."
Guests should expect a few changes, but great care is being taken to ensure a world-class experience from arrival to departure. For example, the hotel is not offering turn-down service as they are working to limit anyone other than a guest going into the guest room. "Workers are taking daily self-checks and immense training and we are employing a lot of PPP (personal protective gear) for all team members," says Norelius. "We are taking this very seriously, and have only decided to open our doors knowing we are hitting all the right check-marks."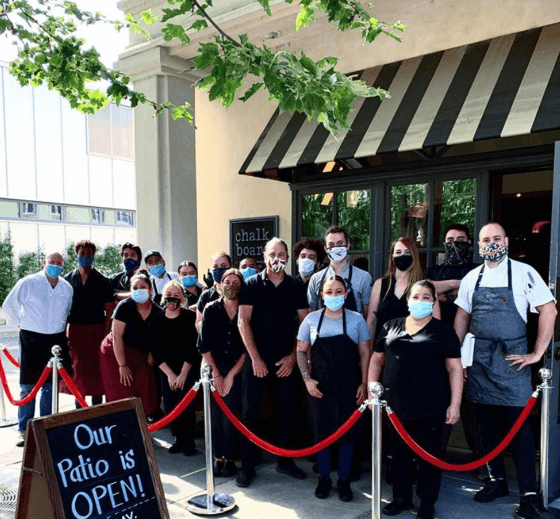 As with the hotel, Chalkboard Restaurant staff have prepared extensively for physical distancing and best practices. And timing is everything, isn't it? California fresh, seasonal ingredients are staring in primetime dishes being executed at this "Farm to Table" restaurant within Hôtel Les Mars. We love Forbes' description, which found "a relaxed, fun atmosphere. But it still veers upscale with Carrera marble tables, gray wood in the bright, modern dining room. And a stone patio with fire pits provides a cozy alternative." The menu is defined by seasonally-sourced ingredients from Chalk Hill's estate gardens, other local farms, and local purveyors.
Taking the helm from Shane McAnally, new Executive Chef Forest Kellogg comes from Perch and Plow in Santa Rosa. "He brings an energy and passion for food, which marries perfectly with the restaurant's small-plate cuisine—it demands a lot of creativity given it's an ever-evolving menu," says Norelius.
Inquire about dining and be sure to keep some of their staples in mind, like Pork Belly Biscuits with maple glaze, pickled onion, and pepper aioli, or the popular Spicy Weeds & Greens, which tosses mustard greens, pecorino toasted seeds, and grains with a bright citronette dressing. There's also the terrifically layered Cocoa Trifoglio, a plate of duck confit with chive, marsala, and hazelnuts (pictured above). "And the buttermilk fried chicken is a must," contends Norelius.
Jensen Norelius joined Hôtel Les Mars in January, having come from Hotel Del Coronado, and before that the Fairmont San Jose in Silicon Valley, and the Fairmont Kehlani. A Washington State University graduate with a degree in Hospitality and Business Management, he says "It's been a big dream of mine to work at a boutique hotel where I have the opportunity to create unique memories for guests with real personalized touch."
Visit www.hotellesmars.com to plan your stay and to learn more about efforts aimed at protecting the health and safety of guests.
Chalkboard's sister restaurant, Brass Rabbit expects to open in early-August, according to General Manager Arron Flores. So, stay tuned.