Is there ever an occasion to turn down a glass of sparkling wine? Surely there is not. In fact, we'd argue there are too few occasions to pop open a bottle of chilled bubbly. We're thinking a lot about this topic because International Champagne Day falls on October 22 this year, and we want you—our Foley Food & Wine Society readers—to be fully prepared.
To that end, we reached out to Catherine Fallis MS, the fifth woman in the world to earn her Master Sommelier pin, a fait accompli from 1997. In 2018, Fallis (pronounced FAH-lis) debuted her latest book "Ten Grapes to Know: The Ten and Done Wine Guide," which is readily available on Amazon. In it, among the grapes profiled, she features Pinot Noir and Chardonnay, two grapes so important to the creation of high-quality sparkling wine that without them, it's a toss-up if the world of bubbly would even be the same!
One of the most exciting new developments in our portfolio of wines comes from Banshee, which just released the Ten of Cups, a mineral-bright, zesty, citrus-infused sparkling wine produced in the traditional Champagne method (more on that in the Q&A below with Fallis!)
"At Banshee, our goal is to craft distinctive wines that over-deliver in every possible way," says Alicia Sylvester, winemaker for Banshee, "with that in mind, we set our intentions to blend a sparkling wine that is true to Sonoma County through Banshee's strong relationships with high-quality vineyards in the region. Our 'Ten of Cups' is an exciting new addition to the Banshee portfolio; bright, vibrant, and deliciously drinkable."
So, with International Champagne Day around the corner, let this interview with Catherine Fallis MS enlighten your sparkling wine knowledge, and trust us, you'll want to heed her advice on glassware, temperature, and safe practices on sabering, all detailed below. Grab a copy of her book, stock up on Ten of Cups, and feel confident that you're fully prepared to celebrate with a glass of bubbly on Champagne Day (even if it's not exactly Champagne that's in your glass). If anyone points it out, you'll have the answers. So get reading!
10 QUESTIONS WITH CATHERINE FALLIS MS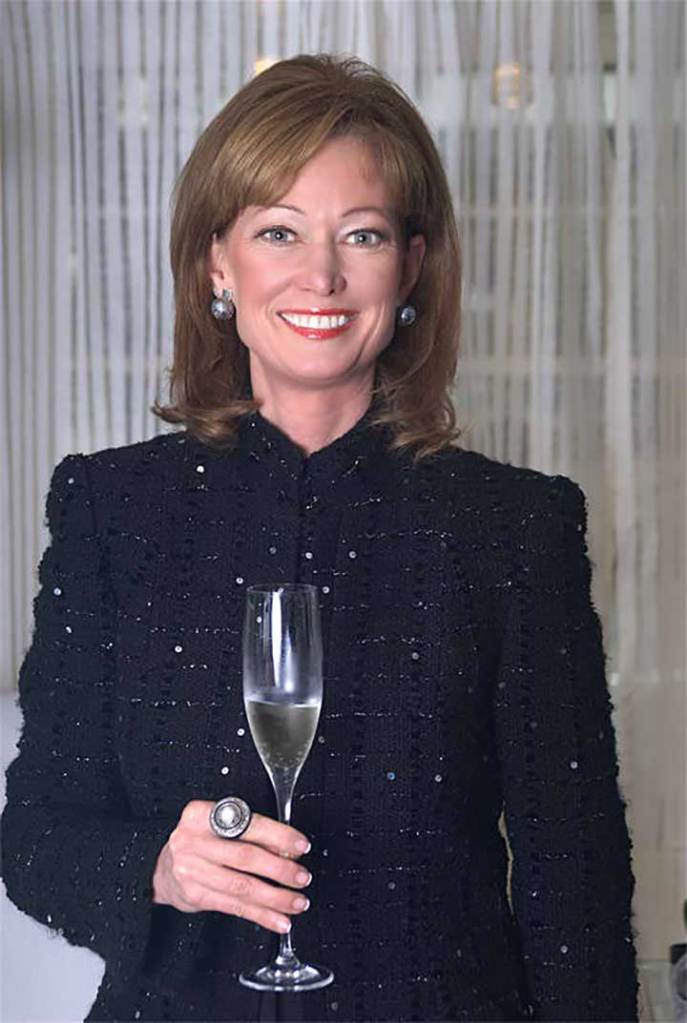 FFWS: Let's start with a bit of history. We know that ONLY sparkling wine made in Champagne can only be labeled as Champagne—an actual region in the northeast of France. But that wasn't always the case. What happened historically that made it illegal to put the word "Champagne" on a label if the sparkling wine is not produced in Champagne?
Catherine Fallis MS (CF): Champagne is a place name, like Napa Valley. It is a highly unique environment, from soil to sky, a "terroir" as the French say. Champagne is also the name of one of the world's most popular luxury products, thanks to the early marketing genius of the producers there. As a popular luxury good, like Prada, knock-offs are a global issue. In 1941, the producers established the Comité Interprofessionnel du Vin de Champagne to protect the name, and in 2005, the Comité Champagne joined the Declaration to Protect Wine Place and Origin. For decades lawsuits from the CIVC have served to protect the Champagne name not only from outside sparkling wines, but also from perfumes and other products.
FFWS: We definitely know to put a good chill on our sparkling wine, but is there such a thing as serving sparkling wine too cold?
CF: It is never too cold if you like it that way, though the more you chill, the less you taste. The other issue is if you pop it in the freezer, and then, sigh, forget about it. When dining out, please let your sommelier know your preferences (on ice, off ice, only top up when we are ready or keep it flowing).
FFWS: You're not only a Master Sommelier, you're also a Master Saberer. Can you tell us the hard and fast rules for safely sabering a bottle of sparkling wine?
CF: Technically I am a professional sabreuse, meaning swordswomen. There is no other word for it. I learned with champion French sommeliers in Monaco and have to say the number one rule is to carefully follow all safety precautions. The technique is easy but the danger is high both for the person sabering as well as folks who are nearby.
FFWS: After safely sabering our bottles, what style of glass would you say is best to serve sparkling wine in? And what about outdoor celebrations if we're afraid of breaking glass?
CF: Okay—here is a little industry secret: Champagne tastes delicious decadently guzzled out of the bottle like those old-fashioned soda bottles, but this is not for public-facing events as it is not elegant or professional. Coupes are fashionable and fun to hold, especially some of the older cut crystal versions, but the bubbles dissipate very quickly. Flutes maintain the flow of bubbles. Paper cups aren't fancy but they get the job done. A nice happy medium for casual outdoor gatherings is the clear plastic flutes or cups found in stores like World Market.
FFWS: You recently published a new book called "Ten Grapes to Know" and in it, two of those grapes—Chardonnay and Pinot Noir—are superstars in the sparkling wine category. What makes those varieties so well-suited to producing sparkling wine?
CF: It is interesting, because here in the US Chardonnays are classically big, buttery and rich. Pinot Noirs are delicate, light, tart, even ethereal. In the extremely cool climate of Champagne, and in the ancient seabed that forms the base of their soils, the grapes are flip-flopped. Chardonnay produces delicate, elegant, very subtle wines, while Pinot Noir is responsible for the most powerful, long-lived wines, like Rose Champagne.
FFWS: In addition to Chardonnay and Pinot Noir, the rest of the grapes featured in "Ten Grapes to Know" are Pinot Grigio, Sauvignon Blanc, Viognier, Sangiovese, Syrah, Merlot, Cabernet Sauvignon, and Zinfandel. Are any of these grapes used to make sparkling wine?
CF: Yes. I have to say I have tasted sparkling wines made from just about anything, including Rhubarb. What can I say, fizz is fun!
FFWS: For those who prefer sparkling wine as dry as can be, what words should they be looking for on a label?
CF: The term BRUT is the word to look for. If you prefer virtually zero sugar, there is a very austere, highly acidic version of Champagne designated "EXTRA BRUT" or "BRUT SAUVAGE."
FFWS: What are wine drinkers missing out on if they claim not to like a sparkling wine that is slightly sweet or even very sweet?
CF: The Champenoise had an early marketing coup when they created a label term, EXTRA DRY, for the US market in the early 1900's. Sophisticated Americans wanted to ask for dry Champagne or a dry martini. But EXTRA DRY actually translates to a Champagne that is just a touch sweet, like Moet's White Star, the number one selling brand in the US for years. It is beautifully balanced and easy to enjoy. Your taste is your own, and it is completely fine to own it. Just look at the wide variety of coffee styles we drink here—from bitter espresso to Frappucino and everything in between. You like what you like and that is the most important factor.
FFWS: Banshee just released a sparkling wine called Ten of Cups. It's made from Chardonnay, Pinot Noir, and Pinot Meunier, but the Pinot Meunier grape did not make it into your book! What does Pinot Meunier typically contribute to a sparkling wine's taste profile?
CF: Pinot Meunier is a champion for Champagne and other sparkling wines as it brings a lovely fruitiness and softness to otherwise highly austere wines. If it weren't for Pinot Meunier, America would not drink Champagne and other sparkling wines so often.
FFWS: Finally, we often see American sparkling wine producers noting that the wine is produced in a "Méthode Champenoise" style. What exactly does that mean?
CF: The Champagne Method is a highly controlled, very strict, and complex production process, but to simplify it, it means "second fermentation in bottle." This means that base wine is fermented first in tank, then bottled, then fermented again in the bottle, aging on the remains of the fermentation, the expired yeast, or "lees", which brink all the delightful bakeshop flavors, and allows for the development of tiny, long-lasting bubbles.