Lancaster winemaker David Drake took a very brief break from his harvest work to answer a few questions about his background and the portfolio of wines he oversees at this remarkable Alexander Valley estate in Sonoma County.

Incredibly, Drake has been the winemaker at Lancaster for two decades. He was born in Millbrae, California, but raised in Alexandria, Virginia, and his dad was the Head of Regulatory Enforcement for the Bureau of Alcohol, Tobacco and Firearms. Talk about a big job, and one that would have exposed the young Drake to the rules and regulations of an industry he would eventually join.

As a young man, Drake also met Ernest Gallo, which left an impression on Drake. "I was impressed by what he accomplished in his life and the effect it had on an entire industry," he says. And today, Drake is making his own mark on the legacy of winemaking at Lancaster.
FFWS: Equipped with a degree in the Fine Arts from Sonoma State University, you joined Lancaster as an intern in 2000. What were you doing in the intervening years after graduation in 1996, and what led you to wine?
DD: I worked various printing jobs during and after college including printing wine labels. During a time in between jobs, I realized that there was a wine industry in Sonoma County. I took the position as Harvest Intern at Lancaster just to see a harvest up close. I had no intention of making a career out of it. I think the beauty of the property, the people I've worked with, and the ever-changing seasonal aspect of winemaking has kept me here.

FFWS: You learned everything about winemaking on the job, right? But who would you credit as your mentors?
DD: Correct. I've learned all I know about winemaking here on the Estate. While I've learned something from all of the previous winemakers I think the time spent with David Ramey while he was a consultant here had the biggest impact winemaking style we have today.

FFWS: This is your 21st harvest at Lancaster! How is it going?
DD: Overall it's going OK, all things considered. I've come to realize there is no such thing as a normal harvest and each year has its challenges. We learn from those challenges and will be better prepared for what comes next.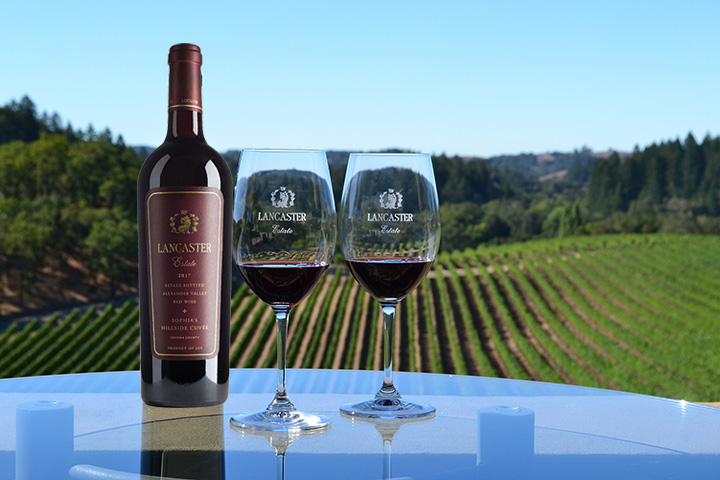 FFWS: What's the easiest-drinking wine you make and what is the one that Lancaster fans should plan to cellar for the long haul? 
DD: The Samantha's Sauvignon Blanc is an easy one but as far as the reds go I think the Sophia's Hillside Cuvee is a nice everyday wine. While it ages just fine, it's made to drink young. Certain vintages of the Estate Cabernet Sauvignon are the ones to cellar. Most recently I think the 2017 Reserve 100% Cabernet Sauvignon [for Wine Club members] is the one to hold on to. It should age extremely well.
FFWS: Any new wines in the pipeline you can tease? New concepts?
DD: The Reserve series of 100% varietal specific wines are always fun ones to make. For 2018 we will be back to Malbec which has proved to be a favorite.
FFWS: Anything we left out that you want the world to know about Lancaster?
DD: I would just encourage people to make a reservation and come visit Lancaster. To see the vineyards, winery, and caves where the wines come from really tell the story better than I can.
Plan your visit to Lancaster and shop the portfolio of wines.