Pictured above: Summer sunset at Mt. Difficulty.
Search online for Foley wines, and you may be surprised that many of the results are New Zealand-based. Rest assured, you typed in the right terms: Foley wines are as at home in the southern hemisphere as they are in the northern. Unlike many U.S. wine companies, Foley's is not a passing interest in one of the world's most exciting wine regions, but a deep commitment which began in 2009 when Bill Foley began investing in New Zealand's growing wine business. Since then, Foley Wines New Zealand has grown to include 14 wine brands, plus Lighthouse Gin, spanning three of New Zealand's most acclaimed winegrowing regions: Marlborough, Central Otago, and Martinborough.
The focus for Foley New Zealand wineries has never been about being the biggest New Zealand wine producer. Rather, the wineries collectively aim to be New Zealand's most revered wine group with iconic wineries that are central to the country's winemaking history in its most acclaimed regions. And the Foley family's keen appreciation for New Zealand's stunning beauty is also evident in their Wharekauhau Lodge (pronounced Far-ee-koh-hoh), a picturesque boutique hotel acquired by the Foley family in 2009. The luxury lodge, an hour and a half from Wellington, is perched on cliffs above Palliser Bay with views of the ocean, which influences so much of New Zealand's winemaking.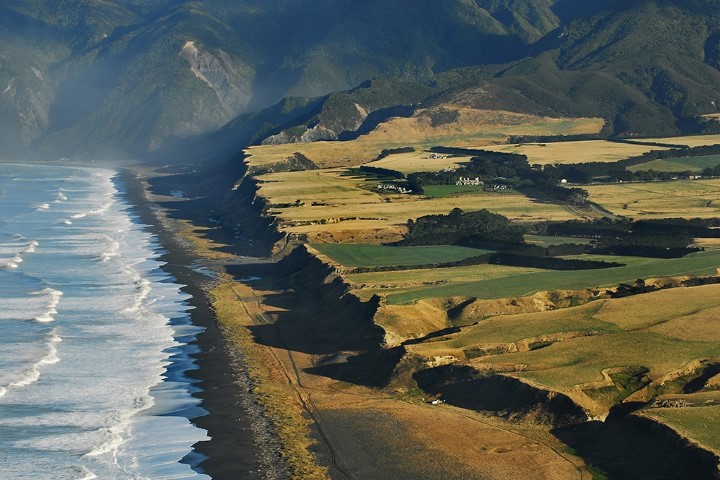 Aerial view of Wharekauhau.
Of the many Foley New Zealand wines produced, only six are available stateside and are new additions to the Foley Food and Wine Society. "We've been so excited with the reception of our wines in the U.S.," says Deborah Olsen, the Foley New Zealand brand manager based in California. "And to make them available online gives our Foley Food & Wine Society members a chance to explore the regional nuances in a way they may not have experienced before." At the moment, New Zealand wines ordered on FFWS can only be shipped to California and Florida residents, but due to the positive response, we will be adding more states in the coming months. If we are unable to ship to an FFWS member, we're happy to help try to locate these wines at local retailers.
The New Zealand portfolio includes Clifford Bay, Dashwood, Grove Mill, Vavasour, Mt. Difficulty, and Roaring Meg.  
"The biggest challenge we face with the depth and breadth of our NZ portfolio is education: explaining where our wines are from, and why that matters," says Olsen. "Because New Zealand is so far away, many people may not have had the opportunity to visit it. And, with our incredibly diverse vineyard sites we really have to dig into geography—and then climate and geology—to help people appreciate the range of our wine styles! To set the stage, I'll take a bird's eye-view and narrow in. So, for instance, I might start out looking at the South Island, then narrow in on Marlborough, and dive further into the sub-region level to explain why a Sauvignon Blanc in the Awatere Valley is considerably different from one in the Wairau."
Let's dive in.
NEW ZEALAND – SOUTH ISLAND – MARLBOROUGH
Map of Marlborough, showing two sub-regions, the Wairau and Awatere Valleys. Source: Foley Family Wines
Four of the aforementioned wineries are based in Marlborough, New Zealand: Clifford Bay, Dashwood, Grove Mill, and Vavasour.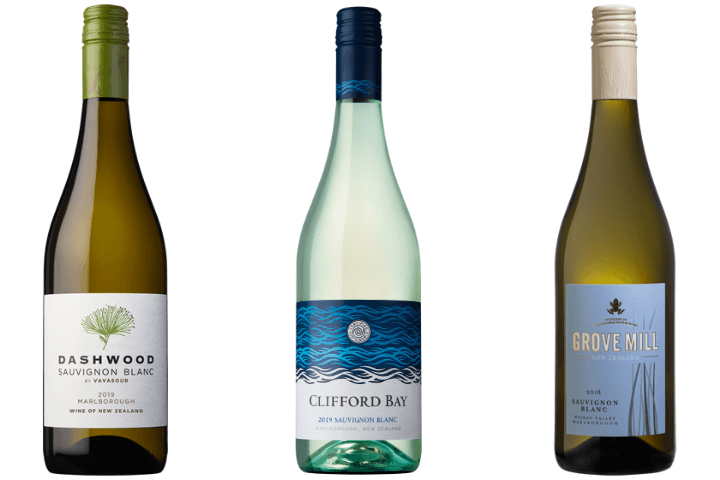 "Clifford Bay is a fantastic crowd-pleaser," says Olsen, "everything you hope for in a bright and easy summer sipper is right there in the Clifford Bay Sauvignon Blanc. Our 2019 vintage is out and is a case-buy terrific wine to have on hand.
We also produce Dashwood Sauvignon Blanc, one of our most consistently acclaimed Sauvignon Blancs, with back-to-back 90 point scores from the Wine Spectator for the 2018 and 2019 vintages. Dashwood is named for the winding road that connects two of Marlborough's sub-regions: the Awatere and the Wairau Valleys. The Wairau Valley to the north is a bit warmer and provides tropical fruit-forward flavors while the Awatere Valley to the south is a bit cooler, and lends a bit more restraint, texture, and salinity. "Sauvignon Blanc grapes from both valleys blended together, create this harmonious wine with that fruit-forward element with texture and that 'something extra' from the Awatere," Olsen says.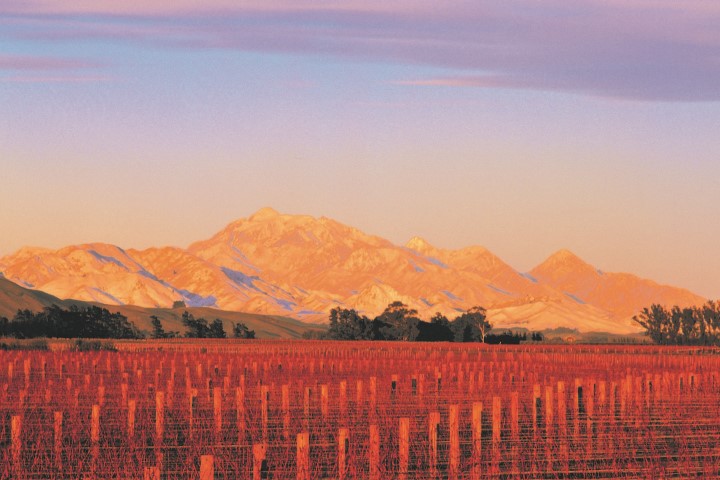 Vavasour Vineyards with snow-covered Tapuae-O-Uenuku at 10,000 foot peak that frames and protects the region.
Both Clifford Bay and Dashwood are produced at Vavasour Winery (pronounced Vava-Soor) in the Awatere Valley. "The Vavasour family was the first to appreciate the much harsher Awatere Valley's potential for great Sauvignon Blanc, planting the first vineyards here in 1986. They took this harsh, cooler landscape with stonier soils and really set the standard for Awatere Sauvignon Blancs, which are typically more reserved with a real creamy rounded acidity and bright minerality," explains Olsen.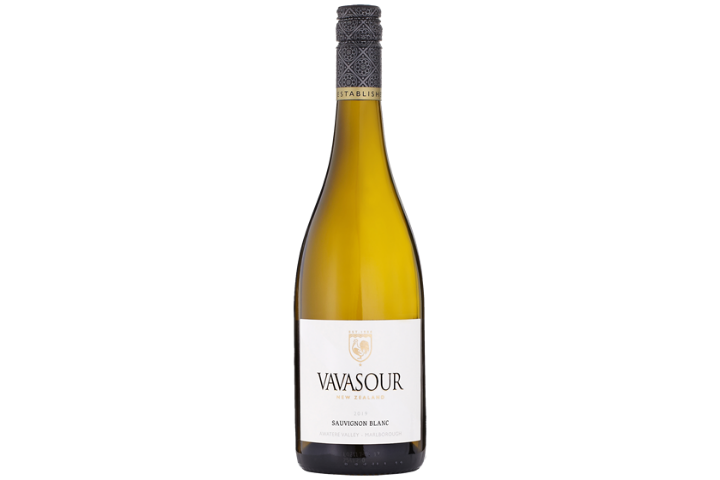 At Vavasour Winery the team is headed by Stu Marfell, the fifth generation of his family in the Awatere Valley. Marfell was named "Winemaker of the Show" at the 2018 New Zealand International Wine Show (like being named Winemaker of the Year). The 2018 Vavasour Sauvignon Blanc earned 90 points from James Suckling, who found "attractive aromas of fresh limes and herbs with grassy elements, too. The palate has a vibrant and supple allure." It also wowed Wilfred Wong, the longtime respected critic at Wine.com who gave it 91 points, writing, "This wine is bright and lasting. Its enticing aromas and flavors of ripe citrus and earth stay long and focused on the palate. Pair it with stir-fried clams with minced garlic and slivers of mild red peppers." Find the 2019 vintage here.
If a truly tropical Sauvignon Blanc is what you're looking for, moving northwest into the Wairau Valley, Grove Mill specializes in one hundred percent Wairau Valley fruit, which because of a slightly warmer climate offers more tropical notes. "All our wineries and vineyards are certified sustainable by Sustainable Winegrowing New Zealand," notes Olsen, "But Grove Mill has been a leader from its onset, and made protecting its surrounding wetlands habitat a top priority." The 2019 Grove Mill Sauvignon Blanc impressed Wine Spectator, which rated it 90 points, describing "Whiffs of spice and smoke add a savory accent to the core of pear, lemon and tangerine flavors. Fresh, juicy acidity and a dash of honeysuckle show on the finish."
NEW ZEALAND – SOUTH ISLAND – CENTRAL OTAGO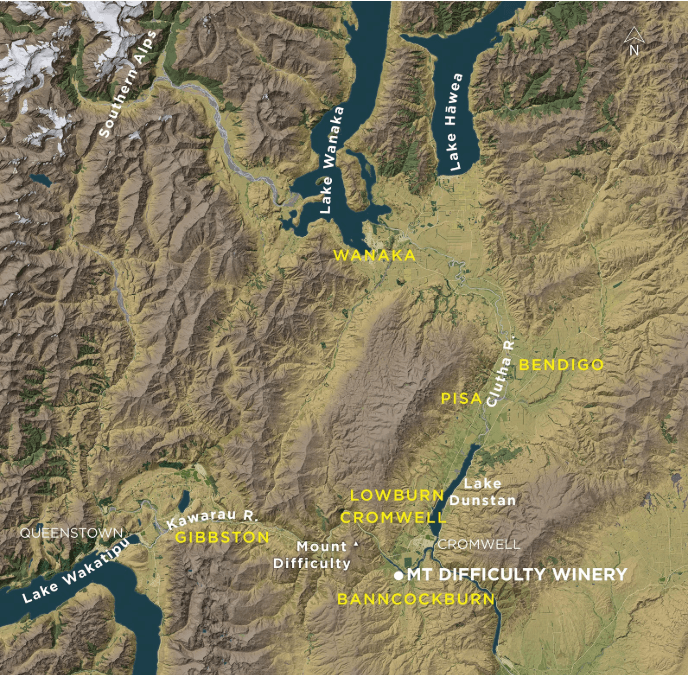 Map of Central Otago and its six sub-regions. Source: Foley Family Wines
Some of the most memorable scenes from Lord of the Rings were filmed in the craggy, rocky landscape of Central Otago, smack in the middle of New Zealand's South Island, but that's not quite the reason why Bill Foley brought dramatically beautiful Mt. Difficulty, into the fold.
"It is an exceptional location," explains Olsen "Not only is it one of the world's southernmost growing regions, but this is also New Zealand's only continental climate with all four seasons and incredibly diverse soil types." The Central Otago region, and the Bannockburn sub-region, have become a cult destination for Pinot Noirs. Our 2018 Mt. Difficulty Pinot Noir from Bannockburn picked up a 90-point score from Robert Parker's Wine Advocate, which noted "The 2018 Bannockburn Pinot Noir features subdued, brooding aromas of cherries, cedar and sous-bois, followed by a medium to full-bodied palate framed by some chunky tannins. It's robust without being unapproachable, turning silky on the lingering finish. It should drink well now (with a little aeration) and for at least the next 6-7 years."
Bannockburn is situated on the south bank of the Kawarau River where vines grow in the warmest and driest region of New Zealand. The resulting Pinot Noirs have intense fruit flavors and dazzling minerality from the rugged terrain. Named for Mount Difficulty, Mt Difficulty is situated at the base of the mountain.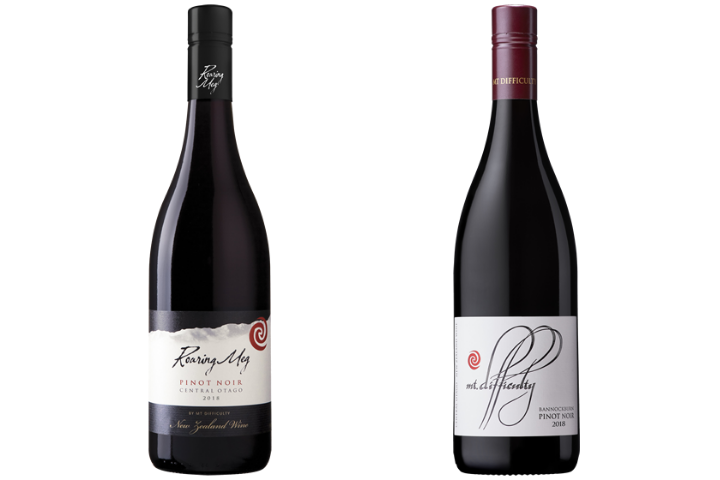 As one of Bannockburn's original wineries, its plantings are among the region's oldest, and its current winemaker, Matt Dicey, has been with the winery since it was founded, setting the standard for highly acclaimed Bannockburn Pinot Noirs since 1998.
Olsen adds that Mt Difficulty has a sister brand called Roaring Meg, "which is a more fruit-forward style of Pinot Noir," she says, "Roaring Meg is a bit of a regional celebrity, dating back to the 1860's gold rush era. We don't know too much about her, but her bold personality is memorialized in one of the Kawarau River's most treacherous sections, and our wine too.
The 2018 Roaring Meg Pinot Noir, which is made in a more early drinking style while your Mt. Difficulty wines age. It boasts wild raspberry and red cherry characters dominate while soft sweet brown spice characters add in detail. Savory red cherry notes lead the wine onto the palate; the wine flows with good texture.
COMMON THREADS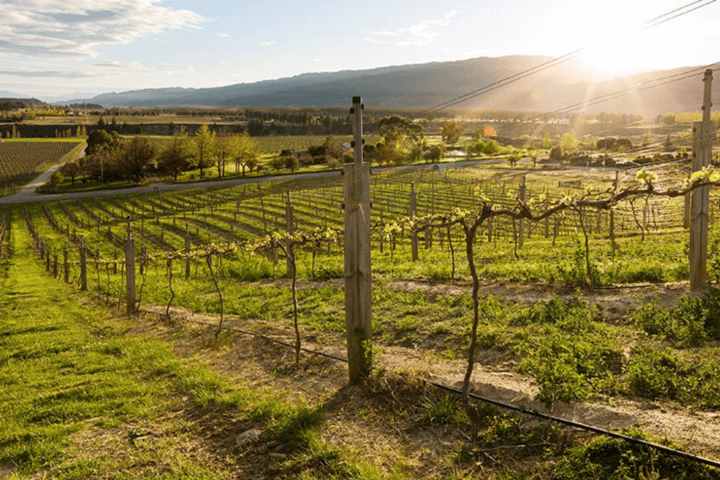 Mt Difficulty is an accredited member of the Sustainable Winegrowing initiative (SWNZ).
Watch this time-lapse video to see the creation of our "Live Roof" at Mt. Difficulty.
"In addition to our wineries in New Zealand being certified sustainable," explains Olsen, "another common thread between them is that they are all pioneering wineries. Vavasour pioneered Awatere Valley, forming the first winery there in 1986. Grove Mill established a wetland habitat for the Southern Bell Frog and has been Carbon-Neutral Certified going back to 2006. In Central Otago at Mt. Difficulty, winemaker Matt Dicey's family founded the winery. They are one of three families that founded the Bannockburn area in terms of winemaking."
That spirit of "first" and "pioneering" is a consistent trait throughout all of the brands under the Foley Family Wines umbrella—and is incredibly important to Bill and Carol Foley. Stateside wineries like California's Chalk Hill and Chalone are early pioneers of their area, and that historical significance is part of the story the Foley's want to tell—in addition to the production of world-class wines. So, whether you're enjoying a bottle of Chalk Hill Chardonnay or a Pinot Noir from Mt. Difficulty, rest assured that a great deal of history, attention to detail, and care goes into ensuring that there are no difficult drinking decisions—only enjoyable ones.