A Vegas Golden Knights fan, Dr. Nicole Cavenagh is based in Las Vegas, Nevada and works in pediatric medicine.
Dr. Cavenagh spent seven years working in academic medicine at Touro University, where she was instrumental in helping develop the first multidisciplinary outpatient program for children with neurodevelopmental disabilities in Las Vegas. She opened her own practice, The Center for Child and Family Development, and today works with three other neuro-psychologists. "I work with children who have developmental issues, like Autism and ADHD, and to a lesser extent depression and anxiety, but I see a diverse group of kids," she tells us.
Prior to COVID-19, we would run into her regularly at Vegas Golden Knights games at the T-Mobile Arena in Vegas. She's one of our most-spirited fans who takes full advantage of all the perks offered through our Foley Food & Wine Society. We asked her to talk about her love of wine, hockey, and what she loves about being a member of our society.
FFWS: First off, we hope that you, your family, friends, and colleagues are safe and healthy. Tell us about how the pandemic has impacted your community and practice?
Dr. Nicole Cavenagh (NC): I am extremely lucky in that my practice has not changed much as a result of the pandemic. We did voluntarily close for three weeks during what was predicted to be the peak of the spread in an effort to keep our patients, their families, and our staff safe and healthy. I feel incredibly blessed that we are able to continue serving our patients and their families (while, of course, taking substantial precautions) but I am also very aware of the struggles that others are facing, particularly those in the service industry. To drive down the Las Vegas Strip right now is surreal; in fact, there was recently a family of Canadian geese walking right down the middle of Las Vegas Boulevard because there is so little traffic! These are unprecedented and anxiety-provoking times, which makes it critical that we all look for the "silver linings" as well as better days ahead.
FFWS: How are you spending your time at home and social distancing?
NC: Something that has brought me so much joy during this time is sitting on my front porch (with either my coffee or a glass of a Foley Family wine!) and watching all of the families in my neighborhood out for walks and bike rides. I have lived in the same neighborhood for nearly 20 years and have never seen this many people outside! Luckily, I just had a case of Foley Johnson Zinfandel and Cabernet Franc delivered so I can continue enjoying these moments! It has also been truly amazing to see how communities have come together during these times…the amount of sharing and support that can be seen among complete strangers via social media is so uplifting. As we look towards a bright future, maybe one with some different social practices than those to which we are accustomed but, nonetheless, a bright future. I, personally, cannot wait to be back in the Fortress, cheering on our Golden Knights, and back in wine country, enjoying my favorite Foley Family wines with the good friends that we have made in both places, all thanks to Mr. Bill Foley!
(Editor's Note: The questions below are all from the original interview)
FFWS: How long have you lived in Las Vegas and when did you become a Vegas Golden Knights season-ticket holder?
Dr. Nicole Cavenagh (NC): I'm from Chicago originally and have lived in Vegas for 19 years now. I grew up in a big sports city. The Knights came in and we came close to buying season tickets the first season but we didn't. And the first season was incredible and exceeded everyone's expectations (they reached the Stanley Cup Final in their inaugural season with a 2-1 win over the Winnipeg Jets in Game 5 of the Western Conference Final). We went to so many games, we should have season tickets! We were wait-listed for season two but did get contacted and I convinced my mom to go all-in with me. We landed Club Level Center Right seats, right behind the Knights' bench.
FFWS: How many games did you attend last year?
NC: There were 41 home games and we made it to 38!
FFWS: Have you visited our Foley Food & Wine Society tasting area?
NC: The addition of your tasting area is amazing. Each time we go, there's a different lineup of wines from the portfolio and for me, it's really fun. I've been a Foley-Johnson handmade girl since I joined and now I get to try some different wines like, most recently I had a Four Graces Pinot Noir, and was able to savor it on a private patio watching the game. We stop by quite often for a pre-game drink, during the game, and it's been great fun to see more and more people become aware of it!
FFWS: You mentioned you're primarily a Foley-Johnson fan. Have you visited the tasting room and winery in Napa Valley?
NC: Have I? I'm obsessed with Foley-Johnson (FJ) at this point. I've always been a Napa fan. Every December, my dad and I would do an annual trip to Napa. A year ago, we decided to branch out and try some new wineries. I was really intrigued by Bill Foley's properties, and FJ seemed smaller and more intimate than others, so I emailed my Vegas Golden Knights rep Jerrett, and he set us up with an amazing experience at FJ! [Editor's note: a benefit of being a Vegas Golden Knights season ticket-holder is having access to a personal rep who can help assist in setting up experiences at any of Bill Foley's wine properties].
FFWS: What was that first experience like at FJ?
NC: Peter Rossomando, the tasting room manager, rolled out the red carpet! It was fun pulling up, passing by all these places like Opus One and Nickel & Nickel and Cakebread, and then tucked in between all these great places is this jewel of a winery. We were there in December and had a real one-on-one experience with Peter. We tried so many amazing wines and then he gave us a tour of the entire place. I love being in the barrel room and it's a toss-up for me between tasting there or on the back. Peter was so great, it was a big part of why we fell in love with FJ. We joined the wine club that day. I probably have well over 100 bottles we still haven't opened and that collection is growing—we collect the Handmade series.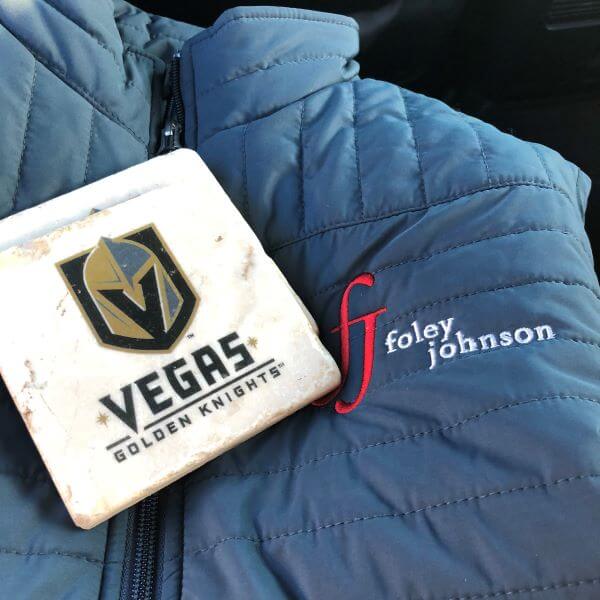 FFWS: You should bring some bottles out to dinner!
NC: Funny you should say that…recently, my husband and I celebrated our wedding anniversary at the hot new Mayfair Supper Club at the Bellagio—I open the wine list and there's a Foley-Johnson Cabernet with a little Vegas Golden Knights logo! It was a Cabernet I hadn't had, so I ordered that!
FFWS: You mentioned that you joined the Wine Club at FJ. That gives you automatic membership in the Foley Food & Wine Society, so, what do you like about being a member?
NC: I think what I like best about being a FFWS member is the variety within the brand portfolio. There are so many choices of vineyards to visit, all within the FFWS family, which is not the case for any of our other memberships. Also, it is super easy to accumulate points that can be used towards purchases from the vineyards. We were enrolled in FFWS by being season ticket holders, but now that I am aware of the program, I would join even if we did not have season tickets 🙂
FFWS: Have you ever stayed at Les Mars in Healdsburg?
NC: The next time we're able to visit Napa, my husband and I plan to meet some of our best friends and take them to FJ and we plan to visit Chalk Hill and Roth, but next time we definitely hope to stay at Les Mars! It looks amazing.
FFWS: You finally got to meet Bill Foley, not too long ago. Tell us about that.
NC: Every time I've visited FJ, I've brought this original Golden Knights Jersey I have, which has a ton of signatures on it from the players—the only one I'm missing is Bill's! So, I bring it hoping to run into him at FJ, but we've never crossed paths there. However, every December the Golden Knights select a small group of season ticket holders for their Not So Silent Night holiday party, and I was invited. When we got to the door, Jerrett let us know that Bill was inside—but of course, I didn't have the sweater with me!! I did get to meet him, and it was just the greatest day ever. He's a wonderful man. The things he's done for our city, especially in the face of the tragic shooting in 2017—the Knights had their very first home game after the tragedy, and it was an opportunity for the community to come together. One of my husband's best friends was there, and was, in fact, one of the first injured and transported to a hospital. So, the first game was a deeply impactful event and then how Foley and the Knights responded to everything really endeared them to this city. They were out there every day at Blood Banks and Survivor events and they raised a banner with 58 names of the people who died in the stadium—so meeting Bill, was one of the great moments in life for me.
Bill Foley and Dr. Nicole Cavenagh