Pictured above: View of historic 1919 Chenin Block vines—center top block, right of the winery.
By Jonathan Cristaldi
A few weeks ago, I spent an entire day at Chalone. I met Richard Boer, who has managed Chalone's vines for three decades. I rode in winemaker Gianni Abate's pickup truck over impossibly rugged roads and stood in awe with both Boer and Abate as we looked out over Chalone and the entire Salinas Valley from one of the highest spots on the property.
One thing sticks out clear in my mind since visiting—Chalone is a remarkable place. It possesses awesome, powerful energy, and once you've come and gone, that energy works on you—it tugs and beckons you to go back.
I can only imagine that it's the same feeling felt by John C. Dyer, one of the first stewards of the property that would become Chalone. Dyer bought 80 acres from the Lindgren family in 1912, situated on benchland 1,800 feet above sea level—in the shadow of what would become the Pinnacles National Park. The only way in and out of the property was by horse and carriage along Stonewall Canyon, a treacherous dirt road that led out of the Gavilan Mountains down to the town of Soledad. It was a nine-mile journey that was necessary to gather critical supplies. There was no running water or electricity on the property until the mid-1980s.
While Charles Tamm is credited with planting vines in the area to the west of the Chalone estate, William Silvear planted the first vines that produced wine at Chalone.
Silvear was part of a group of partners who bought the ranch from the Dyers in 1921. They paid $2,500 in total. Eventually, Silvear became the sole owner. According to former Chalone co-owner Phil Woodward, and author of "Chalone: A Journey on the Wine Frontier," Silvear's most significant accomplishment was that he "recognized the benchland's rare soil." And that he was inspired by his neighbor, Mr. Tamm, to plant grapes and to make fine wine.
View of The Pinnacles National Park, upper right from a block of Pinot Noir vines at Chalone.
A BRIEF HISTORY OF CHALONE
The modern winemaking era that we think of when we think of wine from Chalone begins in the 1960s. On July 11, 1961, Chalone Inc. was established as a corporation with three directors—physician Edward Liska, stockbroker John Sigman, and John E. Sullivan, Sigman's lawyer. Sigman and Liska hired winemaker Philip Togni, who made the first three vintages of Chalone wines.
The year before Chalone Inc. was established, the first harvest got underway in 1960 "under numbingly difficult conditions," recalls Woodward. Togni worked with Will Silvear's "decades-old Pinot Noir, Pinot Blanc, Chardonnay, and Chenin Blanc vineyards," according to Woodward. Six hundred cases of wine were produced, bottled with a label designed by Arthur Baker, a Berkeley-based calligrapher, who crafted a black and white silhouette of Mount Chalone.
By 1964, Togni was gone, and Richard (Dick) Graff, a Harvard-trained musician and former U.S. Naval officer, had entered the picture, ushering in the era that would see Chalone rise to great heights in the public arena as a publicly-traded company called Chalone, Incorporated (CHLN).
Before all that would happen, Graff first made the drive up to Chalone in his '51 Chevy. It was the summer of '64, and he met with Rodney Strong, who, at the time, was leasing Chalone's grapes. Graff became a partner in the company in September of 1965. Four years later, after a turbulent start with absentee partners and debt accruing, on March 3, 1969, Graff's mother purchased the property at the courthouse in Salinas, California and Gavilan Vineyards, Inc. was formed, marking a new era in Chalone's history.
In less than two decades from that momentous occasion on the courthouse steps, Chalone would rise in the public eye as an incredible success story. In 1982, it even got its own appellation with the creation of the Chalone AVA. And many important people had come and gone, including members of the Corti family, owners of Corti Brothers, a world-famous grocery in Sacramento, California. And Graff was growing increasingly more busy and devoted to sales—and founding The American Institute of Wine & Food with Julia Child and Robert Mondavi. All this allowed for a handful of up-and-coming star winemakers to pass through its doors, including Graff's two brothers John and Peter, Merry Edwards, and Michael Michaud—who, to this day has his own winery a stone's throw from Chalone.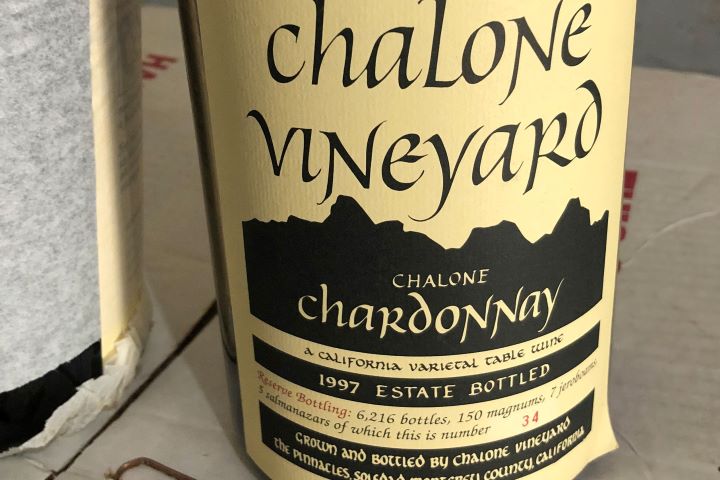 A bottle of winemaker Michael Michaud's last vintage, still held at the winery in the famous "chicken coop."
But January 9, 1998, marks a solemn day in Chalone's history. Graff, who regularly flew in and out of Soledad from Salinas on his own single-engine Cessna plane, began to lose power in the early evening on his way back to Chalone. He turned the plane around, attempting to head back to Salinas, but crashed and was killed instantly.
Chalone Today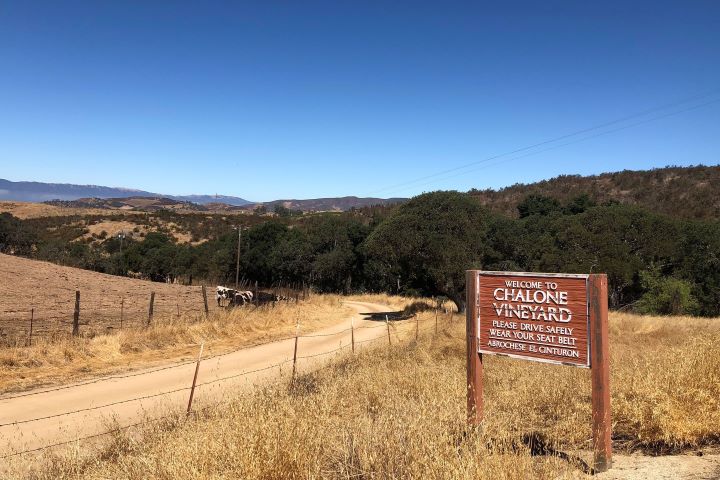 In 2004, Chalone was sold to Diageo, then a U.K-based alcoholic beverage giant. One paragraph in an article by Wine Spectator about the acquisition nicely sums up all the assets that Chalone, Incorporated, possessed:
"By taking over Chalone, Diageo snatches away a Constellation target and substantially boosts its portfolio of wine brands, improving its position in the market. In California, Chalone owns Acacia, Chalone, Dynamite, Echelon, Hewitt, Jade Mountain, Moon Mountain, Orogeny and Provenance wineries, as well as a 50-percent stake in Edna Valley Vineyard. It also owns Canoe Ridge and Sagelands in Washington and a 23.5 percent stake in Château Duhart-Milon in Bordeaux. And it owns nearly 1,500 acres of land in California, including vineyards in Napa, Sonoma and Monterey counties. In 2003, it sold more than 675,000 cases and reported net sales of $67.4 million."
As I stood with Boer and Abate on Chalone's summit last month, gazing down at the iconic Chenin Blanc vineyard where 101-year old vines are still eeking out grapes, my eyes darted from the lower vineyards to the winery's caves and back to the Chenin Blanc vines. I knew all the history. I had read about all the ups and downs.
Both Abate and Boer would spend the entire day telling me more about Chalone. But just before dusk as I made my way down to Soledad, out of the Gavilan hills, and back toward Highway 101, I couldn't help but think of people who had spent years of their lives making the same trek. From Will Silvear and Charles Tamm to Philip Togni, Rodney Strong, Merry Edwards, Julia Child, Darrell Corti, Dick Graff, and Michael Michaud. They are just some of the leading players who made Chalone what it is. I thought too of those who have spent just a day there, and hardly grazed the surface of its riveting history.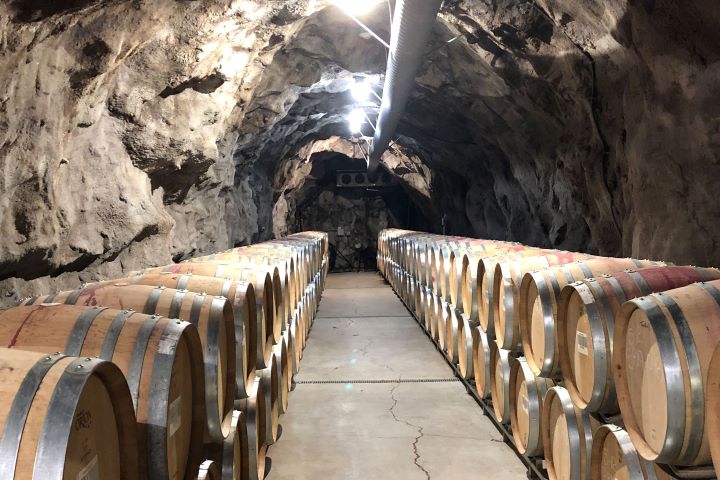 When Bill Foley bought Chalone in 2016, he described wanting a "sense of place," and was keenly aware that Chalone is one of California's most unique properties. Chalone's greatest asset is underfoot. The soils are decomposed granite riddled with real limestone deposits—soils that reminded Silvear of vineyards in Burgundy. "It slows the vine's growth," Boer told me, "and reduces the berries' size and the clusters and intensifies the grapes' flavors."
The bench upon which Chalone sits was formed from an ancient volcano. "That volcano brought up some ancient seabed floor," Abate told me. "And that's where this limestone is coming from, that we grow all our grapes on." And incredibly, the rock formations that make up the Pinnacles of the Pinnacles National Park just behind Chalone are only one half of "another half that is down in Los Angeles," explained Abate. "So that'll give you an idea of how old this volcano was that the plate had moved so far that it's gone from Soledad to Los Angeles. We owe everything to this ancient volcano that brought all this limestone to the surface because it's what allows us to make the mineral-driven wines we make today."
There is much more to come about Chalone and its unique history and the fascinating players involved. But for now, let me invite you to simply get more acquainted with these wines and shop the current-release Chalone wines.
About the Author
Jonathan Cristaldi has written about wine and spirits for over a decade. He serves as editor-at-large for The SOMM Journal and The Tasting Panel Magazine and is a regular contributor to Food & Wine and Liquor.com. His writing has also appeared in Seven Fifty Daily, Los Angeles Magazine, First We Feast, Thrillist, Time Out LA, Tasting Table, and Psychology Today. Cristaldi was named a "Wine Prophet" by Time Out NY for his witty and often avant-garde approach to wine education. "The L-Train Luncheon," a video on YouTube, features one of his best experiential event concepts, which came to life on a New York City subway car.