Hungry? Thirsty? Fancy yourself a home-cook? You've come to the right place. We're introducing the first in a series of monthly articles we're simply calling "Monthly Menu Series" with our estate Chef Alec Graham.
Chef Graham was just twelve years old when he was brought to the iconic French Laundry—a memory seared in his psyche, and the moment he says he knew that becoming a chef was his calling in life.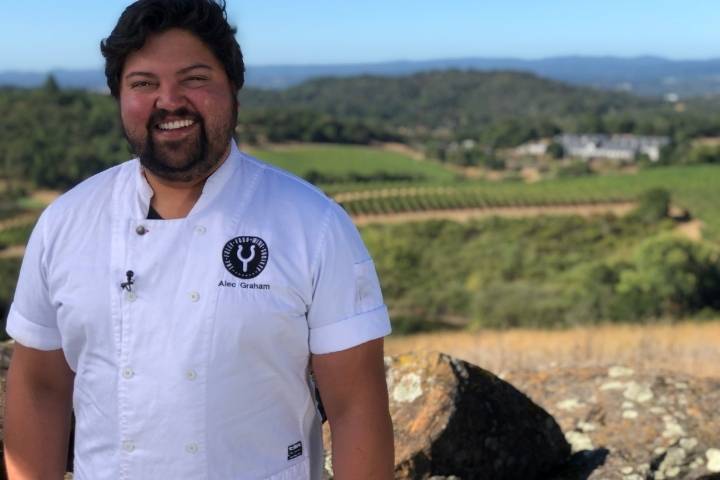 He's worked in Toronto as a sustainable fishmonger, and worked for Chef Cory Vitello at The Harbord Room and Chef Matty Matheson at Parts & Labour—two Toronto staples. After a stint in Nicaragua working with the Executive Chef of luxury resort, Yemaya, he landed in Northern California, working two years under Chef Dustin Valette at his restaurant in Healdsburg before joining the culinary team at Chalk Hill Estate Vineyards & Winery. While not at Chalk Hill, Chef Alec enjoys traveling, riding his motorcycle, hunting, and playing guitar, but nothing makes him happier than perfecting a classic American cheeseburger.
MONTHLY MENU SERIES | ED. 001 | LAMB
"With spring in full swing, one of my favorite meals to cook is this beautifully roasted rack of lamb. Bunches of fresh herbs and peas signal the start of a new season, and nothing quite makes a house feel like home more than the aroma of a proper roast in the oven.
"I've paired this meal with the 2017 Chalk Hill Estate Red, one of my favorite wines in the portfolio. The wine provides just enough tannins to cut through the richness of the roasted lamb, while not overpowering the subtle herbaceous flavors in the peas and asparagus, and the berry and tobacco notes bring out an otherworldly dimension to the simply prepared new potatoes."
Cheers,
Chef Graham
Herb Roasted Rack of Lamb with Asparagus, Crispy Potatoes, and Minty Peas
Recipe by Chef Alec Graham
Pair with Chalk Hill Estate Red


Ingredients

2 racks of lamb, about 1.5 lbs each

2 lbs asparagus

2 lbs baby yellow potatoes

1 lb peas

1 cup watercress

1 bunch chives

1 bunch parsley

1 lemon, zested

1 bunch mint

1 bunch dill

12 cloves garlic

3 tbsp butter

Salt and pepper to taste

Olive oil






Serves: 6

Prep Time: 1 Hour

Directions

Preheat oven to 450 degrees F. Put potatoes in a medium pot, and cover with cold salted water. Bring to a boil, then reduce to a simmer for 5 minutes, or until potatoes are tender.

While Potatoes are cooking, combine chives, parsley, garlic, and ¼ cup of olive oil in a blender. Blend until smooth. Score the fat cap on the racks of lamb in a tight X pattern, and rub herb oil on all sides. Season liberally with salt and pepper, and transfer to a roasting rack.

Once potatoes are cooked, remove them from water, and slice them in half. Toss in olive oil and salt and pepper, and transfer cut side down to a foil-lined baking sheet.

Cut the tips of the asparagus off about 1 inch from the bottom. Toss in olive oil, salt, pepper, and lemon zest. Transfer to a foil-lined baking sheet.

Place the lamb, potatoes, and asparagus in the oven. Roast the asparagus for about 15 minutes, or until slightly tender. Roast lamb and potatoes for about 25 minutes, or until the desired temperature is achieved.

Bring a medium pot of water to a boil. Add peas, watercress, mint, and dill, and cook for about 10 seconds. Strain water, and transfer peas and herbs to a blender. Add butter, and blend until smooth. Season to taste with salt and pepper.

Once the lamb is finished, remove from oven, and let rest for 10 minutes before slicing and serving.