Six simple tips to throw a festive, stylish and stressless soirée.

Throwing a holiday party doesn't have to be stressful—in fact, it shouldn't be! The holidays are a time to relax, celebrate, and savor the company of your loved ones. With these simple tips, you can host a great soirée that's just as enjoyable for you as it is for your guests.

TIP #1: KEEP IT COVID-SAFE
The most important thing is for you and your guests to be healthy and safe. Decide on a protocol ahead of time that all guests feel comfortable with. Strategically place hand sanitizers throughout your home—at the entryway, on tables, at the bar and/or buffet, and in restrooms.

TIP #2: KEEP IT STRESS-FREE
Advance planning will minimize your stress the day of your get-together. Start a few weeks ahead by selecting your recipes and pairings and preparing your to-do list. Don't be afraid to delegate—if a guest offers to help, you can ask them to bring an appetizer, loan a serving dish, or pick up a bag of ice on the way over.

Shop for dry ingredients well ahead of time and fresh ingredients a day or two prior; you may want to consider having groceries delivered. Keep your recipes classic and simple—don't feel pressured to make everything from pie crust to soup stock from scratch. Prepare and freeze what you can (like soups, stews, quiches, or tarts) in advance.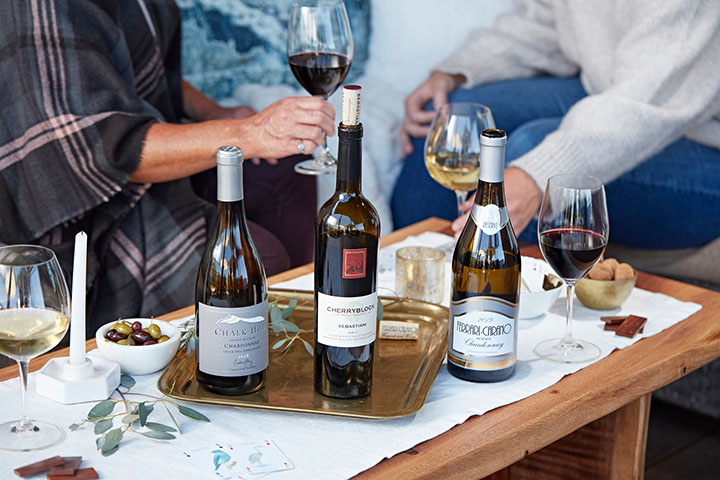 When you're less than five days before the party, print out each recipe and lay them all out on a surface you won't need to use. Then, pre-measure any dry ingredients and group them together with the recipes, along with any cookware or serveware necessary for each one. A day or two before the party, if space permits, set the table and decorate so you have less to worry about on the big day.
Decide whether you want to serve buffet-style or seated—the former requires much less plating, serving, and cleanup time. It will give your party a much more casual feel, but also allow you more time to spend with your guests. Another option to consider is hiring a caterer—then you can really relax and enjoy the party!
TIP #3: KEEP IT ELEVATED
To give your party a luxurious feel, a few simple and easy decorations will go a long way. Fresh flowers and elegant taper or votive candles are classic, but dried flowers, leaves, or grasses look great as well, and can be used for future occasions or become a permanent fixture in your home décor. A few decorative bowls filled with vintage ornaments or colorful stones can make for a beautiful and unexpected touch. Top it all off with some festive string lights, either coiled inside mason jars or strung up around the room or the table, to create a warm, glowing atmosphere.
TIP #4: KEEP IT INVITING
Welcome your guests in style from the moment they enter your home. Decorate your front door with a wreath or a large velvet bow to make a great first impression. Then, as you greet them, hand them a glass of "welcome wine" to get the party started. A bright and rich Chardonnay with seasonally appropriate notes of autumnal baked fruit and warming spice is the perfect choice to whet their appetite while they mingle before dinner. Pair it with an artfully arranged cheese and charcuterie board, adorned with fruits, mustards, spreads, nuts, crackers, and bread—Chardonnay's creamy texture and crisp acidity are a great match for this decadent spread.
Suggested Wine Pairing: The three beautifully different chardonnays in our Chardonnay Showstoppers hoilday gift set.
TIP #5: KEEP IT DELICIOUS
Serve flavorful holiday favorites alongside crowd-pleasing and classic wine pairings. For the main course, select something satisfying but not too heavy, so your guests will want to linger long after the plates are cleared. Roast chicken, poached salmon, or pan-seared duck are all excellent options that are not too difficult to prepare. Pinot Noir's juicy red fruit, bright acidity, and earthy, herbal accents work beautifully with any of these dishes.
Suggested Wine Pairing: Chalk Hill 2018 Pinot Noir

After a big, filling meal, skip the sticky sweet wine for dessert and go for a jovial round of bubbles. A classic fruit tart, crumble, or galette, made with an assortment of colorful fruits, is a visually stunning choice that already has plenty of natural sweetness from the fruit. A lively, refreshing glass of sparkling wine, with zesty citrus character, aromatic brioche accents, and a smooth, creamy texture is an incredible way to perk up your final course.
Suggested Wine Pairing: Banshee Ten of Cups Sparkling Wine

After dessert, it's likely that your guests will want to stick around and continue to mingle. If you have a fireplace, light it up (or light some extra candles) and pour a sophisticated glass of perfectly aged Cabernet Sauvignon, with notes of succulent dark berries, hints of savory dried herbs, and sophisticated, brooding aromas of tobacco and leather—the kind of wine that's meant to be savored in great company. Put out bowls of chocolate truffles, gingersnap cookies, and roasted nuts for your guests to snack on while they sip and raise a glass to your wonderful hosting abilities!
Suggested Wine Pairing: Foley Johnson 2015 Handmade Cabernet Sauvignon
TIP #6: KEEP HOSTESS GIFTS ON HAND FOR FUTURE INVITES
A successful gathering often leads to others. Be prepared for follow-up invitations to your guests' homes this holiday season with sure-to-please, beautifully boxed wine gift sets that feature highly rated red and white wines.
Featured Set: Ferrari-Carano Duo Gift Set