Cabernet Sauvignon is a grape variety that we do well at several of our Foley family estates. But how much do you know about this prized grape?
We poured through one of our favorite wine books to dig up some interesting facts about this stately variety. "Wine Grapes: A Complete Guide to 1,368 Vine Varieties, Including Their Origins and Flavors" authored by Jancis Robinson and co-authored by Julia Harding and José Vouillamoz, is the more than 3,000-page tomb we're talking about. It's one of those must-have wine books for any lover of wine. And whether you refer to it all the time, or periodically, or for that one moment when you've just got to find out some fact about your favorite variety, it's the most reliable and exciting source for all things grape.
While Cabernet Sauvignon is the indisputable King of Napa, it plays a prominent role in France's Bordeaux region, particularly in the Left Bank—and is a leading variety in other parts of the U.S. and the world. Below, you'll find some interesting facts about Cabernet Sauvignon, along with a few recommendations from our portfolio of wines.
1. ORIGINS. Where in the world does Cabernet Sauvignon originate?
Cabernet Sauvignon comes from the Gironde in south-west France. It was first listed for sale in a catalog of grape varieties in Pauillac in 1784. So, in the spirit of Cabernet's origins, we've selected two wines that are made in a kind of Bordeaux-style, in terms of their aging in extremely high-quality French oak and their ability to cellar beautifully.
2017 Foley Johnson Estate Cabernet Sauvignon, Rutherford, Napa Valley
2015 Kuleto Estate Cabernet Sauvignon, Napa Valley
2. PARENTS. Can you name the parent grapes of Cabernet Sauvignon, and the UC Davis professors who made the hallmark discovery?
Cabernet Sauvignon is the offspring of Cabernet Franc and Sauvignon Blanc! In 1996, Carole Meredith and John Bowers of the University of California at Davis made the discovery. What better way to celebrate the parental origins of Cabernet than with the pinnacle, the patriarch (or matriarch if you will) of our limited-production offerings from Firestone? The Chairman Series should be on your radar, and if it's not, here's your chance.
2017 Firestone Vineyard Chairman Series Cabernet Sauvignon
3. ON THE VINE. If you saw Cabernet Sauvignon in a crowded lineup of grapes, could you pick it out?
You'd be looking for a grape bunch that contains little berries that are not very tightly-packed together but rather loose, and they'd have relatively thick blue-hued skins. If you're looking for a purple-hued, blueberry-kissed ultra-powerful, and delicious rendition of Cabernet Sauvignon, look no further than these two beauties.
2018 Three Rivers Cabernet Sauvignon Artz Vineyard, Red Mountain, Columbia Valley
2017 Roth Estate Winery Reserve Cabernet Sauvignon Learn More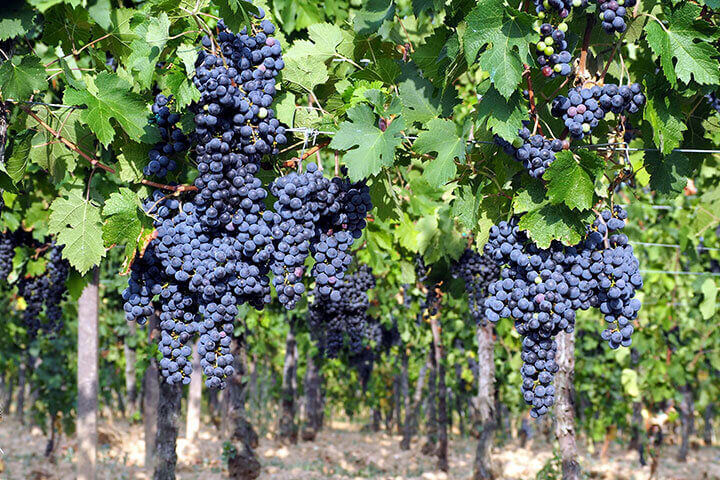 4. BLENDING. Which grape variety is most commonly blended with Cabernet Sauvignon and why?
Cabernet is often blended with Merlot, which is softer and fruiter, and helps to balance Cabernet's typically powerful, mouth-drying tannins. If you'd like to see this kind of blending trick in action, we suggest the following Cabernet blends, which leverage the plumy, juicy, softening power of Merlot!
2018 Banshee Cabernet Sauvignon, Napa Valley
2015 Ferrari-Carano Tresor, Alexander Valley
5. TOP DOLLAR. Some of Napa Valley's most famous wines are comprised of Cabernet Sauvignon, and many of them fetch top-dollar. But do you know how much it costs vintners to purchase the best Cabernet grapes?
If you had to put a dollar amount on one ton of prime Cabernet grapes from Napa what would you pay? According to the California Grape Crush report, of all the grapes that were crushed in California in 2019, Cabernet Sauvignon comprised 14.1%, second only to Chardonnay, which made up 15.6% of all grapes crushed in 2019. And one vintner paid $50,000 for one ton of Cabernet grapes from legendary grower Andy Beckstoffer!! If we sold our Cabernet grapes for Sebastiani Cherryblock or our Lancaster Estate Cabernet, we'd probably consider charging $50,000 too—but to be honest, we consider them priceless assets. Well, not invaluable, but certainly not $50,000 for one ton, because then, we'd have to charge about $500 per bottle. So, coming in at far less than that price, and two of our finest examples of Cabernet Sauvignon are just a click away:
2016 Sebastiani Cherryblock Vineyard Cabernet Sauvignon, Sonoma Valley
2017 Lancaster Estate Cabernet Sauvignon