By: Sheila Irwin, Maison de Cinq
Looking for beautiful fall entertaining ideas?
This fall harvest dinner party featuring Chalk Hill Estate wines is an easy, but elegant way to celebrate the bounty of the season.
---
One of my favorite times of year to entertain is in the fall. It's not as casual as the summer, but it's also not as fancy and involved as the holiday season. It's relaxed without being too laid back, and the bounty of the season makes for a perfect night of food and wine.
Today I'm sharing a fun take on a seasonal dinner and showing you how I throw a fall harvest dinner party! From a pretty table setting featuring pumpkins and fall florals, to cozy recipes that showcase the best of the season, and of course, the perfect wines to serve, you'll find all the tips you need to create a wonderful fall night with family or friends!
For fall, I always think relaxed, cozy and inviting. That means using earth tones and rustic textures, like linen, stoneware, wicker and wood. Since the food and wine are the stars, you want to keep the decor simple and natural, reflecting the bounty of the season.
To create the centerpiece, I used both faux and real pumpkins and scattered them around the flowers. I also added some acorns for an added nod to the season. And I'm loving this new linen runner!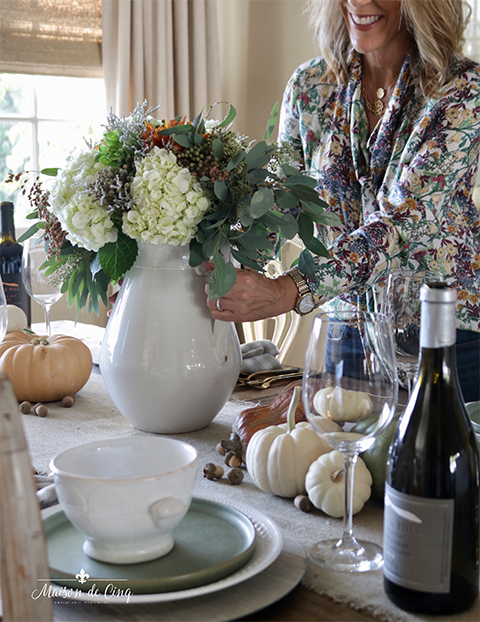 The centerpiece consists of white hydrangeas mixed with some fall florals and eucalyptus.
To emphasize the warmth of the season, I used my favorite gold flatware and a brass napkin ring. Except it's not a napkin ring! It's actually from the hardware department, is solid brass, and it's much cheaper than napkin rings typically cost. (I got this idea from Martha Stewart so I can't take any credit, but it's brilliant!)
For the meal, I've included a yummy charcuterie plate as one of the starters. Not only does everyone love it, but it can be set out before your guests arrive while you get other things done. And it's a great way to let everyone serve themselves and graze for awhile before the meal.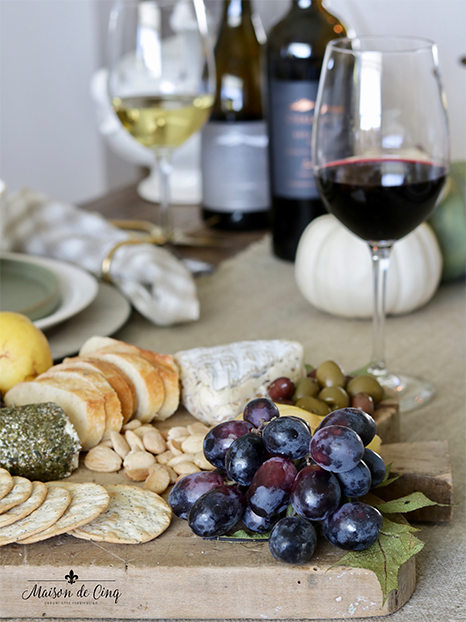 A few tips for arranging the perfect cheese plate:
• Let the cheese sit at room temp for at least a half hour before serving. Cheese is at its full flavor at room temperature.
• Include a mix of both soft and hard cheeses, as well as different types such as goat, cow's milk, and sheep's milk.
• Add a selection of meats such as prosciutto or salami, as well as nuts and olives for a variety of flavors.
• Fresh and dried seasonal fruit such as grapes, figs, apples, or pears add sweetness and are a break from the rich cheese.
• The secret to a great cheese board is the garnishes! Opt for a variety of textures and colors to keep things visually interesting.
• Choose a large wood board so you have lots of room for all those yummy extras.
FALL HARVEST DINNER MENU
• Charcuterie Tray with a selection of cheeses, meats, nuts, olives and seasonal fruits • Fall Harvest Salad
• Winter Squash Soup
• Pork Chops with Maple Apples
All 3 printable recipes are shared on maisondecinq.com.
FALL HARVEST WINE MENU
To complete the menu, I'm serving a few of our favorite Chalk Hill wines!
Chalk Hill is a favorite of ours, and the three wines I chose here are delicious. These are a little more elevated than a typical weeknight wine so they make the fall harvest dinner feel extra special. The first wine we're serving is the fabulous Chalk Hill Estate Chardonnay.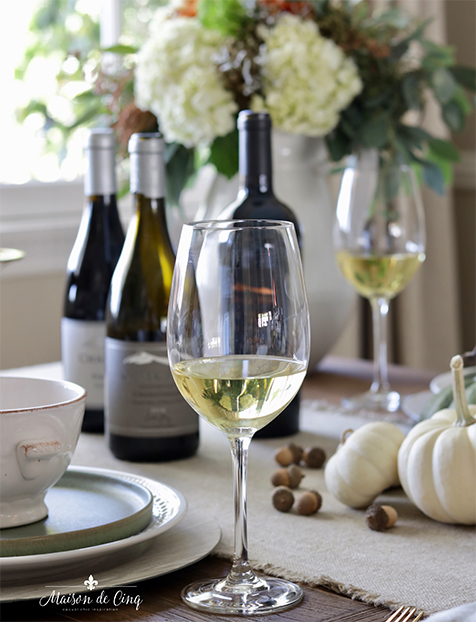 It's rich and creamy with notes of apple pie and stone fruit. With a long, rich finish, it tastes delicious with the soft cheeses we're serving, as well as the Winter Squash Soup. It's also amazing with Mac n' Cheese as well as crab and other seafood.
Chalk Hill's Estate Red, is just that – the best blend of the red wines made from the estate. It's a blend of four different reds, rich and savory with notes of black cherry and chocolate. Smooth and drinkable, it pairs especially well with rich fall dishes like cassoulet and stews, as well as Prime Rib, lamb, and other steaks.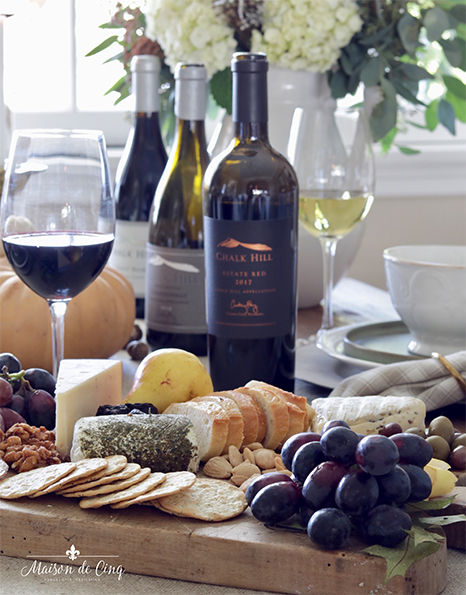 It would also be perfect for an elegant Christmas dinner or a great gift for the wine lovers in your life! (It comes packaged especially for the holidays with the Estate Chardonnay here). 
The other red we're serving is the Chalk Hill Sonoma Coast Pinot Noir, which is probably my favorite! Approachable and elegant, with notes of black cherry and plum, it's lighter bodied than the Estate Red and is delicious with the pork chops.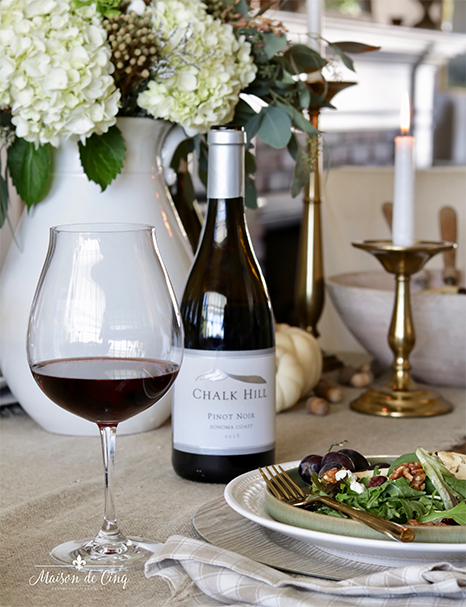 TIPS FOR SERVING WINES
• Chill the wines for at least a couple of hours but remember to take them out of the refrigerator 15-20 minutes before guests arrive. Even white wine is better served at around 60°F.
• At any gathering it's a good idea to serve both a red and a white wine so everyone can find something they like.• Include extra glasses nearby so guests can taste both wines if they want without having them mix in their glass.
• Serve wines from lightest to heaviest, usually that means starting with white, then moving to red with the lightest reds served before the heavier ones.
With a few bottles of delicious wine, simple dishes that are easy to prepare, and of course great friends, a fall harvest dinner party can feel seasonal and celebratory without being overly stressful or a ton of work!
Happy Harvest!
Sheila
Masison De Cinq