Before the shelter-in-place orders took effect this past March, it was no secret that our Banshee tasting room in downtown Healdsburg was the go-to spot for a post-work "wine-down" happy hour. There really is something for everyone, from Pinot Noir and Chardonnay to Zinfandel, Cabernet Sauvignon, even Rhone varieties, a spicy Russian River Cabernet Franc, and a dynamite Sangiovese-based rosé.
We've missed those happy hours. Slowly but surely—and with all eyes on the safety and well-being of our employees and guests—we're in the early stages of reopening. We spoke to Banshee Tasting Room Manager Pedro Rubio about what to expect if you're planning to visit us in downtown Healdsburg.
The tasting room is currently open Friday-Sunday from 11:00 a.m. to 5:00 p.m. by appointment. We are taking our last reservation at 4:00 p.m. each day.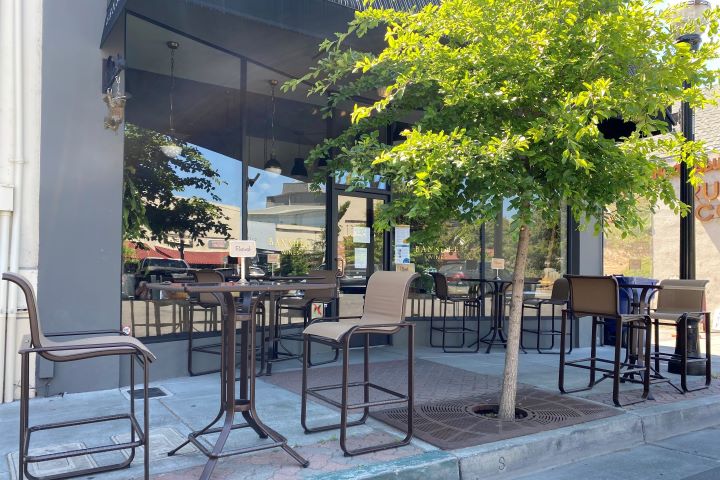 FFWS: As of last June, you've been open for just a few weekends. How is it all going?
Pedro: I am extremely grateful that we've been able to open for the past three weekends for experiences outdoors and despite the physical-distancing-friendly layout of our tasting room, we're planning to host guests outside on the patio for now. My primary concern is for the safety of our employees and guests.
FFWS: What are tastings like currently?
Pedro: As everything is outdoors, we currently have five tables that can accommodate tastings for two people at each table. We aren't taking any groups larger than four at the moment. We have plans to extend experiences out onto the street using roadblocks to provide seating for guests in the parking spots in front of the tasting room pending approval from ABC. If we gain approval, we'll host larger parties of up to eight guests.
FFWS: What kind of experiences are you offering?
Pedro: We are offering full tasting flights for $20-$30 per person, and wines by the glass or by the bottle. Going forward I'm working with Chef Forest from Chalkboard (our restaurant within Hotel Les Mars) to offer small bites to pair with the flights—things like dried fruit, nuts, and cheeses that guests can "add-on" to their experience.
FFWS: Some Banshee wines are only available from the tasting room. What kind of exciting bottles should people inquire about?
Pedro: We have some large format bottles of older vintages from 2012 and 2013, and those are drinking beautifully right now! We have a broad selection of Chardonnays and Pinot Noirs in large formats starting with 1.5-liter magnums and a 3-liter double-magnums of our 2012 Coastlands Vineyard Pinot Noir. My favorite glass to sip right now (at home while cooking) is the 2016 Banshee Bohemian Chardonnay and I like to pair it with grilled chicken and vegetables with a wild rice salad.
FFWS: Even if you can't shake hands with guests right now, tell us about your path to wine, so that anyone visiting you in Healdsburg will feel they at least know something personal about you!
Pedro: Ha, ha. Definitely. I was born in Napa and raised in St. Helena until the age of 9, when my family moved to Windsor, California. It was 1999, just before the turn of the new century, and my dad had been managing vineyards in Napa and Sonoma. For three decades now, my father has worked vineyard land in those counties, and his business has expanded to Lake County as well. But my passion for wine didn't hit until my mid-late 20s. The experience working in the field alongside my dad definitely fueled a desire to learn about the end-product—wine.
FFWS: What do you like to do when you're not at the tasting room?
Pedro: I love being outside, playing sports—particularly soccer. I also spend a lot of time running the trails in Windsor or cycling the back roads of wine country.

Reserve your experience today via the Tock app or by contacting the tasting room at 707.395.0915 or tastingroom@bansheewines.com.