Foley Family Wines hosted this year's Sonoma County Vintners Foundation-sponsored auction at Chalk Hill Winery, benefitting local non-profits
If you're a wine lover, particularly a wine lover of Sonoma County wines, this year's event was a don't-miss: uniting a who's-who of the Sonoma wine world with the opportunity to raise much-needed funds for community health and childhood education to the emergency relief efforts of the pandemic, fires and floods. The price of admission offered access to exclusive events, dinners, parties, and to all the vintners who participated in the annual auction — including Jean-Charles Boisset, the enigmatic, passionate Franco-American owner of Buena Vista, De Loach, and Raymond—and who was honored this year as Vintner Honoree, as well as local celebrity Chef Honoree Dustin Valette of The Matheson and Valette in Healdsburg.
And this particular year, had you attended, you'd have had plenty of chances to catch up on Vegas Golden Knights (VGK) stats with all the members of the Foley Family—the 2022 auction's honorary chair and hosts. VGK and Chalk Hill estate owner Bill Foley, his wife Carol, and daughter Courtney were on hand in the Chalk Hill pavilion offering pours of so many great wines from the Foley Family portfolio of labels.
But wait—we haven't even talked about the food! Estate Chef Alec Graham—whose recipes are staples of any Foley Food & Wine Society member's household—was dishing up plates himself. As guests arrived, they were greeted with a glass of Ten of Cups sparkling wine from Banshee, and then side-tracked by spoonfuls of decadent caviar, before Chef Graham plied auction-goers with an assortment of passed bites—can't go wrong with risotto balls.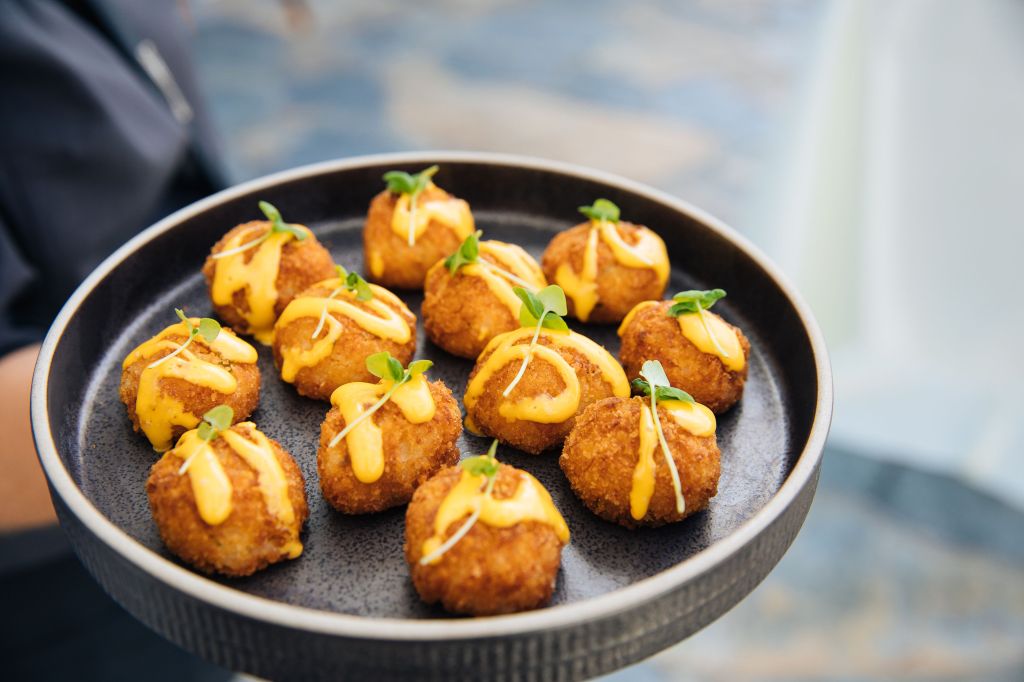 Then, there was the Central Bar. Behold—a collection of remarkable Sonoma County wines, all available for tastes or full-glass pours. And once guests arrived at their designated tables, fresh, local-ingredient-driven plates began arriving and corks began popping. After lunch, ample conversation and plenty of pours, the auction kicked off with opening speeches from Michael Haney, Executive Director of SCVF, remarks from Congressman Mike Thompson (who sits on the Ways and Means House Committee), and Jean-Charles Boisset, before Auctioneer John Curley took to the stage to crank up the volume.
Guests enjoyed the unparalleled energy, joyful charisma, and all-around infectious joie-de-vivre of Auctioneer John Curley who stepped into a cadence broken only by the "Sold!" declarations after tirelessly working, cajoling, and enticing those with paddles to give it their all—and to open their pocketbooks.
At the close of the auction, the highest selling lot was Lot #15—the Private Kauai Estate Getaway. The final bid of $182,000 nabbed this indulgent trip, which includes a stay at the Foley Family's 15-acre luxury estate, Hale 'Ae Kai, air travel, private chef, and dinners paired with Foley Family wines.
And in contrast to the lots on offer, the auction offers a modestly rich afternoon compared to the wealth of riches that are raised and the good that will come to the beneficiaries of the money. And given the large role and pride that the Foley family takes in supporting local causes—particularly local children's organizations, like the Sonoma FFA—it was a natural fit to host. The full results of the auction are listed here.
The Sonoma County Vintners Foundation has posted dates for the 2023 auction—September 14-16, 2023. So mark your calendars, and start planning your adventure to Sonoma County to indulge in the wine and food treasures this county has to offer while doing an exceptional thing—supporting the community that you live in, love to visit, or relish from afar.