By Jonathan Cristaldi
Nothing in the world compares to the taste of fruit and vegetables, plucked from a sustainably farmed garden, and nibbled on—while standing in the garden. A just-picked strawberry. A just-snipped stalk of asparagus. A beet pulled out of the ground. Heck, even the little bit of dirt you can't quite get off the beet is tasty.
The gardens at Chalk Hill are cultivated by two all-star gardeners. Brad Agerter, the Estate Culinary Garden Manager, who, incredibly, has spent 13 years working the beds. Joining him is Scott Pavlick, the Assistant Garden Manager, who has been dusting Chalk Hill dirt off his boots for four years.
Spread across the estate are three sections of gardens: two upper sections, one with four beds, another with eight beds, and a lower section with more beds and fruit trees.
The fruits and vegetables harvested from these gardens go to the winery, as well as to Chalkboard restaurant in downtown Healdsburg. With any excess fruits and vegetables, Brad and Scott distribute it however they can locally, and to area food banks. What they can't use is composted and turned into fresh hummus, which is then spread back into the gardens providing rich nutrients to replenish the soils. But the whole point is to get as much of this fresh produce to Chef Alec Graham and his team so that it ends up on your plate.
"We hope that people come to Chalk Hill to experience the utter freshness our garden provides," says Agerter. "We are entirely organic, and we replenish our soils with our own cover cropping and compost. We farm according to what is seasonal and it's very different here than say nearby Petaluma or the Sonoma Coast. It's quite warm here at Chalk Hill, and while we do experience some fog, it isn't saturated marine influence."
So, just what is growing in the gardens now, in the spring of 2021? Let me take you on a personal tour.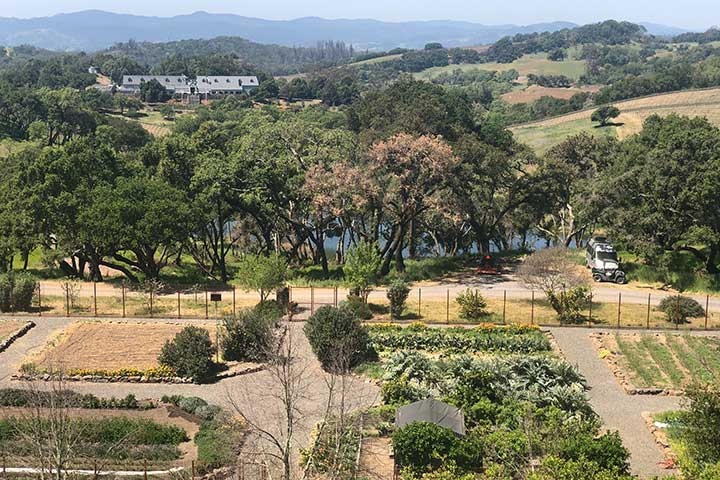 Overlooking one section of the Chalk Hill gardens from The Estate Pavilion.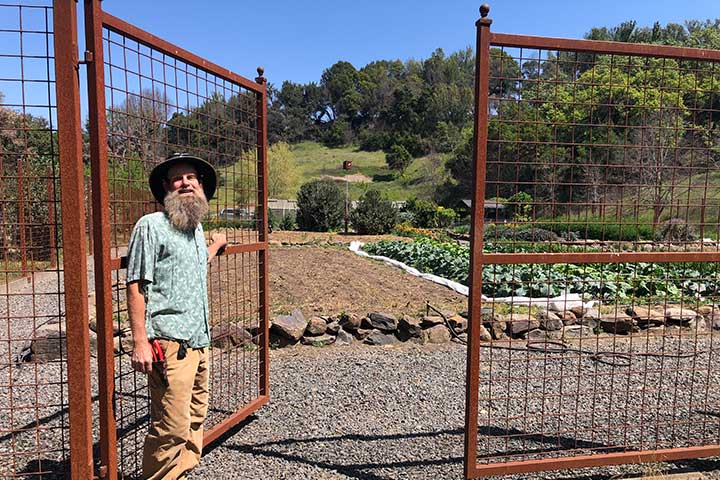 Brad Agerter, Culinary Garden Manager. Agerter has cultivated the gardens at Chalk Hill for an astounding 13 years!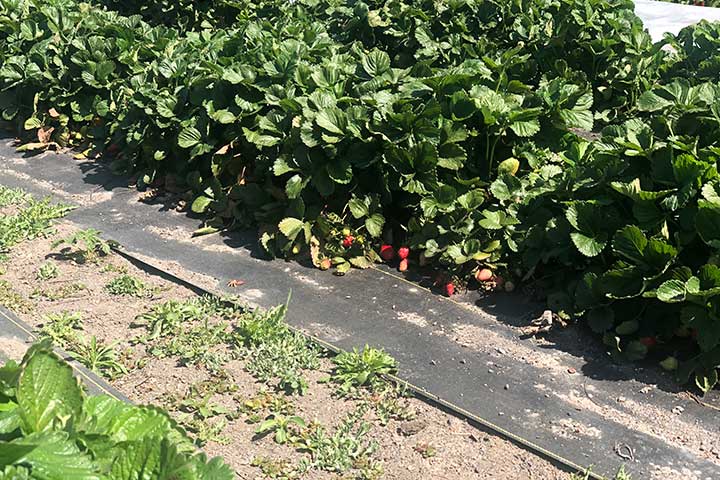 Strawberries!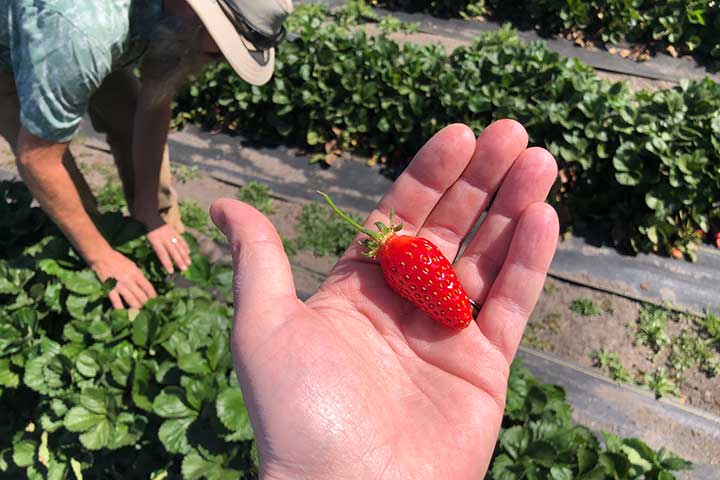 Ripe, rich, sweet, and delicious. There is absolutely nothing like a just-picked strawberry and you can never go back to store-bought strawberries after this!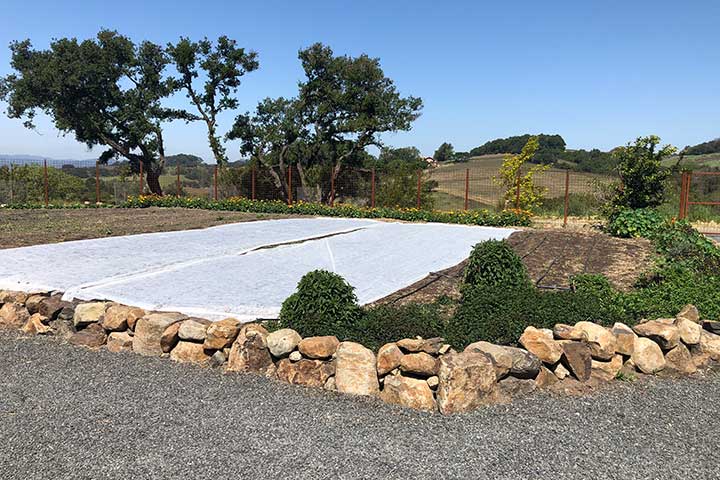 These tarp coverings provide a few layers of protection: They help retain warmth, keeping the air underneath a few degrees warmer than outside the tarp, which is critical for frost protection. They also are quite effective in keeping out aphids or other bugs that may want to chomp away on the goods in the ground. "We have beneficial flowers to attract Lady Bugs and other beneficial bugs, which prey on the bad bugs," says Agerter. "Lady Bugs, for instance, will eat aphids." They also grow Marigolds which attract the aphids and keeps them off tomato plants for instance.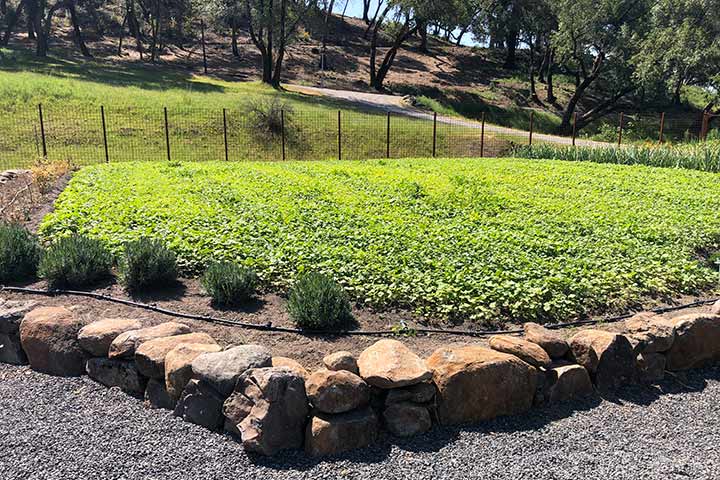 Pictured here is a cover crop of buckwheat. This cover crop is helping provide nutrients to the soil and helps protect the soil from the sun. In a couple of months, once it flowers, the buckwheat will be tilled back into the soil to help build out the biomass of the soil so the tilth is more fluffy and ready for a new crop of whatever they decide to plant.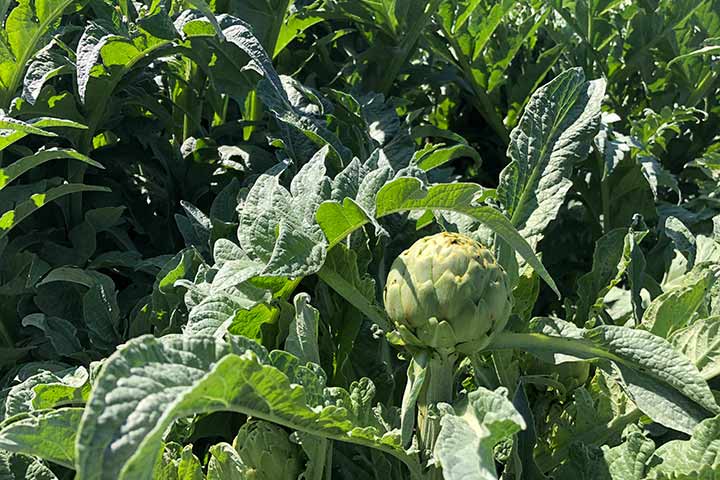 Artichokes!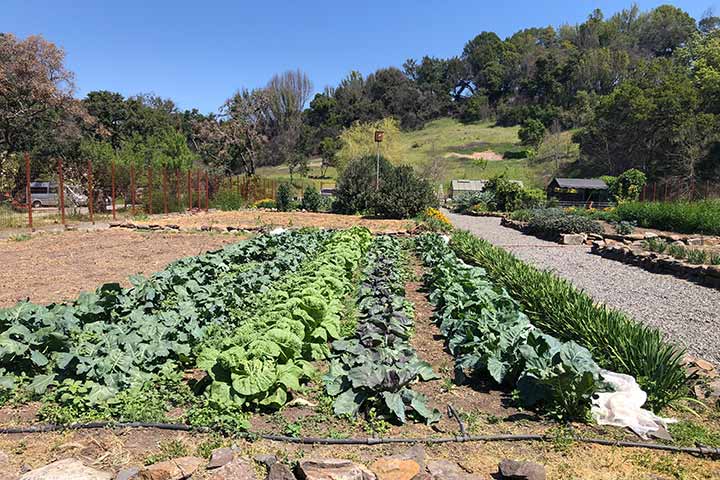 Napa Cabbage growing in Sonoma! Don't worry, it's okay.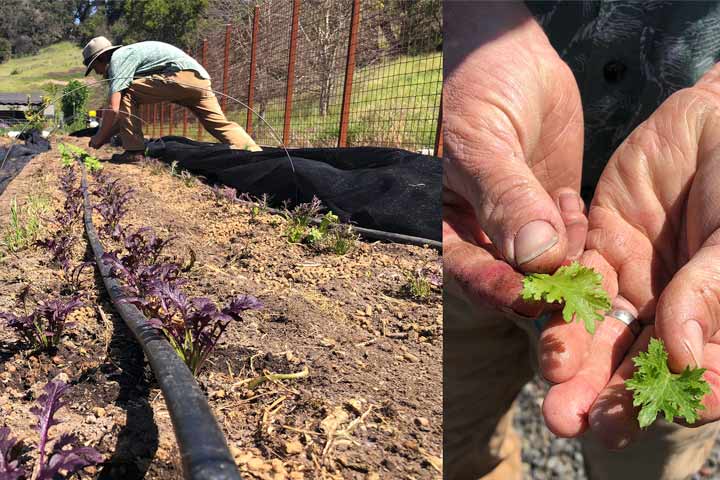 Wasabina mustard greens! These spicy greens have a wasabi-like taste and little kick. "We start them in the greenhouse as seedlings," says Agerter. "Then we transplant them into the garden and the black netting pictured in the right is for covering them during heat spells, and helps keep the microgreens cool, as they are quite sensitive to heat. "They want to flower in the heat, and if they do, that means basically no leafy green."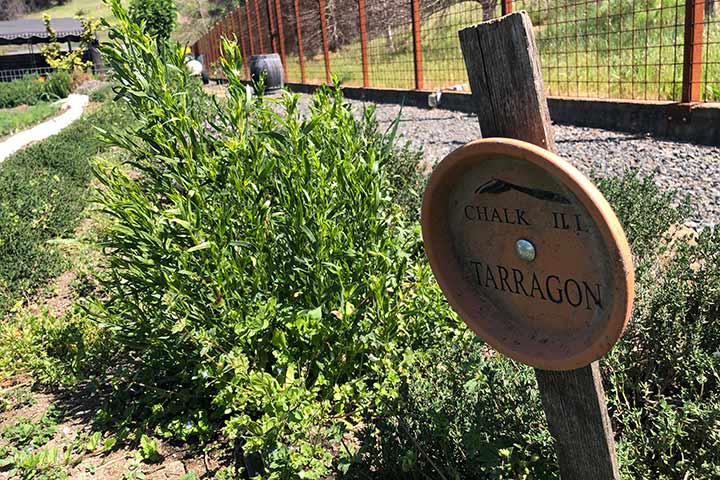 Tarragon!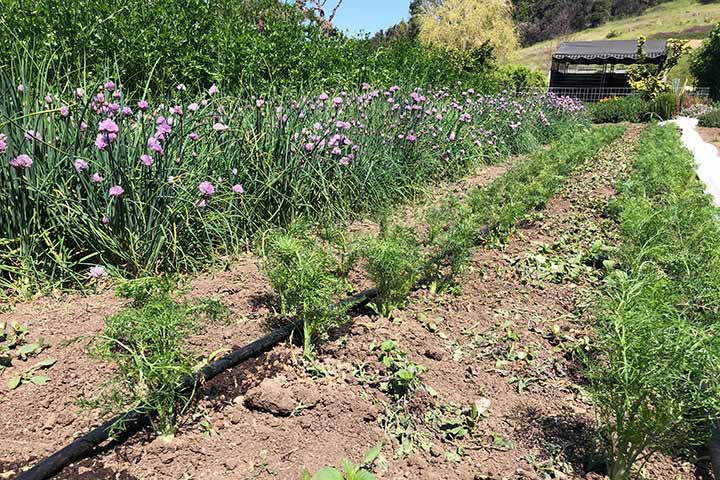 Fennel and chives.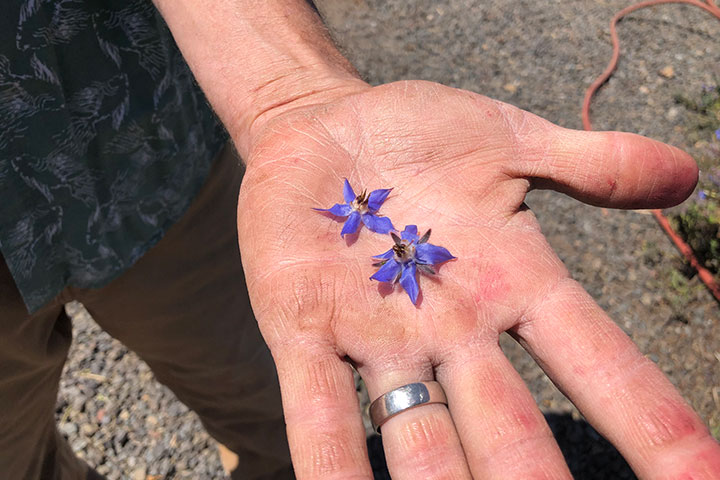 Borage—an edible flower. When the leaves are muddled they create a kind of cucumber-flavored water.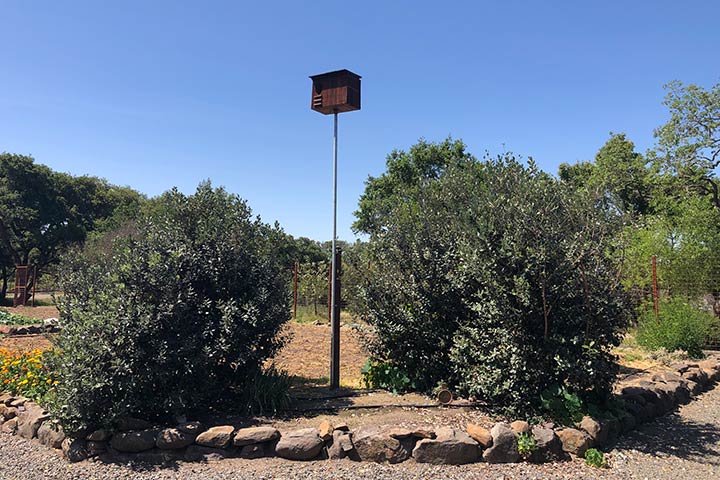 Owl box.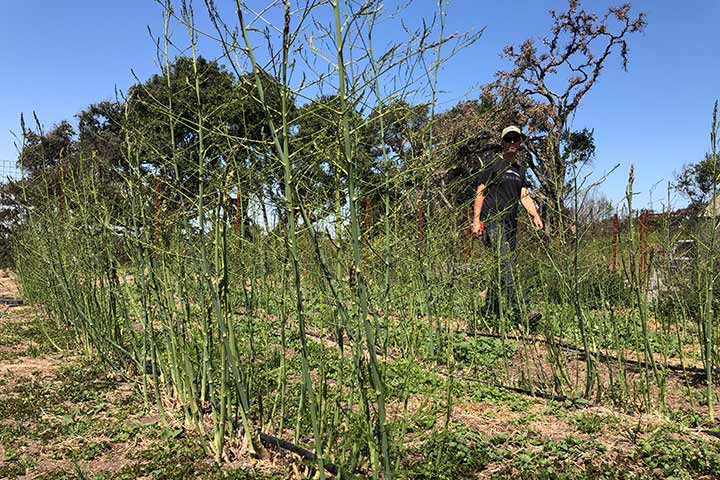 Look at that asparagus! After harvesting it for many weeks, the gardeners allow it to grow tall and unruly before cutting it and tilling it to help replenish the nutrients in the soil. Incredibly, just-picked asparagus is tender and delicious, and even the tips of these tall overgrown asparagus plants were wildly tasty.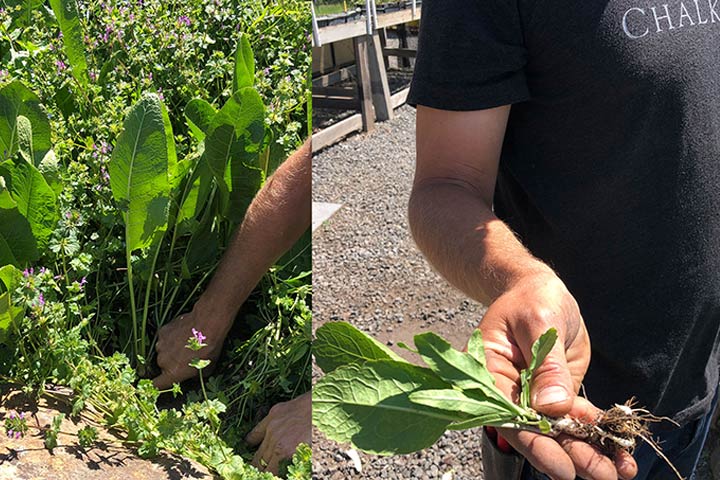 And this is what horseradish looks like. The root is stuff you mince up and put in your Bloody Mary.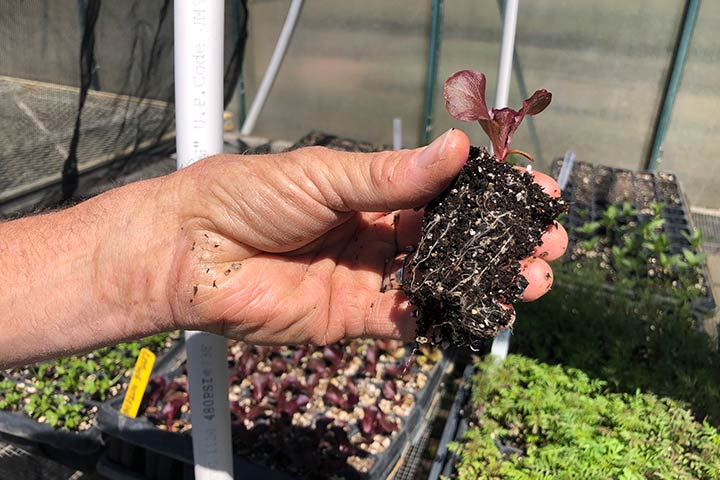 Checking the roots to determine when these greens are ready for planting. From seedling to the size of the leafy green pictured here takes roughly one month.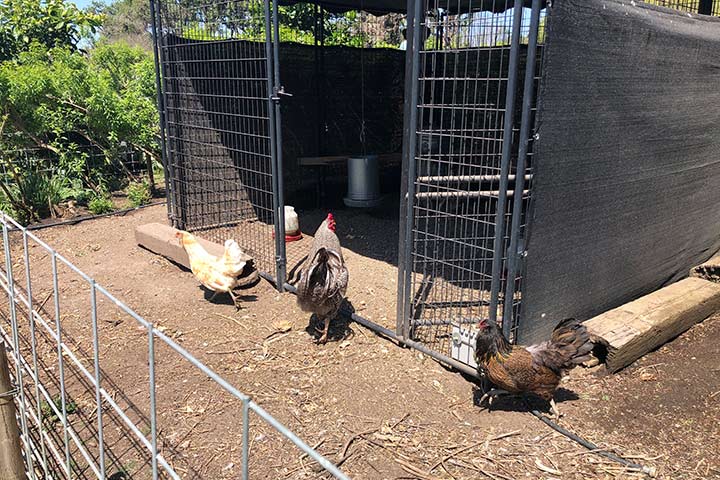 The ladies and their Rooster.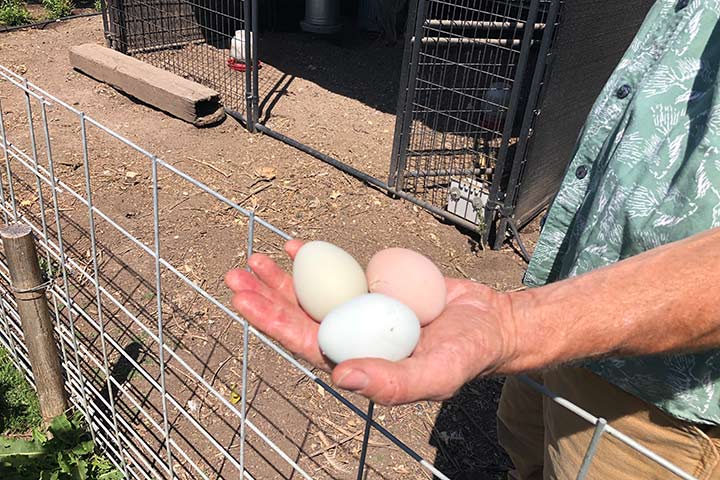 Just-layed eggs.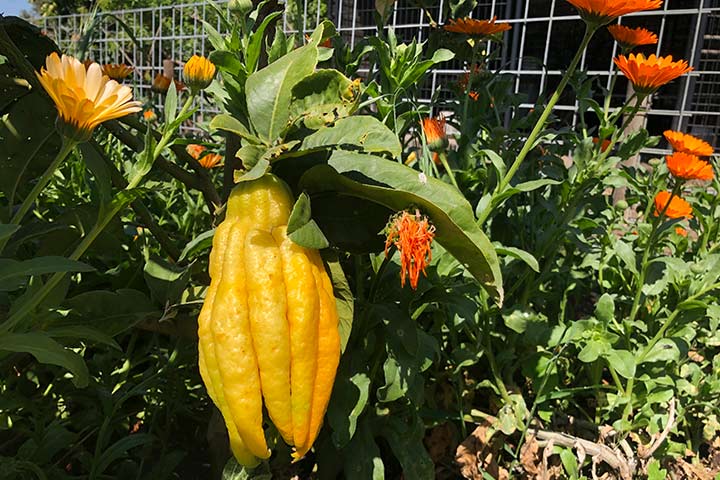 Buddha's hand. It's mostly for zest, or great for candied peels, as there is no pulp and hence, no juice.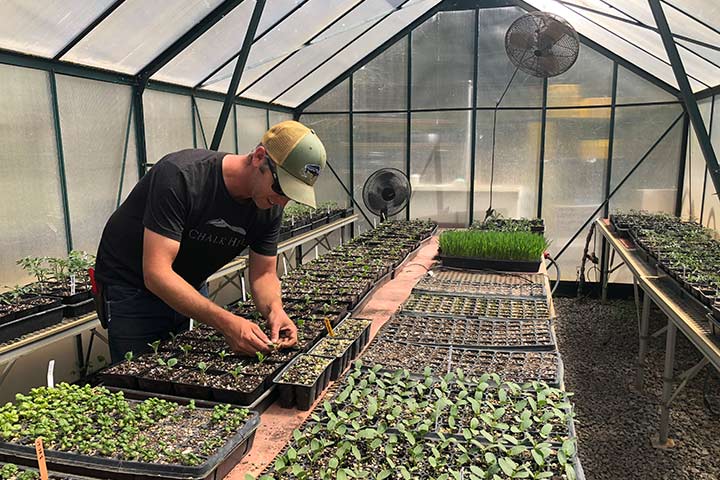 Scott Pavlick, Assistant Garden Manager, checking in on the leafy greens growing in the greenhouse. Every plant growing in the gardens at Chalk Hill and cultivated by Scott and Brad begins as a seedling here in this greenhouse. These fellas work incredibly hard to bring these gardens to life, and the gardens are clearly happy to have the guys around—seriously, three cheers.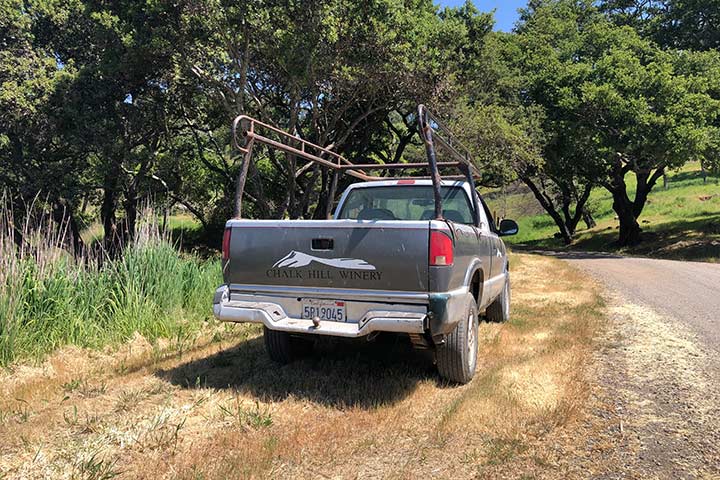 The "vintage" Chalk Hill truck.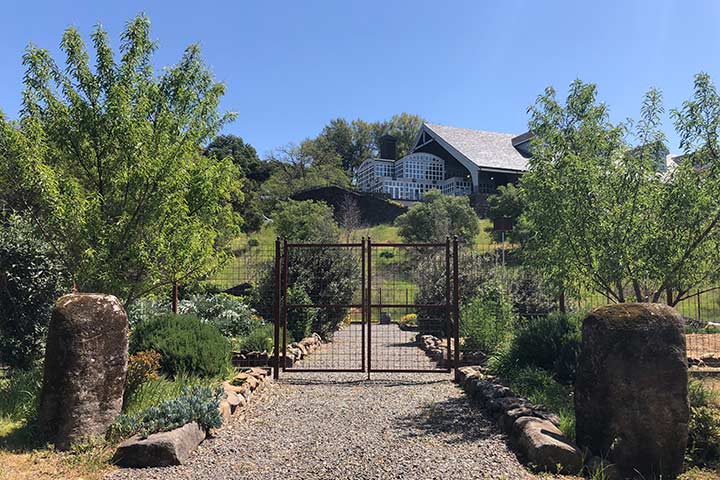 Plan your visit to Chalk Hill now. Come for the gardens. Stay for the wine. And if you're thinking you'd like to intern at the garden, drop Brad a note at bagerter@foleyfamilywines.com.
Follow the Foley Food & Wine Society
About the Author
Jonathan Cristaldi has written about wine and spirits for over a decade. He serves as editor-at-large for The SOMM Journal and The Tasting Panel Magazine and is a regular contributor to Food & Wine, Departures, and Liquor.com. His writing has also appeared in Seven Fifty Daily, Los Angeles Magazine, First We Feast, Thrillist, Time Out LA, Tasting Table, and Psychology Today. Cristaldi was named a "Wine Prophet" by Time Out NY for his witty and often avant-garde approach to wine education. "The L-Train Luncheon," a video on YouTube, features one of his best experiential event concepts, which came to life on a New York City subway car.