One of the less obvious benefits that comes with being a member of the Foley Food & Wine Society is that members get to take advantage of other Foley Family-owned properties, with special deals and discounts tailored just to them.
We know that FFWS members are wine lovers, first and foremost. We also know that many of you are big Vegas Golden Knights fans and that you revel in the thrill of the team taking the ice for the first time at each game. But what about those of you who live for the thrill of cruising down ice-slick, perfectly-packed ski slopes in winter time?
For those of you who love to hit the ski slopes, we're turning a spotlight on Bill Foley's Whitefish Mountain Resort situated in Whitefish, MT. We spoke with Nick Polumbus, Director of Marketing and Sales at Whitefish, about all the reasons to consider booking a stay at the resort. Of course, we encourage you to consider any travel restrictions or rules governing travel in your home state, but we're also looking ahead to a time when we begin moving being the travel predicaments that have resulted from the COVID-19 pandemic.
So, picture yourself suited up, at the top of the mountain, ready to take your first plunge down the mountain. Nick has the scoop on how best to travel to the resort, as well as some tips about dining and, of course, what benefits await FFWS members.
First off, for the FFWS members who don't know about Whitefish Mountain Resoort, give us the overview: How many rooms, how many ski slopes? What are the amenities?
Nick Polumbus (NP): Whitefish Mountain Resort Lodging offers access to 150 different properties ranging from a budget hotel to deluxe condominiums to large ski-in ski-out single-family homes—something for all tastes and budgets. The mountain itself spreads out over 3,000 acres with 113 marked trails and terrain variety that truly provides a world-class ski experience for families and hardcore skiers alike.
You're off-the-beaten-path, so what's your best travel recommendations for getting to Whitefish on schedule for a reservation? Anything we need to know about current travel interruptions?
NP: For most folks flying in is the best way to go. Most of our flight markets are still being serviced despite the travel interruptions across the country. The easiest connections come from Salt Lake City or Minneapolis on Delta, Denver on United, or Seattle with Alaska Air. You fly into Glacier Park International Airport (code FCA). Our airport is big enough to service the major carriers and small enough that you can be walking out the door with your bags within 20 minutes of landing. The best part is the airport is less than 45 minutes from the resort door to door.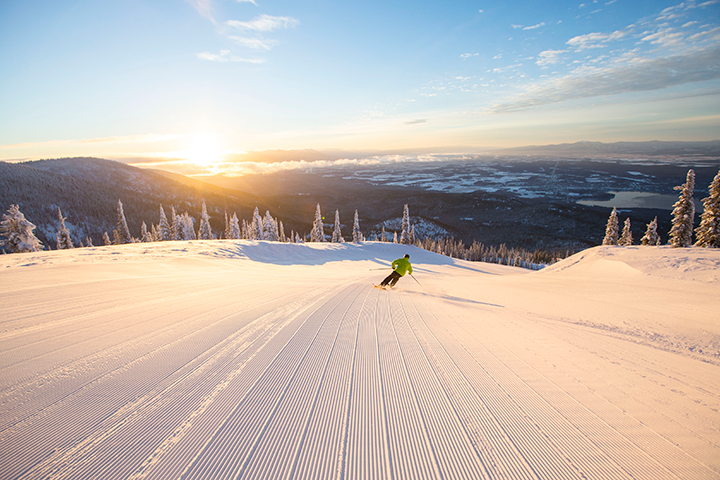 Header Image: Descending the freshly groomed Toni Matt en route back to the Village. This image is of a skier in a yellow jacket taking sunrise turns on the aptly named Inspiration trail. Both photos courtesy of: glacierworld.com
You were rated Ski Magazine's #3 Resort again! What is about the slopes at Whitefish Mountain that makes you the #3 best skiing opportunity in the west?
NP: As I mentioned above we have such a pleasing variety of terrain that our loyal skiers are made up of everyone from families to seasoned ski vacation veterans. That said, the truth of the matter is that it's a combination of value pricing, friendly service, and a genuine western town full of happy locals that sets us apart from other ski areas. That combination keeps people happy and coming back year after year. Our skiers are very loyal and it doesn't hurt that we reinvest and improve the resort every season as well.
Once we're off the slopes, where do you recommend grabbing a bite?
NP: There just so happens to be a James Beard award-winning chef-owned restaurant on the mountain called Café Kandahar. But there are also more family-friendly, character-filled options too. A short trip to town on the free SNOW Bus opens up the options to a remarkable selection of really good restaurants ranging from Sushi to New Orleans style fare. When folks come here for the first time they tend to leave shocked that a little old western town in the Northwest corner of Montana has the restaurant variety and quality that we have.
Back at the resort, talk about your hospitality service and how it compares to other top tier services?
NP: I did mention that we pride ourselves on friendly service. We take the extra step, slow things down a bit, look our guests in the eye, and make a real connection with people. That's our strength. We don't have a real white tablecloth high-end service approach to things—we're way more focused on genuine connections and understanding what our guests want and then making it happen for them.
Finally, for FFWS members — any special offerings or discounts?
NP: We have a standing deal for FFWS members to receive at least 15% off lodging and lift tickets.