Al fresco dining, with views of rugged Sonoma County mountains and a decadent menu of options along with world-class wine pairings… this is how you Sunday Brunch.
With respect to the best Sunday brunch you've ever had, there's only BFC and AFC—Before Ferrari-Carano, and After Ferrari-Carano, respectively. If you presently fit into the BFC camp (before Ferrari-Carano), brunch may be that meal you looked forward to in your mid- to late-20s and early 30s. All those lazy weekends. A month of Sundays and brunches.
Then, if you married and started a family, brunch became a family affair, and often quite a complicated one—a juggling of various people's desires, inhibitions, and dietary restrictions. Or it was something you planned weeks and weeks in advance while your significant other stayed at home with the kids while you met a small group of friends and spent most of the time talking about how long it had been since you had brunch.
Whatever you think of when you think of Sunday brunch, the fresh-ingredient-driven dishes and world-class wine pairings of the Sunday Wine & Brunch at the Ferrari-Carano estate is redefining that experience. It is La Colazione Italian breakfast, served up Italian-style by Estate Chef Tim Vallery. And Vallery's creations are something to behold.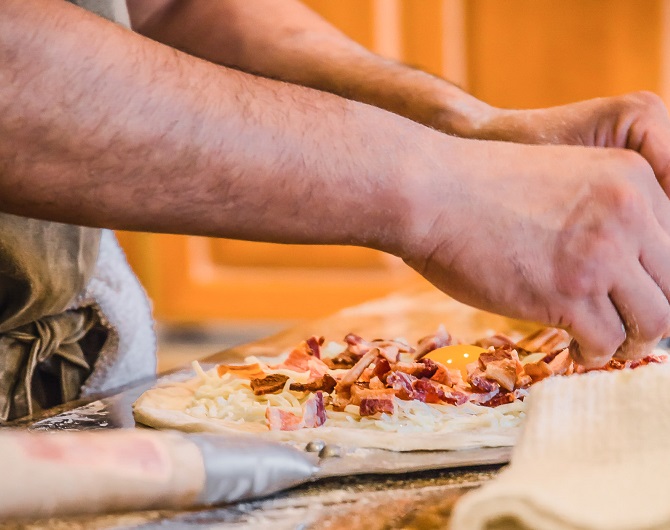 So, if you fit into the AFC camp (after Ferrari-Carano), well, Sunday brunch is now the best thing that's happened since the 2013 vintage of Napa Valley Cabernet—which, if you know, you know, was the best. For the uninitiated, keep reading.
Longtime Ferrari-Carano fans may have been surprised to see the newly refurbished interior of this iconic Dry Creek Valley estate—the Foley family spruced things up after purchasing the winery and grounds in 2022. It's all shades of white, bright, with modern new furnishings and comfortable seating nooks. It's really stunning.
Foley Food & Wine Society members now have access to rooms that once were private and closed off to the general public. More once-secret spaces below ground will soon be available exclusively to FFWS members as well.
As for Sunday Wine & Brunch, you'll need at least a couple of hours. Brunch includes a tasting flight of three wines and a choice of one Entrée and a Sweet Finish.
It's impossible not to swoon as plates of Brown Butter Belgian Waffles pass by on their way to some lucky diners—the waffles come with a side of garden greens and roasted potatoes with peppers and onions, as do most dishes.
We recommend kicking things off with the Brunch Pizza, which comes loaded with fresh mozzarella, Vella Dry Monterey Jack Béchamel, and topped with Journeyman Brown Sugar Bacon, Yanni's Italian Sausage, green onions, and an egg yolk emulsion. WOW. OMG. YUM.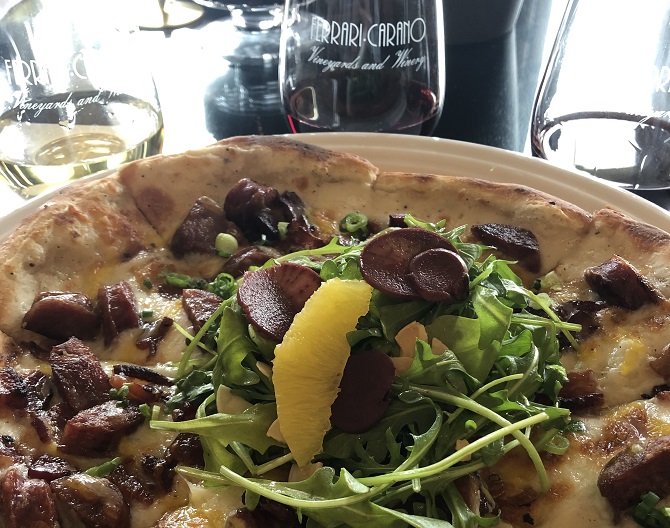 Follow it up with the Prosciutto Benedict, which comes on a perfectly-toasted English muffin, with runny local egg yokes and thinly sliced Italian Prosciutto. The Croque Madame, however, is a fait accompli with its oozing layers of Fra' Mani Rosemary Ham, Gruyère and Béchamel.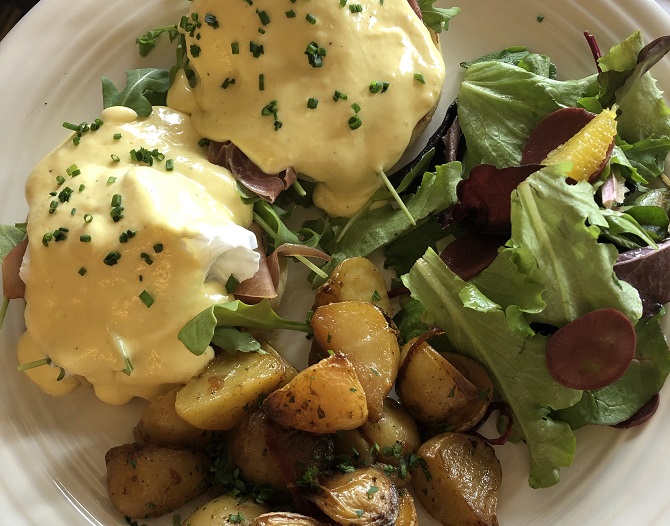 On our visit, we sampled a trio of wonderful wines, expertly explained by the staff the rich, complex and layered 2020 Ferrari-Carano Fiorella Chardonnay from Russian River Valley, the dazzling red-fruited and brown-spiced 2018 Sky High Ranch Pinot Noir from Mendocino Ridge, and the opulent and gorgeously structured 2016 Prevail West Face from Sonoma County.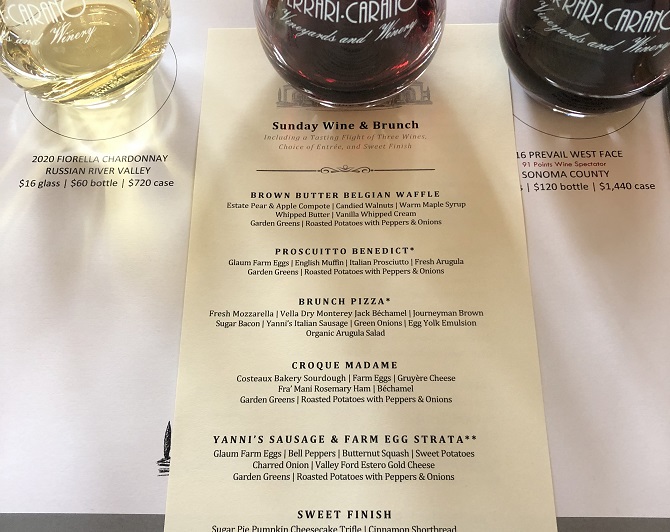 It had been raining on our visit, but 99% of the time, the sun is shining, and the brunch—typically held year-round from November through January at Villa Fiore—is outdoors in the Sycamore Grove, under a canopy of high Dry Creek sunlight, surrounded by breathtaking grounds. Between the gardens and the Italian-style fountains with pergolas that frame the rugged mountain terrain backdrop, there's no better place on earth for Sunday Brunch.