We paid a visit to the Point Reyes Station-based cheese company and were blown away by the inventive, creative cheeses and wine pairings we experienced. Follow these suggestions and prepare to be overwhelmed with compliments during your holiday meal celebrations.
If you want the best advice on creating a genuinely dynamic cheese platter for holiday entertaining—along with extraordinary, insider tips on wine-pairing and creatively incorporating leftover cheese into your meal, or into the next day—you have to go straight to the source.
Lucky for us, the northern California mecca of cool-climate cow's milk cheesemaking is not too far from several of our estate wineries, so we paid a visit to the Point Reyes Farmstead Cheese Co. where we spent a wonderful, fog-laden afternoon with Point Reyes Farmstead Cheese Co. Co-Owner and CMO Jill Giacomini Basch and Jennifer L. Luttrell, the Executive Chef and Culinary Director. Basch and Luttrell prepared a gorgeous—and royally delicious—cheese board for us. They offered pairing advice for our wine gift sets so that you can give the perfect wine and cheese gifts to friends and family. We've broken the conversation up into two parts. Part One: 3 Dazzling Bubbles and Cheese. Part Two: 4 Decadent Wine & Cheese Pairings for your Holiday Party
WARNING: You're about to get hungry.
COOL CLIMATE CHEESES FROM A FAMILY DAIRY FARM
This 720-acre family dairy farm located alongside Tomales Bay, California was started in the 1950s by husband-and-wife Bob and Dean Giacomini, and was reestablished as a cheese company in 2000 by Bob and Dean's three children—Jill, Lynn, and Diana. They launched with one cheese—the Original Blue, effectively filling a huge void in small-batch blue cheese production in the U.S. Since 2009 cheesemaking has been led by husband-and-wife Kuba Hemmerling and Jennifer Luttrell, both previously at Trader's Point Creamery outside of Indianapolis, Indiana.
Set against a stunning backdrop of lush, rolling hills overlooking the Bay, the dairy is heavily influenced by the marine air and proximity to the Pacific. Here, the temperatures remain relatively cool and consistent all year, which is critical for milk production. The farm's roughly 450 very happy cows maintain their body weight year-round, which means the production of cream is incredibly consistent—never too much or too little milk fat.
And there are clear parallels to growing grapes in the cooler climes of Sonoma—an even-keeled season marked by cooler temperatures allows for longer hang-times of grapes, which means slow, even ripening with excellent acid retention. Translation: the wines are vibrant and energetic—and so are the cheeses.
PART ONE: BUBBLES AND CHEESE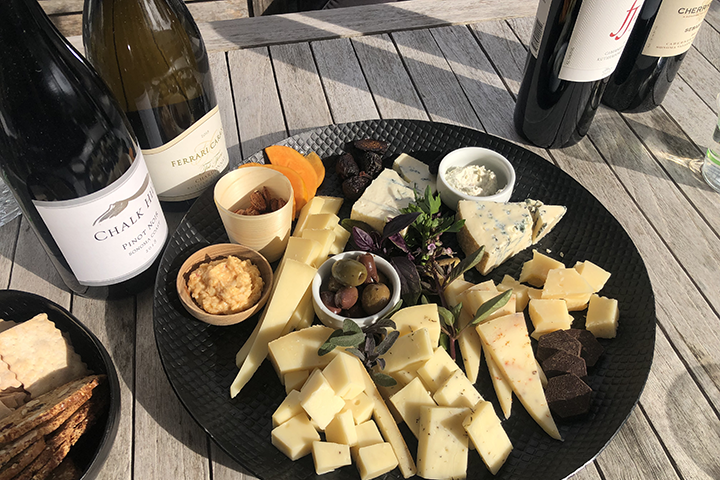 Currently, the Point Reyes Farmstead Cheese Co. produces seven kinds of cheese. Going clockwise, from noon, left to right: a slab of Original Blue is sandwiched between dried figs and a ramekin of Original Blue date spread; continuing on, the triangular chunk of Bay Blue sits just under the ramekin of date spread, and beneath that cheese are chunks of Gouda, then Tcho Chocolates; left of the chocolates are red-flecked slices of TomaRashi; then herb-flecked TomaProvence; and then TomaTruffle, above which, sits a dish of olives, and to the left are triangles of Toma; left of the Toma slices sits a small ramekin of Pimento cheese spread, then herb-spiced almonds, followed by slices of bright, orange Persimmons—and we're back to the dried figs!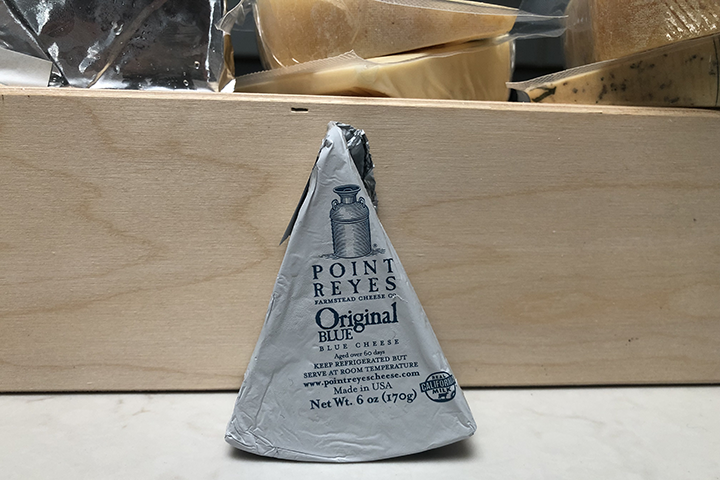 The Original Blue is a raw cow's milk cheese (the only raw cheese they make) and is the company's flagship cheese—it was the only cheese they made for about the first 10 years of cheese production! Peppery, bold, and full-flavored for the Blue cheese lover.
COOK: It's terrific on a cracker with a drizzle of wildflower honey, and goes exceptionally well with jams and preserves, or fig syrup. Drop a healthy dollop on a steak or stir into hot pasta or risotto. It also creates a surprisingly decadent dessert treat when topped with ginger snap crisps!
ORIGINAL BLUE WINE PAIRING: The best option would be a sparkling wine, so a no-brainer with our new Ten of Cups Méthode Champenoise Brut. Or, crack out those ginger snaps and enjoy this pairing with the baking-spice scented, creamy 2017 Ferrari-Carano Chardonnay, Alexander (in a magnum!)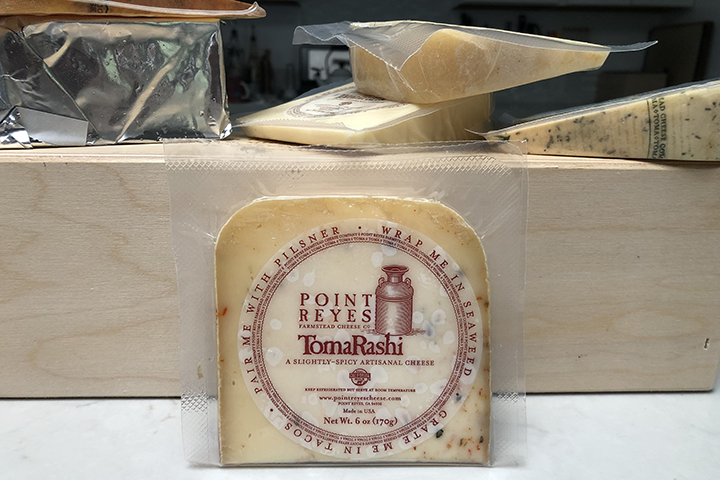 TOMARASHI
"We took our Toma and started experimenting," says Basch of this wildly delicious cheese. The Toma is a classic, lovely, rich, creamy cheese and is the last cheese featured. But we're following the clock on this cheese board, so we'll begin with the 'experiments.'
Again—a knock-out, unexpected brilliant cheese. They went with a Japanese spice called Shichimi Togarashi, a blend of seven spices (nori, toasted sesame, poppy and hemp seeds, chili flakes, and ginger.)
COOK: TomaRashi with salami? Wow. Wrapped in Nori strips? OMG. It also goes great on toast with winter squash purée. Grate or shave it on any casserole and pop it under the broiler to let it get melty or drizzle honey over it. Incorporate it into your favorite Mexican dish. Or make grilled cheese with Kimchi on slices of densely seeded multigrain bread. BAM!
TOMA RASHI WINE PAIRING: It's not 'fetch me some water quick' spicy at all. It offers just a lovely bit of warmth and is surprisingly wine-friendly—sweet or sparkling, please!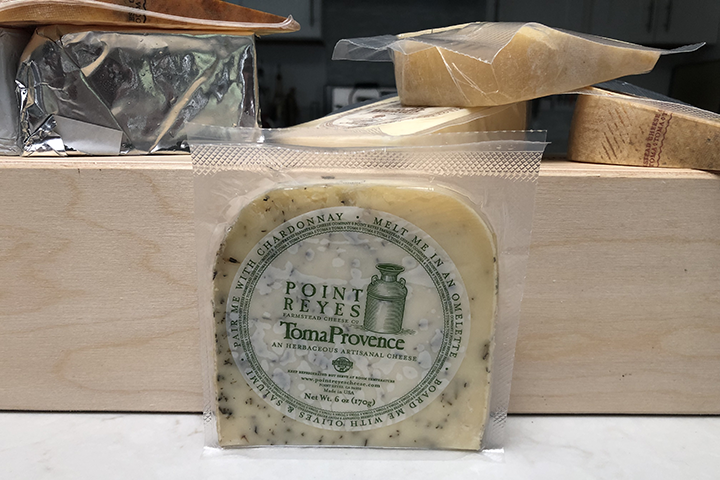 TOMAPROVENCE
Hello, and welcome to France! Toma Provence has savory rosemary thyme basil and marjoram infused and, it's the best bite you'll have at your Thanksgiving party.
COOK: Melt it all over roasted hot potatoes or stir into mashed potatoes. Or drop shavings into scrambled eggs the morning after Thanksgiving—or make a grilled cheese.
TOMA PROVENCE WINE PAIRING: This is a dead-ringer pairing for herbaceous Sauvignon Blanc or spicy, crisp Chardonnay.
Add our Double Bubbles wine gift set to any of these three cheeses and you've got the perfect gift to give the entertainer in your life OR to host an easy, delicious holiday gathering of your own.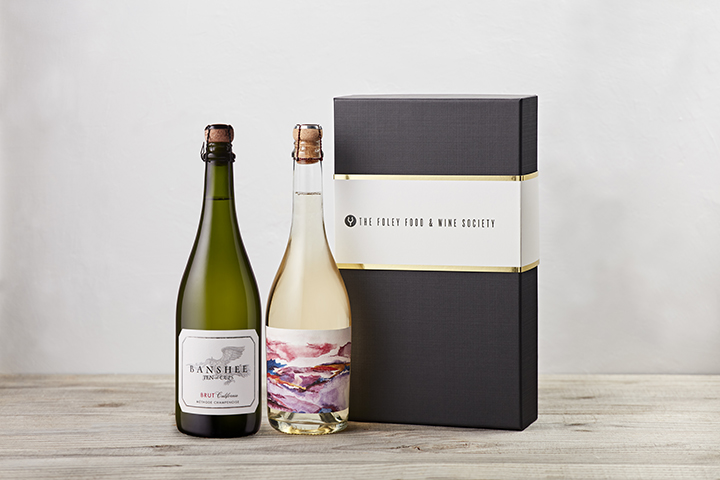 Read Part Two: 4 Decadent Wine & Cheese Pairings for your Holiday Party!