From September 15 to October 15, Americans observe National Hispanic Heritage Month. The aim is to reflect and celebrate Americans' historical and cultural contributions whose generational roots are Spanish, Mexican, Caribbean, and Central and Southern American cultures.
Why these dates? September 15 is: "The anniversary of independence for Latin American countries Costa Rica, El Salvador, Guatemala, Honduras and Nicaragua," according to The Library of Congress's National Hispanic Heritage Month website. "In addition, Mexico and Chile celebrate their independence days on September 16 and September 18, respectively."
Initially instituted by President Lyndon Johnson in 1968 as "Hispanic Heritage Week," the program became a monthly-long celebration after President Ronald Reagan expanded it in 1988—it became a law on August 17, 1988.
FOCUS ON CALIFORNIA
Given that a majority of our wine estates are based in California—and the Spanish Missions along with the 1849 Gold Rush provided a massive influx of Spanish explorers who laid the foundation upon which California rose—on this final day of Hispanic Heritage Month, we're highlighting three perspectives on Hispanic culture from our organization.
Erica Haas, Director of Human Resources at Foley Family Wines, lives in Santa Rosa, California. As of December 2016, she will have been with the company for five years. Haas is Hispanic, her parents emigrated from Mexico, and she's a first-generation Hispanic American. Haas says that while her family doesn't outright celebrate their Hispanic heritage because it's woven into the fabric of their daily lives. The traditions, the values, and the things that make up her unique character are the values she brings to the workplace. Reflecting on Hispanic Heritage Month, Haas says that she is happy to see "recognition for our language and community" and is quick to point out that "we have a high Hispanic population that works in the wine industry." Do I need to add more?
Indeed, Greg Gonzales, Director of Central Coast Winegrowing, is based in Los Olivos, California. Though Gonzales was born in Eugene, Oregon and attended California State University, Monterey Bay on a soccer scholarship—while obtaining a broad education—he ended up back in Agricultural work.
"I am a third-generation Hispanic American. My grandfather, Juan, came from Nievas in the state of Zacatecas, Mexico. His son (my dad), Javier Gonzales, was born in the Brownville area of Texas. They followed the crop work and ended up in Jefferson, Oregon in the Willamette Valley."
Gonzales' grandfather eventually found work for Southern Pacific Railroad. "His experience as a tractor driver was pivotal," explains Gonzales, "Not everyone had that kind of experience, and it kept the family in the area." His dad became a firefighter and eventually met his mom, Marjorie Austin (her maiden name), a teacher with a German-Polish family background from parents who emigrated after WWI. Greg was born on July 26, 1984, and learned English as his first language.
"My grandmother did not speak English, and my grandfather, Juan, had limited English and would speak Spanish to me, and I would speak English to him," recalls Gonzales recalls. "In Oregon, there was a small population of Hispanic Americans. And I played soccer my entire life, which led to a scholarship for playing soccer at Cal State Monterey Bay, and is subsequently the reason I came California."
"I started my education doing sports medicine, which morphed into cultural and behavioral science, and I started learning about geographic information systems. I also got into mapping, and for a time was mapping cultures—how geography influences culture—and over dinner, one night, with Kurt Gollnick, the Chief Operating Officer of Scheid Family Wines, the conversation turned to data and mapping of vineyards. And Gollnick offered that Gonzales comes work for him. If he landed on a squad in a pro or semi-pro soccer league—great. If not, stay at the winery. It was an offer Gonzales couldn't refuse, especially when he learned from a close friend who was a #4 pick in the MLS draft one year that the starting salary was $20,000, minus the 30% fee owed to the friend's agent.
Perhaps needless to say, Gonzales settled on work at Scheid. "That I'm in 'ag' must have been fate!" he muses. His grandparents eventually owned 40 acres and farmed hay, and raised cattle in Oregon. And here he was, leveraging the broad knowledge he'd gained at college, equipped with a GPS license to do mapping. With Gollnick open to options, Gonzales struck a deal: "'Teach me to grow grapes and I'll tell you how to apply spacial technologies to the vineyards,' is what I said, and that's what I ended up doing for 12 years." When the opportunity arose in March of this year to join Foley Family Wines, he felt his time was up at Scheid, and the time was right. "I'm in the southern operations, taking in the season to see where we can go in terms of improving farming," says Gonzales.
Today, Gonzales notices that the younger Hispanic American generations—those who are born and raised with English as their first language—are "not going into ag so much." But for him, it's different than "following crops," and he enjoys the world. "It's brought me back to my nine-year-old self driving a hay truck barely abele to see over the steering wheel."
As far as Hispanic culture is celebrated in his family, "We celebrate who we are all the time," he says. "Food is big—enchiladas, tamales—we do tamales at Thanksgiving, and we make them for the year." The secret to making an authentic tamale? "It's the masa to meat ratio. Some go too heavy on the masa, and you can't taste the meat. I can't tell our family secret, but it's relative to that."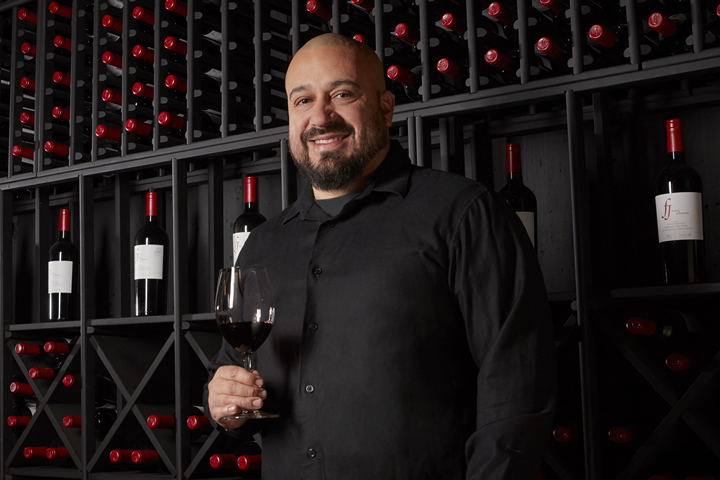 For Giovani Verdejo, Winemaker at Foley Johnson Wines who lives in Napa, California, "Hispanic culture is part of my daily life," he says. "I was born in Mexico City, and my wife is of Mexican descent. My kids could be Mexican citizens as well."
Verdejo says that food is perhaps one of the central tenants connecting his daily routine to Hispanic culture. "The food I eat with my co-workers every day is part of that tradition," he says, "and I'm a big meat eater. So we do thick steaks, but we do also make tacos, and we have a hot plate, and we'll be cooking doing harvest with an array of spicy foods and salsas."
Verdejo says that they don't always have time to make intricate dishes at work, but they've perfected the taco, which he asserts is really about keeping things simple. "Don't overdo the toppings. A good taco includes onions, cilantro, lime, salsa, and seasoned meat," he explains. "When I'm at home, my wife and I do a lot more cooking, and we spend time making more traditional dishes." In terms of the Spanish language, Verdejo adds that "We speak Spanish in our home, and at work, the cellar crew is from all different parts of Mexico. My mom was a Spanish teacher, so my Spanish is very formal.
"My great grandparents passed on to us the traditions and beliefs of our culture. My great grandparents came from southern Mexico and lived in Kansas City, Missouri. My grandmother moved there when she was just six years old. My great grandfather made moonshine during prohibition, but sadly, was involved in a real, old-fashioned shoot-out and succumbed. My grandmother was born in the middle of the Spanish War and lived through the Spanish flu. After my great grandfather died and my grandmother moved back to Mexico City. On my mom's side, they've been in California forever. My maternal grandpa was in the wine industry for 50-60 years. He worked for Beringer and Clos du Val."
So, it seems fate brought Giovani into wine as well. And he says that working at Foley Johnson, and for Foley Family Wines, "It's not about race. It's about skill." He adds that "Now that the Hispanic community is being more recognized, more young upstarts are coming into the industry, and that's a good thing," he says.
FINDING YOUR CAUSE
"More than anything, I would say to those reading this to support Hispanic businesses," says Verdejo, "The Hispanic community has put so much into the wine industry, and they've barely been acknowledged. It's very common to see Hispanic-owned vineyard companies and even wineries, so, please, do the research, and reach out and support."
We hope that you find your unique way to celebrate Hispanic Heritage Month now and encourage that the celebration continues as part of the fabric of your life. Cheers, FFWS.