After trying her hand working in a winery tasting room on Long Island, then living in NYC working in restaurants, Christina Zapel landed a gig at Wine Spectator magazine. Her brief foray into wine journalism didn't last long, and before she knew it, the cellar was calling.
Today, Zapel is the winemaker for Foley Sonoma, a very cool property we hope you'll consider visiting soon. For now, here's your chance to get to know Christina, and also to check out her recommendations for diving head-first into Foley Sonoma wines.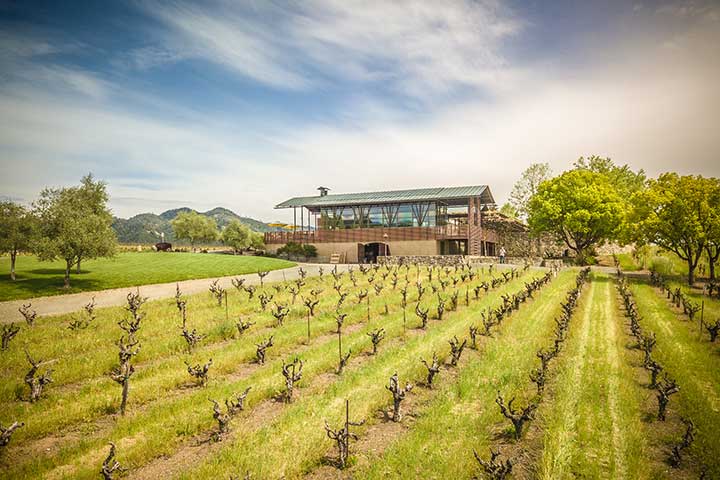 Foley Sonoma Winery in Geyserville, California.
FFWS: We have a lot to unpack here! First of all, you're a New York University alum with a BS in nutrition and food studies. Out of school you worked at magazines and tasting rooms on Long Island. Tell us about this time!
Christina Zapel (CZ): I studied Nutrition and Food Studies since I always knew I was going to do something in the food industry and was aiming to be a food writer or work in journalism. My internships in college centered mostly around the media. I interned at Good Housekeeping one semester, and at The Rachael Ray Show another semester. The summer I graduated, a fellow student suggested we go work at a winery for the summer out in the Hamptons. Since that sounded wonderful, I agreed and ended up loving it. After working in the tasting room all summer, I moved back to NYC, decided to study wine, and earned my Advanced Certificate in Wine and Spirits from the Wine & Spirits Education trust.
Since it was 2008, and the economy was terrible for a college grad, I worked in restaurants to pay my bills. I wasn't in a rush to get a "real" job, with benefits and what-not, and wanted to find something I was passionate about.
I kept returning to the winery for a few summers, since I couldn't resist working summers in the Hamptons. I ended up leaving that job once I got a job at Wine Spectator in the tasting department.
FFWS: What inspired the switch from journalism to winemaking?
CZ: After two years working in a tasting room at a winery in New York, and selling wine at special events, I was approached by the winemaker at Three Sticks and asked if I had any interest in learning to make wine. So that's how it happened! He noticed that I worked hard (but mostly that I could carry heavy items unaided!) and that was that! It was difficult and hard and I questioned why I said yes, but really, it changed my life. I ended up leaving this position for Wine Spectator, because the magazine was just too good of an opportunity to pass up, but really missed winemaking while working there. I made the decision to leave the magazine, and NYC (where I lived for basically 7 years) and moved to Sonoma County to pursue winemaking!
FFWS: You spent some time in Australia, then back Stateside at Lynmar before landing at Flowers. Who were you learning from along the way?
CZ: The time in Australia was really my first experience making wine using native yeast fermentation and sustainable farming. I was always interested in making wine this way and was glad when the winery in Australia offered me a chance. I went with my then-boyfriend/now-husband, and we worked for a winemaking couple, Phil and Rochelle Kerney. The winery was Ross Hill in Orange, NSW but the winemakers have since moved on to their own brand. Since we were the only two interns, we had a lot of one-on-one time with the winemakers. We've kept in touch with them in the years since.
Flowers was another opportunity to make wine with native yeast and minimal intervention in the winemaking process. The winemaker, Chantal Forthun, who is also a friend, was a great mentor. She encouraged experimentation and was always brainstorming new ways to improve wine quality or style. She also encouraged the opinions and suggestions of others on the production team in her constant quest for improvement.
Even though the Australian winery and Flowers had the most impact on my winemaking style, all my internships and experiences helped give me the knowledge and skills I have today. Each place taught me something unique and there is always something to learn.
FFWS: How did you end up at Foley Sonoma and what excites you most about the estate? Tell us a little about the history of this winery too—Bill Foley purchased it in 2016.
CZ: Before it was purchased in 2016, it was Stryker Sonoma. What excites me most about Foley Sonoma is the chance to work with small batches of fruit grown right outside my door, including fun varieties like Tannat and Sangiovese. We also make a Zinfandel from vines that are over 100 years old!
FFWS: Tell us a little about your cellar at home – what do you like to drink when you're not tasting your own wines?
CZ: Mostly, gin & tonics! But in all seriousness, Champagne and other sparkling wines are something I will always drink, no matter what, forever and ever. I have many favorite producers; it's too hard to narrow it down! I really love a good Chardonnay, especially coastal Chardonnay or white Burgundies. Since I live and breathe California wines, we try to drink old-world wines at home. Some of our current favorites are Chenin Blanc from the Loire and Sicilian reds. I love a good Chianti or Brunello for special nights.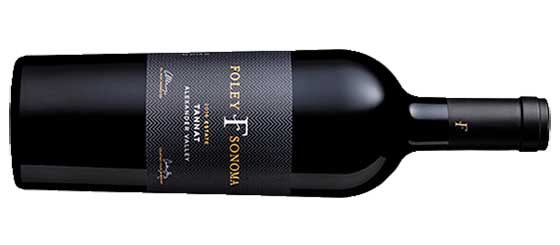 FFWS: For any FFWS members new to Foley Sonoma what wines in the portfolio would you recommend they start with? For those who have been in the know since the first vintage of Foley Sonoma, what would you say is the most out-there bottle to try next?
CZ: For new members, I would recommend starting with the 2018 Estate Chardonnay [currently sold out, look for a new vintage release!]. It's a mineral-driven style of Chardonnay with refreshing citrus fruits and a hint of oak. For those looking to try something, I'd say either the Courtney's Cuvee [currently sold out, look for a new vintage release!], a red blend of the best barrels of the vintage, or the Tannat. Most people haven't had a Tannat before, so it's a great opportunity to expand one's palette!