Foley Food & Wine Society members, today, we'd like to introduce you to Eric Baugher, the new winemaker for Merus.
In short, Baugher comes to Merus after a very long stint at Ridge Vineyards, the Santa Cruz icon inextricably tied to the legacy of its founder, Paul Draper. But Baugher made a big name for himself, even ratcheting up two perfect 100-point scores along the way. He brings a tidal wave of knowledge and winemaking pedigree to Merus.
The first vintage entirely under his control will be the 2021 bottlings, which will be released in 2024. In the meantime, get to know this master of the vine—and be sure to get on the Merus allocation list before it's way too late.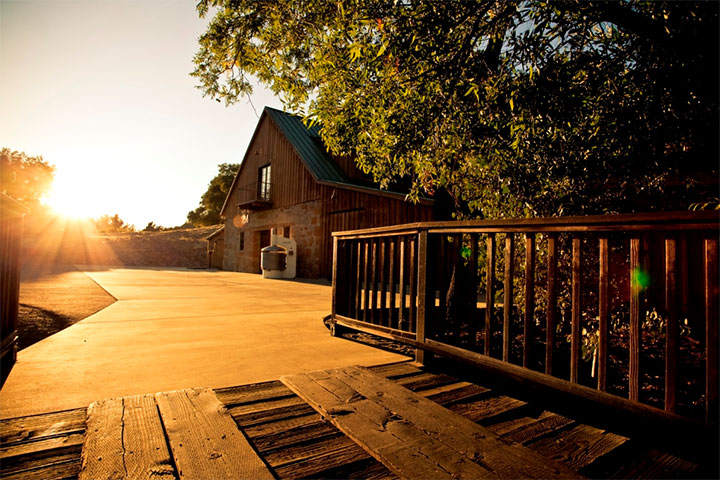 FFWS: You grew up in Santa Cruz, California, and attended school at UC Santa Cruz. What did you study, and tell us about your first gig—at Ridge!
Eric Baugher (EB): I grew up in Santa Cruz, went to study at UC Santa Cruz, and raised my family there, near a beach. As a child, I loved gardening and farming. I did not, however, pursue agriculture as a career. Instead, I received my undergraduate degree in biochemistry and molecular biology. Having that scientific background allowed me to enter the wine industry via the laboratory at Ridge. Though I loved wine, having just become of legal age to purchase and collect, I did not have a good understanding of Ridge's reputation before I started. I was mostly following the wineries on the western side of the Santa Cruz Mountains. (Ridge is remotely located on the eastern edge of the mountains, across the San Andreas Faultline.) I had yet to subscribe to wine publications or follow the who's who of wineries. Once I joined, it became apparent that Ridge was quite famous, especially the man leading it, Paul Draper.
FFWS: You ended up staying at Ridge, working your way up to Assistant Winemaker, Head Winemaker, and then Chief Operating Officer. How did it begin?
(EB): Upon starting at Ridge, I intended to work for a year, during which I was to decide on my next academic journey. I was considering a Ph.D. in Biochemistry and then a research job in pharmaceuticals. The backup plan was dental school. Yet, in the summer of 1995, leading into harvest, the head chemist departed Ridge to pursue his Ph.D. Subsequently, the Production Manager also left to work at another winery. Suddenly, Paul was without help to manage the harvest and winery crew. I volunteered to remain on for the year and help. During harvest, it opened the world to many possibilities, and I was happily steered away from my prior plans.
FFWS: It sounds like winemaking came naturally to you. What do you think made it so?
(EB): I was intrigued by the natural winemaking approach and disciplined assemblage process in producing Ridge's single-vineyard wines. I decided to continue another year, and then another, and so on. Paul must have seen something in me to give me the responsibility to manage the cellar and team. I also had a very precise tasting ability, and he recognized that taste memory was valuable for Ridge.
Paul continued to hand me more responsibilities as the years went on, including perfecting our winemaking techniques and pursuing greater wine quality. That allowed me to gradually rebuild many areas of the winery as gentle handling was a crucial aspect of making balanced wines with age-ability. The winery was also small enough that I could help out in many of the other areas of the business, working with some of the stars of the wine industry (the late Donn Reisen, who was head of sales; Wilma Sturrock, President; and David Gates, Viticulturist.) That gave me a well-rounded and full education on operating a luxury winery with the discipline of a First Growth Bordeaux château.
FFWS: Tell us about working with the legendary Paul Draper. What did you learn from him?
(EB): When I think back to those years, the most important lesson from Paul was to have grace and humbleness in how you conduct yourself; that pretentiousness and arrogance have no place in the wine community. He continues to be a very centered man and among the most important people I cherish in my life. I was fortunate to spend more than half my life working alongside Paul and to know him for the great man that he is.
FFWS: You must have spent a slew of afternoons meeting and tasting with some of the most legendary people in the wine industry.
(EB): In my time at Ridge, we received many high-profile visits regularly. The closest visit by a President was Obama flying air-force one right over Monte Bello vineyard as he came to visit the Bay Area. The Clinton's White House Chef told me once how Monte Bello was a favorite of the President. We also had a few other administrations serve Ridge wines for various State Dinners at the White House and a few international G7 dinners. Ridge, having a great export program to 50 different countries, the reputation was global and led many top Master Sommeliers and Masters of Wine to visit regularly.
One of the last big events, before Covid, we hosted fifty MW's and opened a five-decade span of Monte Bello's to showcase the aging potential of this great vineyard. In 2011, at our 50th Anniversary celebration, we had a group of international and top national journalists visit. Of course, this was the year it would not stop raining. We went to visit several vineyards, getting drenched with rain and hit by hail. The vines were barely visible with the amount of weed growth. This was when Jancis Robinson MW coined the term "smother crop." Once things dried out enough, we had to get onto some serious mowing to knock the weeds and grasses down.
FFWS: You earned two 100-point scores during your time at Ridge. One for the 2013 Ridge Montebello from Jeb Dunnuck when he was on staff at Robert Parker's Wine Advocate, and again from Jeb Dunnuck for the 2017 Ridge Montebello. What did it feel like to have a critic profess that a wine you produced is a perfect wine?
(EB): It's heartening to know when a critic recognizes something in a wine that I already feel, from the beginning of time tasting fruit on the vine, watching it ferment, combining lots at the assemblage, following the wine to bottle. The 2013 and 2017 vintages both evoked those awe-inspiring emotions. They were both superlatively rich, complex, and powerful in their expression of terroir. The shocking difference is that 2013 was a drought year; 2017 had torrential rains that lasted into June. Yet, both wines showed incredible intensity. I believe the success was from having grown in experience, getting through similar tough vintages, and handling the fruit differently. It also helped that the vineyard yield was low in both vintages.
FFWS: After such a long tenure at Ridge, what excited you about joining Merus?
(EB): Again, having spent half my life working at one winery, I was getting to the point of homeostasis. You could also say monotony. The challenges I was given were no longer stimulating enough and I was gradually being pulled away from the hands-on winemaking that I loved most. Being a small boutique winery, Merus has given me an amazing opportunity to return to active winemaking and use all my experience to improve the wines and the vineyard. The estate vineyard is receiving a complete redevelopment and I'm making improvements to winemaking techniques that will dramatically raise quality and consistency of style. After all, that is the hallmark of all luxury wines, providing incredible drinking enjoyment consistently every vintage.
FFWS: What have you tasted recently from the cellars at Merus?
(EB): To understand Merus, the style variations through the vintages, I did go through the reserve. Sadly, there aren't many bottles of many early vintages. One that stands out is 2006. It was utter perfection in what I love about cabernet that has some bottle age. It was deep in color, opulent, silky smooth tannins, and had great persistence in the finish. Any collector that has that vintage should be quite lucky to have that year.
FFWS: Tell us a little about your cellar at home – what do you like to drink when you're not tasting your own wines?
(EB): Currently, my home cellar is packed with Ridge wine. I had amassed a very large collection during my twenty-seven vintages. I am working on it, enjoying bottles before they've gone over the hill, trying to make more room for the wines of Napa Valley and Bordeaux. Honestly, I love all wine and any variety. Some get me more excited than others, with Bordeaux being at the top. There is something very special about Cabernet and related grape families, in how well they show their terroir, how they are grown, and the alchemy of how they are blended. I have a great collection of Bordeaux blends. The trouble is when it comes time to opening a bottle and worrying if I'm enjoying it too soon. I love wine with bottle age, perhaps past what most consumers enjoy. I suppose that is the second great thing I learned from Paul Draper, the love of wines that have moved into secondary and tertiary flavors.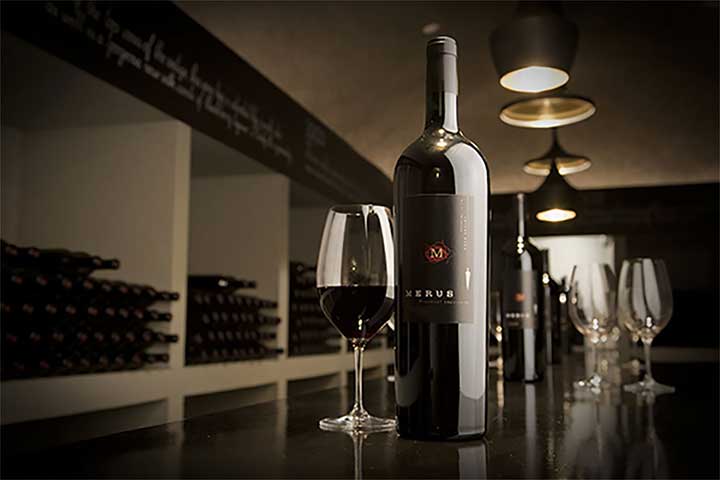 FFWS: What will be your first official vintage of Merus in the books? And in the meantime, what wines should Merus fans be stock-piling? What is an excellent wine to start with Merus for the uninitiated?
(EB): Though, not a wine that I made from the start, rather one that I finished in order to prepare for bottling, once I joined Merus, is the 2018. That has my strong recommendation to stockpile. It is sensuously deep and has a rich texture. 2019 is currently in the cellar continuing to be worked on by myself. 2021 is my first official vintage and should be an exciting one with the exceptional growing season we are experiencing in Napa Valley. As for a great starter vintage for a new collector to Merus, I find the 2016s to possess an excellent balance of tannins and fruit. It has a suppleness with its saturated dark berry fruit covering tannins. It's a seductive vintage that will capture collector's hearts and make life-long fans of Merus.