Winemaker Greg Freeman is now in charge at Chalone Vineyard. Freeman has served a lengthy career in the Santa Lucia Highlands where he soaked up just about every nuance about the area that he could. He also has a mighty grasp on the unique microclimates we find at Chalone, high above the Salinas Valley, with the Pinnacles as a backdrop.
We asked Freeman about his foray into wine, if he has any celebrity stories (he does), and details on playing the bagpipes, as well as what his plans are for Chalone wines. If you're a longtime Chalone lover, you're in for a return to the classic stylings of Chalone, and if you're new to the label, all we can say is—get in now before the critics start getting their hands on the first of Freeman's creations.
Monterey's first winery, Chalone Vineyard is nestled amongst the Pinnacle mountains in Monterey.
FFWS: Let's start with an obvious question: what was the spark that got you into wine?
Greg Freeman (GF): There was wine in my house since I can remember. An empty Jeroboam of Mouton-Cadet full of used corks, the label was grand and mysterious…my dad had a silver bottle coaster/trivet and one of those silver cups that hang around your neck on a ribbon. He was in the Knights of the Vine and often came home late from "wine dinners." In 1980, he went to Napa with my mom and brought back some 1980 Gewürtztraminer from Chateau St. Jean and had me taste it. He said it tasted of "mead and honey." I loved it. I drank red wine in college and beyond.
In 2002, as a bartender in New Orleans, I found myself pouring a collector's fine wines one night and sampled them heartily and became entranced with the flavors, textures, and aromas. Upon deciding to move to Carmel Valley, to follow a girl, I needed a job and found an ad in a local paper for "Winery Lab Tech." With a degree in microbiology and chemistry, my 1990s were spent in restaurants, in the kitchens, and in chemistry labs, mostly environmental analytical labs: nuclear, biotech, and petro-chemical. So, my strong chemistry bent, combined with my foodie-sensibility made for a wine career ready to happen.
FFWS: What was appealing to you as a young adult about wine?
GF: Wine seemed like a cultured, sophisticated pursuit, full of magic, connections to nature, history, geography, travel, and community. Memorable bottles? A 1992 Morgon. A 2002 Heller Estates Cabernet Sauvignon. A raft of Sassicaia, Ornellaia, and Brunello from that New Orleans tasting. Saintsbury Chardonnay from 2000.
FFWS: What led you to the Santa Lucia Highlands?
GF: Replying to the ad in the Monterey Herald, I drove to Hahn Estates/Smith & Hook and fell in love. Deeply. With the winery, with the smells, with the idea of making wine there and learning the craft. Hahn had co-created the AVA in the early 1990s. And Hahn was in the southern end of the SLH.
FFWS: What is special about the SLH growing region?
GF: SLH grapes are the product of the confluence of the Salinas Valley winds and their patterns, the consistent fog layers and the vineyards' marination in the fog, the clonal selection planted there, unique alluvial fan soil deposits, unique vineyard practices, vineyard orientations, elevations, and micro-climatic temperatures and diurnal swings. The union of these influences makes for the unique and special wines of the SLH. In contrast, Chalone is higher in elevation, above the fog layers, the soil is limestone and decomposed granite, less rain, less moisture, less wind, and different clonal assortment. More minerality, more savory intensity, and less tropical fruit notes add to the Chalone profile.
FFWS: Talk about your winemaking mentors. Who are they and what tools of the trade did you pick up from them?
GF: At Hahn, I learned my winemaking craft and trade. From Paul Clifton, Director of Winemaking at Hahn, I learned the technicalities of fermentations, how to care for wines while aging, barrels, bottling, etc, how to be diligent, patient, conservative in approach, to place people first, and not to be too uptight. Nicky Hahn showed me the vision, thought process he had, family ties, and ideas about the acquisition and ownership of the Hahn property. Bill Leigon, President of Hahn for a while, showed me the work of a brilliant marketer, idea-man, trend-setter, and visionary; he brought the inspiration. Barry Gnekow, a consultant, taught me how to taste wines critically and introduced me to all the technology behind innovative winemaking.
Regional Director Lorna Kreutz at Foley Family Wines has taught me to be more disciplined, shown me new leadership paths, new winemaking ideas, and inspirational support. I have learned SO MUCH from all the cellar workers, bottling line techs, truckers, vineyard workers, and vendors over the last 20 years and I try to learn something from everyone in the wine business I interact with.
FFWS: What's the oldest bottle of wine you'd tasted?
GF: I recall drinking several glasses from a double magnum of 1969 Mayacamas Cabernet Sauvignon while in New Orleans. That may be my oldest. I tasted a drop of Chenin Blanc from Chalone Vineyard from the 1960 vintage— but just a drop.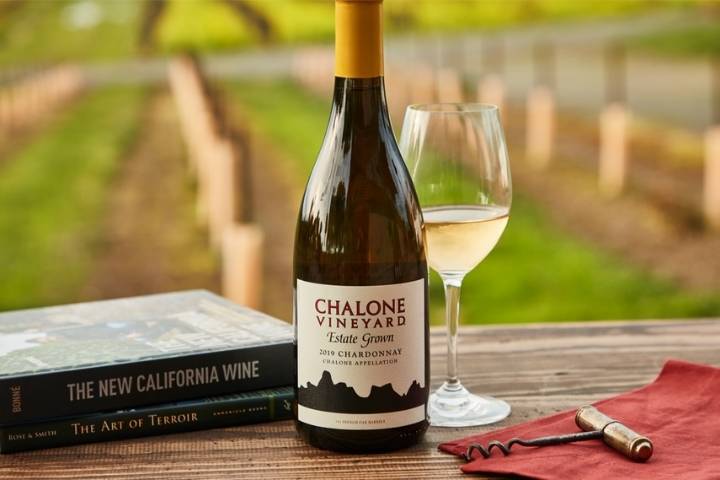 FFWS: Now that you're the steward of Chalone, what is your hope to accomplish in terms of style?
GF: Not trying to reinvent the hula hoop, but I hope to continue to make great wines from the property here. Chardonnay and Pinot Noirs that are aromatically lush, opulent, delicious, and full of mid-palate structure. I can see shifting the oak regimen a bit: barrel coopers and amounts of new oak influence. My Chenin Blanc will be dry, not sweet. Pinot Blanc will be dry, not sweet. Rosé will be from Grenache with no Malolactic conversion and limited oak. I am making a GSM, which will be a new wine at Chalone. My intention is to WOW people with the new wines and to surprise folks at the return to ultra-premium profiles.
FFWS: What do people need to understand about Chalone? It's a truly unique place — what makes it so?
GF: Chalone exists in a timeless, magical space high up in the hills/mountains just next door to the Pinnacles National Park. Surrounded by a ring of ridges, we are mostly free of the fog and heavy winds found elsewhere nearby. Vines planted many years ago are mature and vibrant. Condors circle nearby, abundant wildlife and views, diurnal shifts are huge and of course, dragons live in the caves beneath Chalone.
FFWS: Ha, ha, ha. So, what wines are you and the dragons enjoying right now in the Chalone portfolio?
GF: Currently, I love the Chalone syrahs, hands down, my favorite of the line-up right now.
FFWS: Got any celebrity wine stories?
GF: In 1986, I hand-delivered a club sandwich, Diet Coke, and a snifter of Benedictine and Brandy to Bob Dylan during my stint as a night concierge at a hotel in Houston at around 3:30am. I was drinking Night Harvest Cab Sauv in 1999 when I was high-fived by Coolio at a club in Mammoth Lakes. When I briefly met Sarah MacLachlan backstage in 1998, she had a glass of red wine in her hand. I fell in love with red wine just then.
FFWS: You play the bagpipes, is that right? Where did you pick that up and do you play for the grapes? If not, should you?
GF: In third grade, I joined the school band, a bagpipes-and-drums marching band. Five years followed of daily instruction, marching sessions, parades, dance comps, and concerts. 25 years passed: no bagpipes whatsoever. 15 years ago, I played for a wedding at a friend's request and this ignited my mild interest. Covid 2020 got me to play for my neighbors to cheer them up and I realized I wanted to play as often as I could for the sunsets at Carmel Beach. And this is what I do now. I also play the odd gig, wedding, party, etc. I play annually for the Blessing of the Grapes and so far, that has proved helpful.