With its rich history and dedication to exceptional winemaking, Chalk Hill Estate has earned its place as one of the most iconic wineries in Sonoma County; perhaps none other captures the casual luxury of Sonoma County better. Founded nearly four decades ago, this spectacular 1300-acre property features 300 acres of vineyards, wilderness areas, winery, hospitality center, culinary garden — and that's just the beginning.
Beyond its gorgeous estate, Chalk Hill's never-ending quest for quality serves as the basis for all winemaking decisions, yielding some of the best wines from the region. Many varietals and vintages have been donned with acclaims from some of the most notable publications in the industry including Wine Spectator, Wine Enthusiast, and others.
If you're looking to explore some of Chalk Hill's best, take a look at this list of lauded wines that span all tastes and preferences. Call the Chalk Hill tasting room today at 707-657-4837 to order yours today or plan a visit! And if you can't make it to Chalk Hill, use the links below to buy online or find a retailer near you!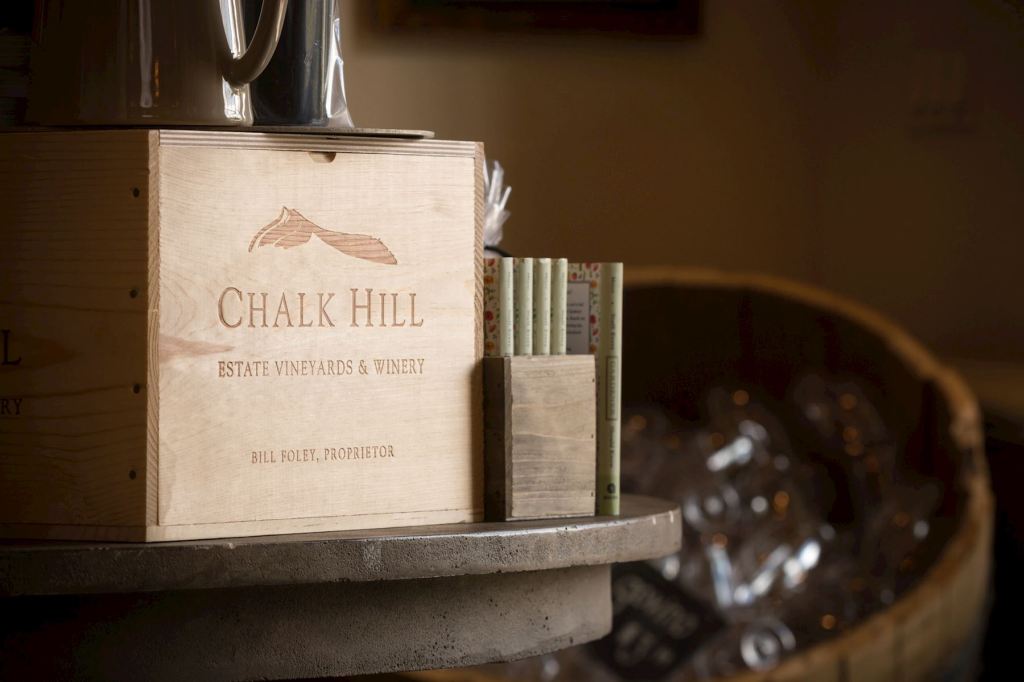 WHITES
2014 CHALK HILL CAROL ANN CHARDONNAY
91 Points, Wine Spectator | "Fresh and snappy, with ginger-laced green apple, citrus and honeydew notes shaded by light oak, gaining depth and nuance on the finish. Drink now through 2020."
93 Points, Wine Enthusiast | "Rich, round and ripe, this is made from a musqué clone originally from Dijon, France, meant to impart memorable aromatics. It does, in spades, revealing wafts of honeysuckle and fresh pineapple amid a bright, tangy twist of acidity and gravely minerality, sharing a touch of salt on the finish."
2014 CHALK HILL ESTATE CHARDONNAY
90 points, Wine Enthusiast | "Golden in color, this wine opens with a decadent nose of baked apple and raisin bread, and the sweetness of vanilla oak. Full bodied and round on the palate, it balances the richness and concentration with lengthy acidity on the finish."
92 points, Wine Enthusiast | "Strikes a balance between rich, spicy oak and an intense core of fruit, echoing pear, apple and melon flavors. Maintains equilibrium, ending with creamy, vanilla-scented oak notes. Drink now."
2015 CHALK HILL ESTATE CHARDONNAY, CHALK HILL AVA
90 points, Robert Parker's Wine Advocate | "The 2015 Chardonnay Estate delivers scents of guava, mango, ripe melon and allspice with hints of buttered toast and praline. Full-bodied and voluptuous in the mouth with tons of tropical fruit flavors matched by a pleasant oiliness to the texture and refreshing acid line, it finishes long and spicy."
90 points, Wine Enthusiast | "Salty and briny around a fruity core of green apple and Meyer lemon meringue, this approachable white is full bodied and wholly concentrated, with plenty of integrated oak. A steely ring of acidity keeps it from becoming too rich, with a finish nicely polished in vanilla."
93 points, Wine Spectator | "Lots of spice, apricot, fig and honeydew melon flavors combine for a full-bodied, mouth-coating experience, with a finish that sails on and on, gaining depth. Drink now through 2022."
2015 CHALK HILL WRIGHT CREEK CHARDONNAY, CHALK HILL AVA
94+ points, Robert Parker's Wine Advocate | "The 2015 Chardonnay Wright Creek is a cracking wine with a very classy nose of honeyed brioche, cashews and apple butter over a core of pineapples, lemon curd and pink grapefruit. Full-bodied, rich and boldly fruited, it has a gorgeous creamy texture and wonderful precision, finishing long and layered."
2015 CHALK HILL ESTATE SAUVIGNON BLANC
91 points, Wine Enthusiast | "A blend of Sauvignon Blanc, Sauvignon Gris and Sauvignon Musqué, this wine delights for its supple apricot and nectarine flavors. It's floral on the nose, with grapefruit and fennel scents, unfolding slowly to reveal a rich texture and fresh acidity."
92 points, Connoisseurs' Guide | "Ripe, well-extracted fruit jumps to the fore here early on and is this moderately full-bodied Sauvignon Blanc's driving force all the way to the finish, but the wine is far more than simply fruity and gives full play to the grape's herbal side with a nice dollop of carefully fit oak sweetening the mix. There is a juicy aspect to its frontal appeal, yet there is enough depth and reserve to say that it will be better if cellared, but, whether it is poured in the short term or set aside for a few years, it is a wine that wants pairing with full-flavored dishes such as a spicy, well-seasoned Provençal Bouillabaisse."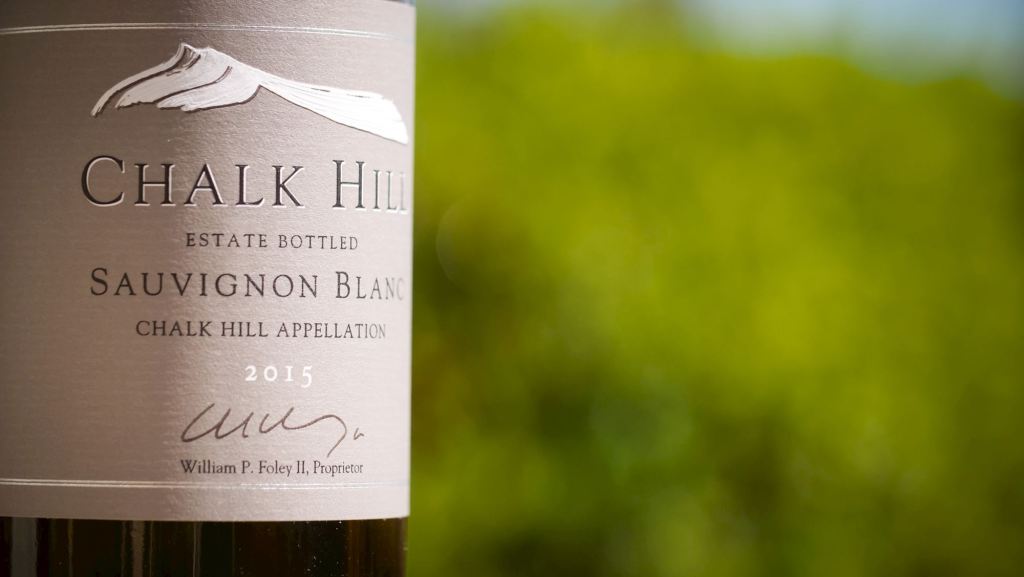 2016 CHALK HILL ESTATE CHARDONNAY, CHALK HILL AVA
91 points, Wine Advocate | "The 2016 Chardonnay Estate is scented of ripe Bosc pears, fresh apple slices and nutmeg with hints of peach kernels, lightly browned toast and struck flint. Medium to full-bodied, the palate offers plenty of apple and pear goodness, with a satiny texture and lively line, finishing creamy."
2016 CHALK HILL ESTATE SAUVIGNON BLANC, CHALK HILL AVA
93 points, Wine Enthusiast | "This is floral and beguiling on the nose. It was blended with 11% Sauvignon Gris and 6% Sauvignon Musque, fermented and aged in both French oak and stainless steel drums. Creamy and lush on the palate, the medium body is integrated and complex in highlights of apricot, lime and peach."
92 points, Wine Advocate | "The 2016 Sauvignon Blanc Estate delivers intense passion fruit, white peach and grapefruit notes with touches of musk perfume, wet slate and bay leaves. Medium-bodied, the palate offers bags of stone fruit and citrus flavors, with a racy backbone and long mineral-tinged finish."
REDS
2014 CHALK HILL CHAIRMAN'S CLUB SYRAH, CHALK HILL AVA
92+ points, Robert Parker's Wine Advocate | "Deep garnet-purple colored, the 2014 Syrah Estate reveals spicy black pepper, anise and cloves notes with a core of blackberries and black currants plus a waft of garrigue. The palate is a little oak dominated at this youthful stage, overshadowing the rich, ripe core of black fruits and spice box notes with rounded tannins and seamless acid to support, finishing just a little hot. With a couple more years in bottle, everything should fall into place in this promising beauty, although I've scored it conservatively for now."
2014 CHALK HILL CLARA'S VINEYARD RED WINE, CHALK HILL AVA
91+ points, Robert Parker's Wine Advocate | "A massive effort, rich, thick, deep and layered, with tiers of mocha, blackberry, espresso, cedar and crushed rock flavors, turning toward graphite and savory herb notes on the long finish. Cabernet Sauvignon, Malbec and Petit Verdot. Best from 2018 through 2028."
94 points, Wine Spectator | "A blend of 59% Cabernet Sauvignon, 35% Malbec and 6% Petit Verdot, the 2014 Clara's Red is deep garnet-purple colored, with aromas of cassis, cedar bay leaves and chocolate box plus a touch of menthol. Medium to full-bodied, the palate shows great sophistication and depth, with tons of youthful black fruit flavors framed by firm tannins and a lively backbone, finishing with very good persistence."
2015 CHALK HILL ESTATE RED, CHALK HILL AVA
94+ points, Wine Advocate | "The 2015 Estate Red is deep garnet-purple colored and delivers a good amount of oak-inspired notions to begin over a core of blackcurrant cordial, blackberry pie, preserved plums and chocolate box with hints of vanilla pod and cigar box. Big, concentrated and full-bodied, the palate is jam-packed with black fruit preserves, framed by ripe, firm, grainy tannins and just enough freshness, finishing on a woody note. Forget it for 5-6 years and drink it over the next 20."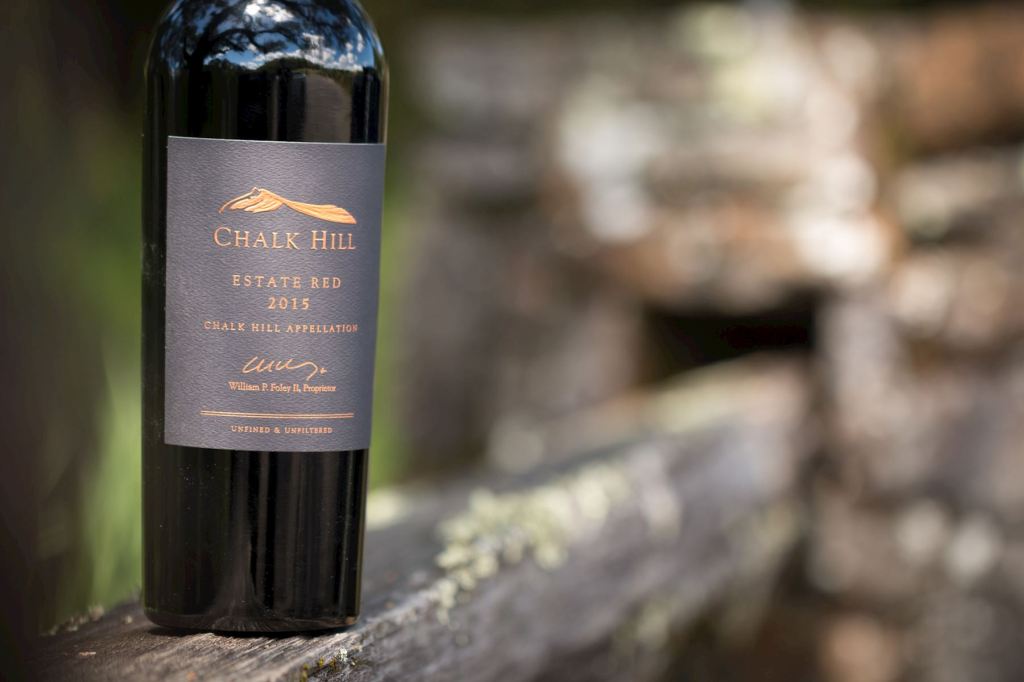 ---