As part of our ongoing series of Q&As with Foley Family wine country personalities, we recently spoke with Jourdan Gantt, Manager of Guest Services at Firestone Vineyard in Los Olivos, California, in the Santa Ynez Valley.
Gantt may not have studied wine during her college years (she was a psych major!), but found her calling and passion for it. She indulges us with the details of her transition from Psych major to wine aficionado, her most memorable wine trip, favorite wine book, and much more.
She brings enthusiasm and excitement to Firestone that only real passion can inspire, which you can see should you visit the winery on an upcoming lazy weekend afternoon (or weekday for a quieter wine tasting experience). The tasting room is currently open Thursday-Monday from 11:00 a.m. to 5:00 p.m. by appointment.
If you should visit in the near-future, and Jourdan happens to be on-site, be sure to say hello and let her know that you read all about her right here on the Foley Food & Wine Society blog.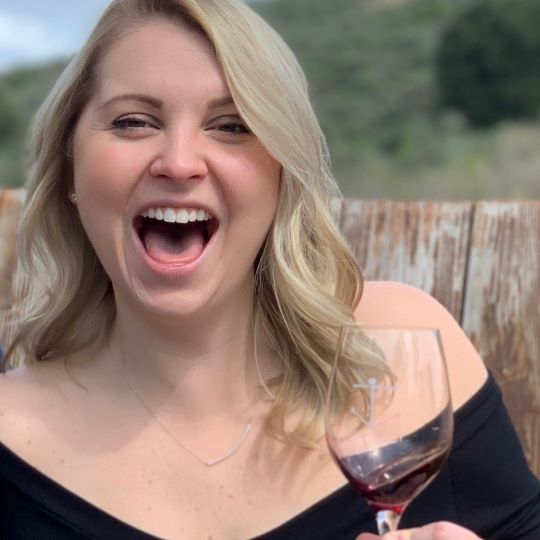 Q: Jourdan, you studied Psychology at the University of Colorado Boulder, so how did you get into the wine biz?
Jourdan Gantt (JG): My dad always said that once I earned my Bachelor's degree, I could do whatever I set my mind to. So, after graduating from the UC Boulder, I jumped into a career with Crocs, Inc. After five years in management at Crocs, working in California, Colorado, and Arizona, I decided I wanted to live closer to family and took on a job working with Lululemon in Santa Barbara. In 2011, my dad moved to the Santa Ynez Valley—which is where I was first introduced to wine.
Q: And you got bit by the wine bug?
JG: Exactly! When I wasn't working, I was out exploring the vineyards and tasting rooms throughout the valley. I discovered a real passion for wine, had a good palate, and was ready to move on from retail.
Q: What was your first wine country gig?
JG: In 2016, I took my first part-time role at Pence Winery in the Sta. Rita Hills, where I dived into wine education learning about our American Viticultural Areas (AVA's) and Burgundian-inspired wines. It was exciting and I decided to make it a full-time gig. In the spring of 2018, I started working at the Firestone Vineyard tasting room and after a year was promoted to Assistant Hospitality Manager at Foley Estates where I was re-introduced to the Sta. Rita Hills! This past July, I was promoted to Manager of Guest Services at Firestone—back to my old stomping grounds! I couldn't be happier to be back.
Q: Do you hold any wine certifications?
JG: In 2019, I attended the WISE Academy course where I received my Tasting Room Professional certificate. My biggest take away from the course was the "Hear, Smell, Taste" experience. I was blown away by how certain aromas can actually alter the taste of a beautiful wine. We "nosed" a variety of herbs and spices—some elevated the wine while others completely muted it. In the upcoming months, I will be taking the WISE Tasting Room Management course, and, when I can make time, I'm aiming to gain my Sommelier Certificate.
Q: Two-part question! Part One: What is your favorite wine book? Part Two: Favorite fiction or non-fiction book?
JG: I am a huge foodie and I absolutely love to cook. Currently, I'm reading "Food and Wine Pairing: A Sensory Experience" by Robert J. Harrington because truly finding the perfect pairing is such a fun challenge. My boyfriend and I have about 180 bottles in our current collection, so we are always opening something new, and looking for fun dishes to pair with the wines. My absolute favorite author is John Grisham and his book "The Innocent Man," which I highly recommend.
Q: Finally, bring it back home to Firestone. For those who are just discovering this label, what is the best first wine to try?
JG: Our Chairman's Series Merlot is my absolute favorite year over year!  Also, you can't go wrong with our Chairman Series Cabernet Sauvignon or Lineage (a Bordeaux blend). The 2015 is drinking beautifully right now, and the 2016s are beginning to open up wonderfully. One of these wines goes out in our Wine Club shipments and they are always a Wine Club favorite.
Shop Firestone Vineyard Wines or Plan Your Visit Now.