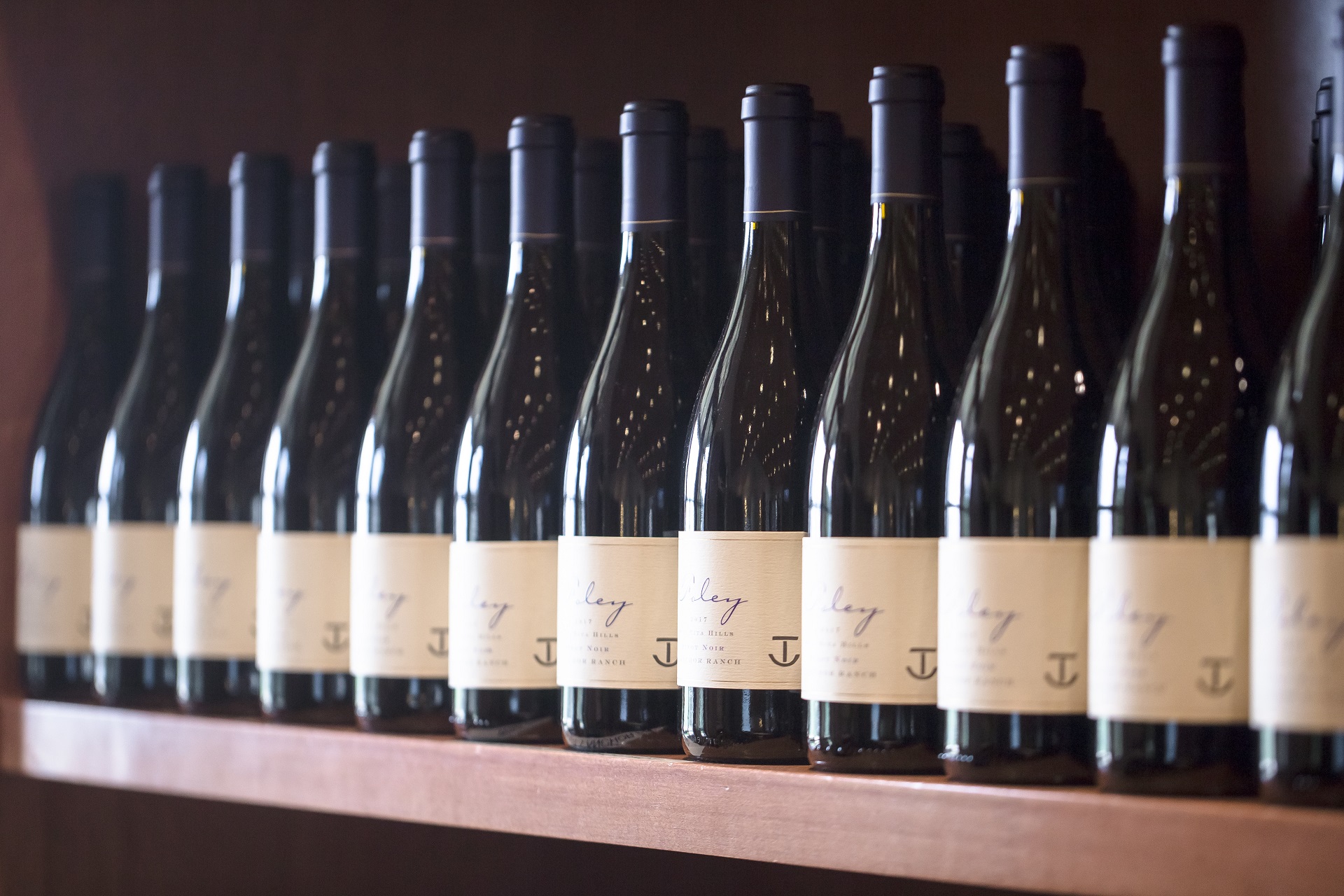 How to Earn and Redeem Points
Every dollar you spend with us earns you points that can be redeemed for wine purchases, merchandise, events, and tasting experiences
Society Loyalty Points Program
Being a part of the Society grants you access to a portfolio of highly-acclaimed wines from some of the most celebrated names in winemaking today, as well as invites to exclusive events and exceptional culinary experiences. As a part of the Society you will also enjoy the benefits of the Society Points Loyalty Program so that every dollar you spend with us earns you points that can be redeemed for purchases of exceptional wine and merchandise, access to exclusive events, and luxurious wine tasting experiences.
EARN POINTS FOR YOUR PURCHASES
Through the Foley Food & Wine Society loyalty rewards program, members earn points for every dollar they spend on Foley Family Wines, including purchases at our tasting rooms, via our online shop, or in participating retail locations. These points can then be redeemed for exclusive merchandise, private events, luxury travel experiences, and of course, more Foley Family Wines!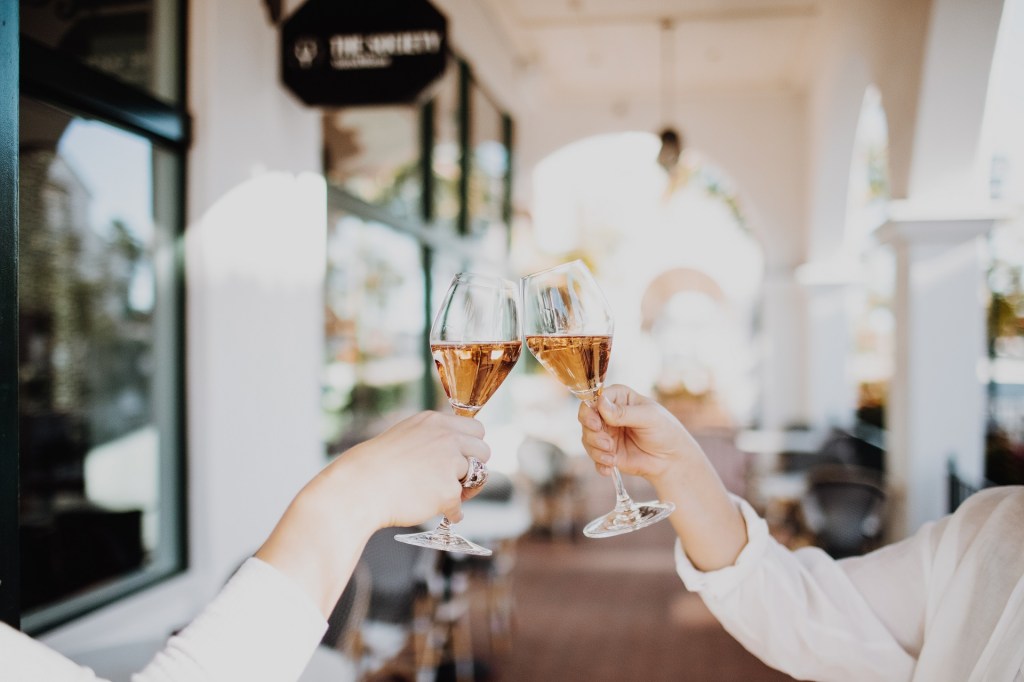 LEARN ABOUT LOYALTY POINTS
ACCRUING POINTS*
Points will automatically accumulate at 1 point per $1 spent and will redeem at the rate of 10 points per dollar. So for example, if you spend $1,000 with us, you will earn 1,000 points. Those 1,000 points will redeem for $100.00 worth of product or experiences. Example: An Estate Tour & Tasting at Lancaster Estate can be purchased for $50 or 500 points. You can also redeem points for a partial payment, for example, you can use 250 points towards your Estate Tour & Tasting at Lancaster Estate, and pay the remaining $25 with your credit card.
Being part of the Foley Food & Wine Society you will earn points for all activities within the participating portfolio of properties:
Purchases of wine on foleyfoodandwinesociety.com and in tasting rooms
Purchases of wine at participating retail locations
Purchases of tours, tastings, and merchandise
Purchases of tickets for events
Site fees for events and meetings
Wine club members will accumulate points for club releases
* Points can only be accrued at domestic U.S. properties or online. Points are not accrued for money spent on shipping or taxes.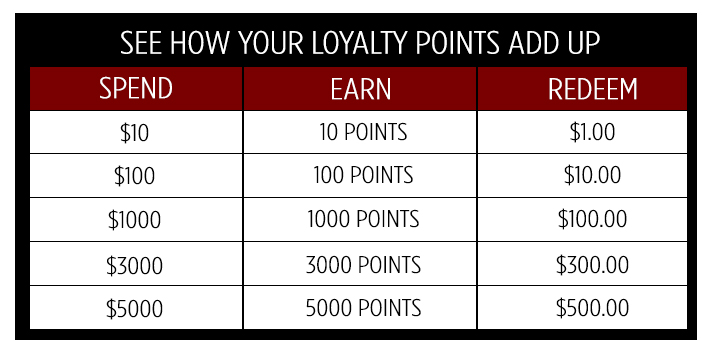 REDEEMING POINTS
Points can be redeemed for up to 50% of wine purchases and up to 100% of the total cost of select merchandise and experiences, including:
Tickets to FFWS events
Winemaker Dinners
Winery Experiences
Private Reserve tastings and tastings with winemakers
Venue rentals for private events
Wine and wine-related merchandise
Shipping costs for wine or merchandise
Luxury Experiences such as Culinary Tours, Cooking Demonstrations, and Wine Education Classes
* Points cannot be applied toward applicable sales tax, and can only be redeemed at domestic U.S. properties or online
Please note that points are generally not automatically applied, allowing you the option to redeem as many as you would like up to the maximum with each interaction, to save them for another date if you prefer. For example, online sales require that you type in the number of points that you wish to redeem and apply them. For offline sales such as tasting room visits or in-person event ticket purchases, our representative will inquire whether you'd like to apply points for each transaction.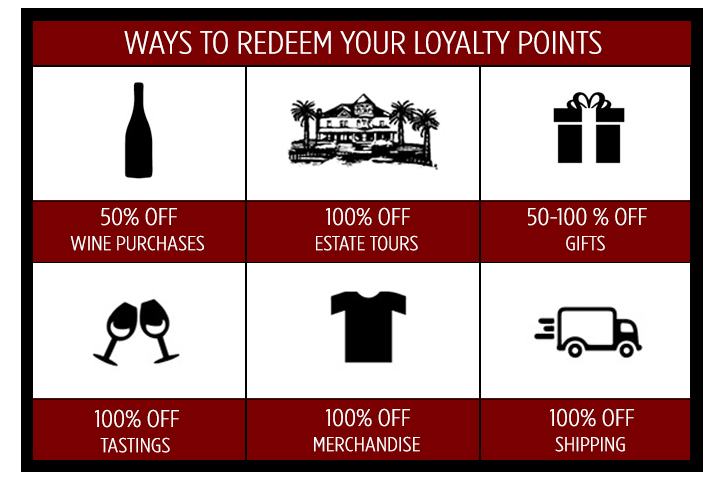 VIEWING YOUR POINTS TOTAL
Whether you use the Foley Food & Wine Society website or the FFWS app available through the App Store or Google Play, your points balance is available at any time. You may also obtain your current points total by contacting us at concierge@foleyfoodandwinesociety.com or (855) 883-8688.
CHECK POINTS ONLINE (FOLEY FOOD & WINE SOCIETY WEBSITE):
1.
Visit The Foley Food & Wine Society shop at: shop.foleyfoodandwinesociety.com.
Click LOG IN at the top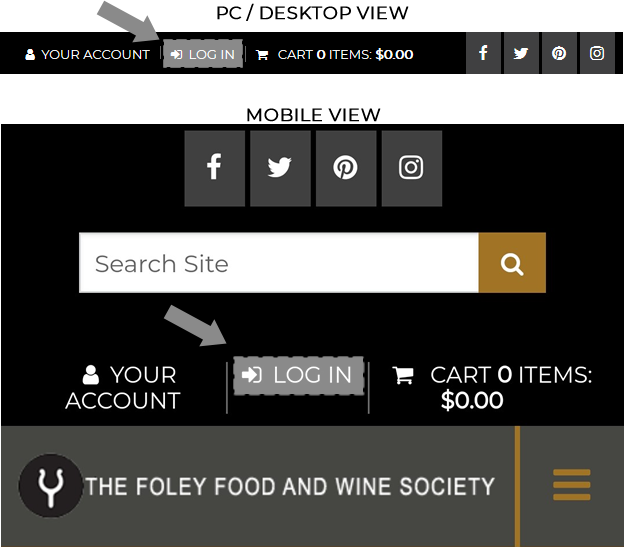 2.
Once logged in, click "HELLO [YourName]" at the top to enter the account administration area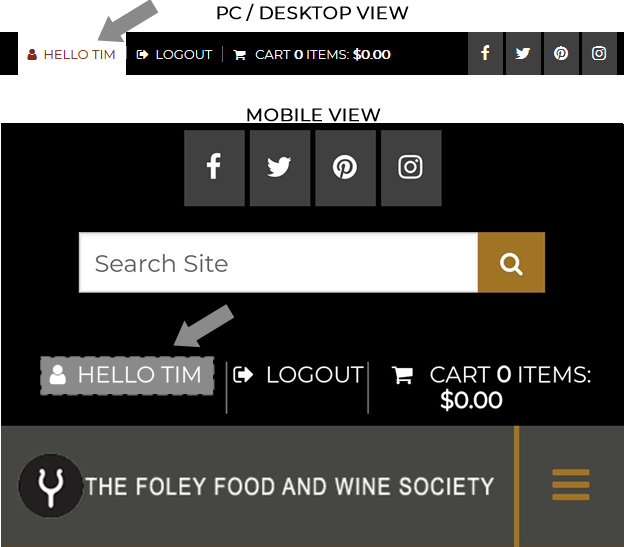 3.
Click Member Points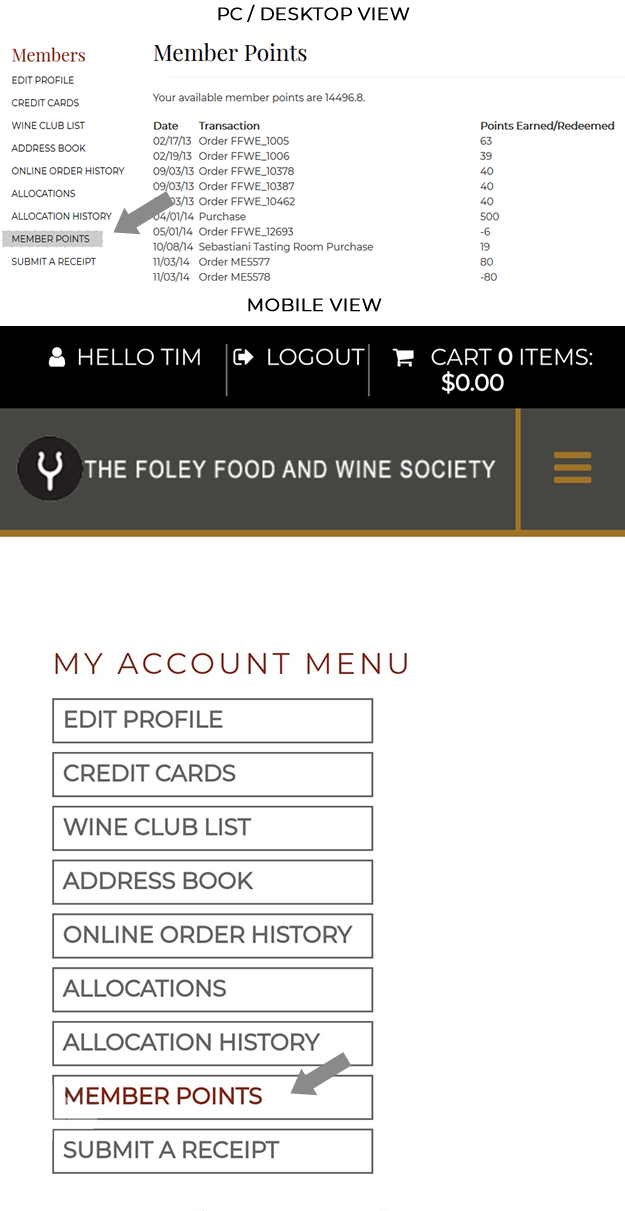 CHECK POINTS ONLINE (FFWS APP):
1.
Open the FFWS app from your desired device (available on the App Store or Google Play). If you aren't already logged in, click the "… More" button in the lower right and follow the prompts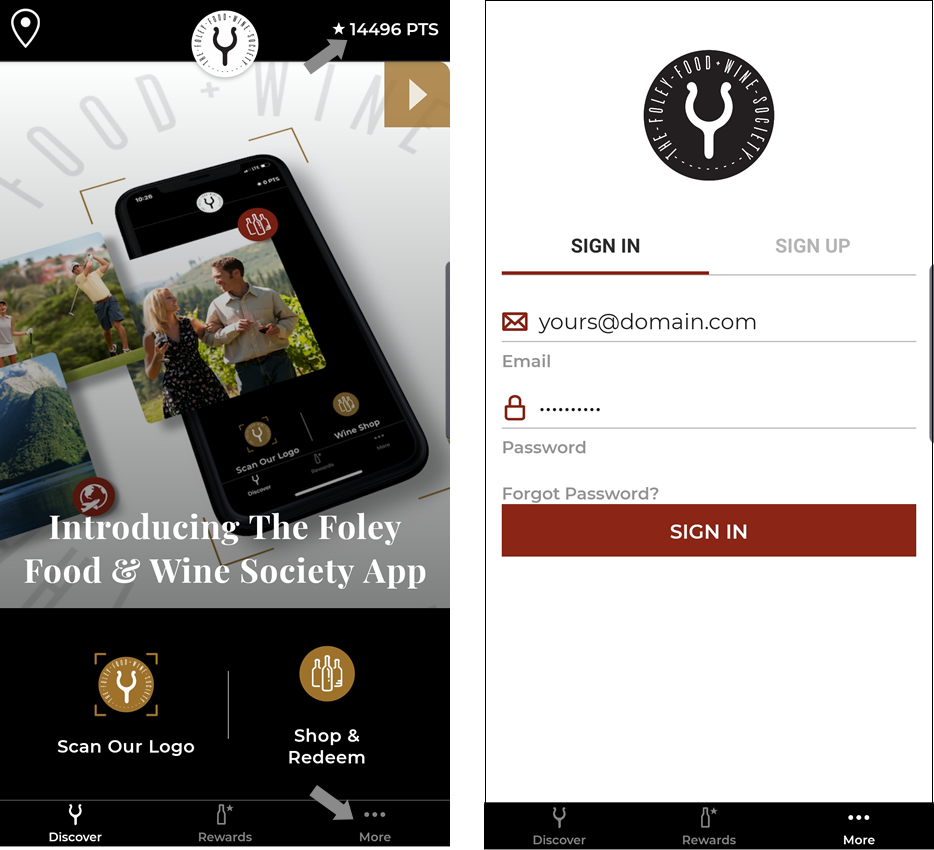 2.
Once logged in, your points will appear in the top right corner of the App Home Page
Another method is simply click on 'Rewards' to see a snapshot of your points and links to redeem them. Watch our app video for a preview of some of these steps
We strive to include your points total on email communications whenever relevant to make redeeming your points even easier. Watch for this section in your next email – Sample below:

REDEEMING POINTS
REDEEMING POINTS ONLINE (FOLEY FOOD & WINE SOCIETY WEBSITE):
Points may be redeemed for up to 50% of wine purchases or for 100% of the cost of merchandise and experiences. Points may not be redeemed for sales tax. In order to redeem points on orders online, whether using the website or app, you must be logged in during checkout. The points redemption section will show up after you select shipping and billing address and shipping service type, if applicable. The system will automatically calculate and inform you of the number of points that can be redeemed based on your current cart.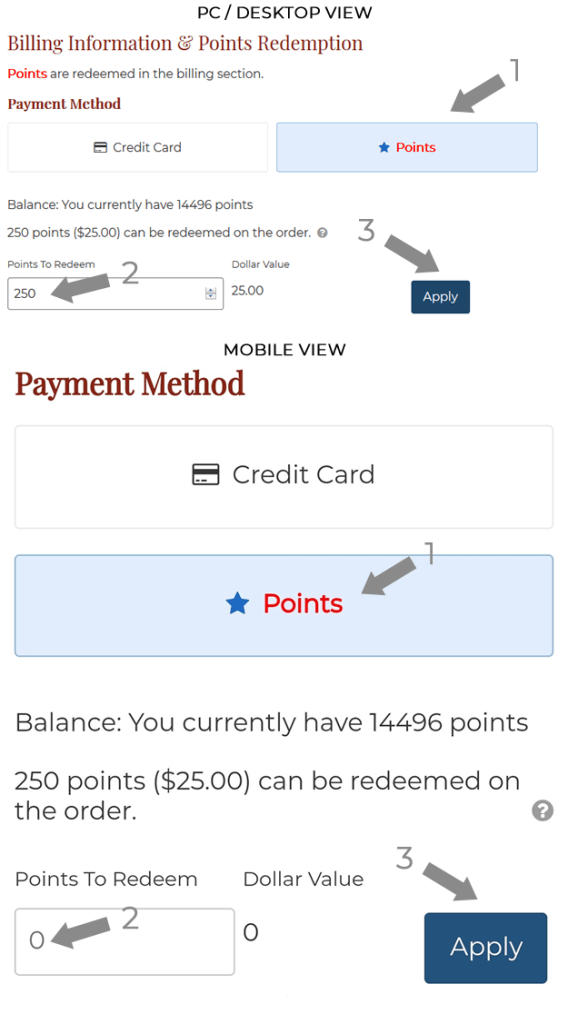 REDEEMING POINTS ONLINE (FFWS APP):
Open the FFWS app from your desired device (available on the App Store or Google Play)
Click the Rewards button at the bottom
Click Shop & Redeem
Browse our product catalog and when you find something you want, add it to your cart
If you have available points that may be redeemed on the order, you will be presented with the option to apply points to the order during checkout similar to the screenshot above