Gwen and Geo Verna were both born and raised in Philadelphia. They moved to Seattle in 2005, and to escape the gray and rain, started visiting Sonoma and Napa every few months. As can be expected, with each visit, they got more and more into wine.
In 2007, they decided to go all-in with a second home in Windsor in Sonoma County. A year later, they re-located from Seattle to Venice, California— they still try to visit Sonoma every six weeks! Most of all, they love going on winery tours because even after all these years, they learn something new on every winery tour.
We spoke to them about their background, wine life, and becoming members of the Foley Food & Wine Society. Enjoy the interview!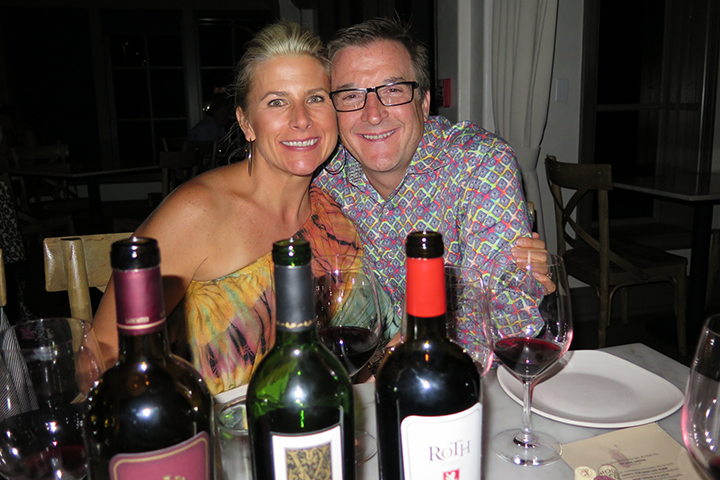 FFWS: What do you love most about living in Venice?
Gwen & Geo Verna (G&G): Venice, we call it urban beach living. Growing up in Philly, we love an urban environment and being able to walk everywhere. We live just off Abbot Kinney Blvd. and can walk to everything—shops, supermarkets, restaurants, bars, and the beach. We also love the diversity of Venice. They say 'Keep Austin Weird'; we say, they've never been to Venice.
FFWS: You're collectors of wine. How many bottles do you have in your cellar?
G&G: Between the two houses, our cellar is about 400 bottles including a few magnums and large formats.
FFWS: What are your go-to Foley Family wines?
Gwen: We've been fans of Lancaster since about 2006 or so. We remember our first tasting in the 'library' with Damon Ainsworth, who we're still friends with today. We love every wine there. I get annoyed when they ask my favorite—I like them all. Someone at Lancaster introduced us to Roth. We fell in love with Roth when it was the second label of Lancaster. The Roth white label Cab quickly became our house red and we bought it by the case to serve at parties. At least 20 of our friends know Roth because of us. My sister even chose it as the red wine at her wedding because she knew the wine through us. Everyone, of course, loved it.
Today, our go-to Foley wines are Lancaster Sophia's and Chalk Hill Malbec, which we buy by the case too….can you see a trend with us buying wines by the case? Nicole's is our go-to wine for special occasions.
FFWS: What are some of your most memorable experiences?
G&G: The Chalk Hill culinary experience with the garden tour and lunch. And Lancaster harvest parties—we love the oysters, live band, and the year of the cookie 'bar.'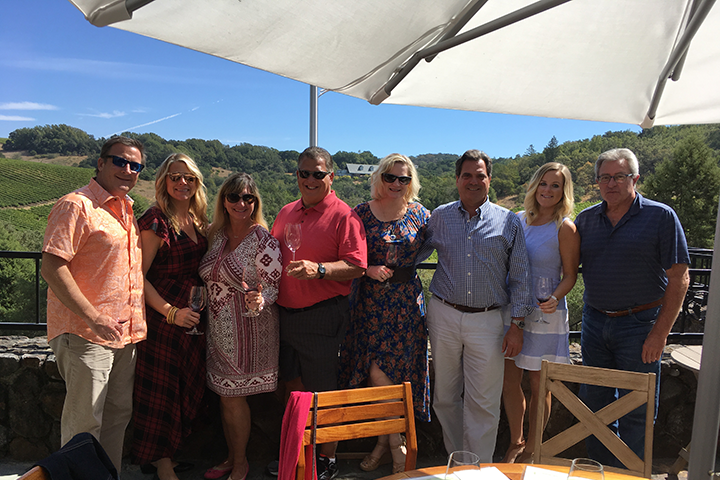 Another favorite experience was the surprise behind the bookshelf at Chalk Hill. Three years ago, we brought 10 friends to Sonoma County with us for a friends group weekend. Our friends flew in from Philly, Seattle, and LA. Our Foley Food & Wine Society connection, Monica, was a huge help to get us scheduled at the three properties on Chalk Hill Road. After our tasting at Chalk Hill, Monica took our group for a brief tour. Of course, Geo and I knew why we stopped at the bookshelf, and it was a fantastic surprise to share that experience with our friends. Touring Bill's wine cellar at Chalk is such a treat and we love his collection of corkscrews and wine keys.
FFWS: You're currently raising a puppy through Guide Dogs of America. What's the pup's name and do you take her on winery visits?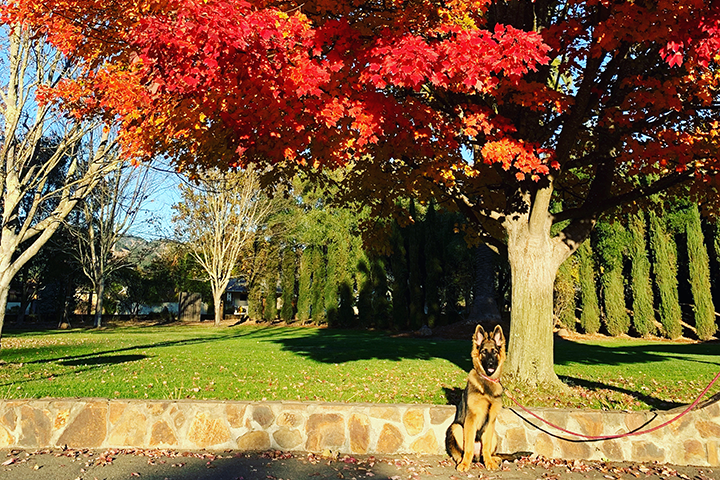 G&G: That's right, we're raising a puppy to be a service dog to support a blind or visually impaired person. It's our job to acclimate her to life and everything a blind person may do. Everyone at the FFW properties has been very welcoming to 'Zola'. They respect she's in training but we still let them steal some puppy kisses. We took Zola to an event at Sebastiani, and Zola was very well behaved, which gave us time to savor the Cherryblock, and WP Foley!
FFWS: Two-part question. First, what are your oldest and newest FFW wines, and most prized bottles of wine in your collection? Second, can you tell us about any dinner parties you've hosted when you've shared some older wines with friends?
Gwen: Oldest FFW in the cellar: a Nicole's 2005. Newest: just bought a case of Sophia's 2017. Most prized: Biondi Santi Brunello 1997.
One night, Geo cooked a beef wellington for a dinner at our home in Venice, and we did a vertical tasting of three years of Nicole's: '05, '06, '07. It was obviously spectacular. There are very few people in our life who we would share that with and we shared it with a dear friend. When we do our wine pickups, we're always so happy to get the Nicole's and just put it in the cellar for a few years—we miss the wood boxes—just sayin'!
FFWS: What do you like about the Foley Food & Wine Society? How have you taken advantage of your member benefits?
Gwen: We love visiting the other Foley properties on our FFWS perks. We love the complimentary tastings and being treated like family. We collect and spend points. We also appreciate the discount at Chalkboard. We've visited at least 8 FFW properties and look forward to visiting more. We really appreciate the ability to bring our own picnic to some of the properties and enjoy lunch with a bottle of wine. It was a pleasant surprise when I was at a corporate event at Bacara in Santa Barbara and saw the FFWS tasting room. As most of the team was at the hotel bar, I grabbed a girlfriend at work and popped into the FFW tasting room for us to enjoy a more civilized drink. It was such a great treat.