Situated on 110 acres in the Red Hills of Dundee, Oregon in the Willamette Valley, The Four Graces is a small winery by most standards. "There are only four of us in the cellar," says winemaker Tim Jones, "so everyone has a direct connection to the wines we're making."
If The Four Graces hasn't been on your radar, consider this your in-depth introduction. We spoke with Jessie Zielsdorf, Hospitality Manager, about what it's like to experience a visit to The Four Graces, and keep reading for a deep dive into the geeky stuff about the region and wine styles with winemaker Tim Jones.
A VISIT TO THE FOUR GRACES ESTATE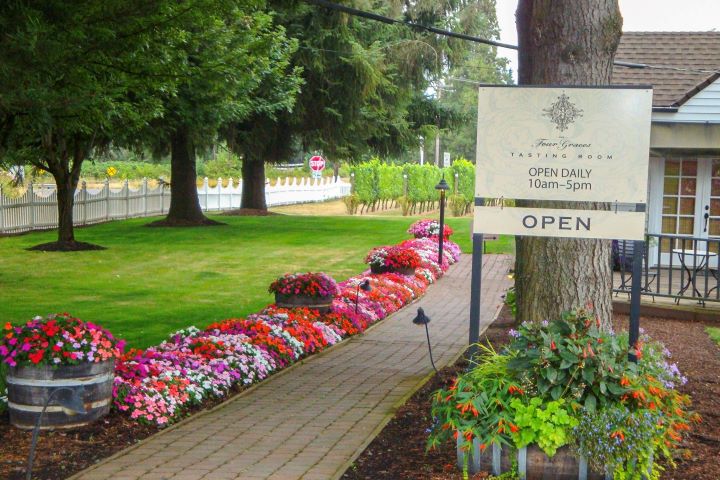 Tell us about the tasting experiences at The Four Graces.
Jessie Zielsdorf (JZ): Pre-COVID, upon arrival, guests are greeted with the option to taste at our bar or enjoy our outdoor seating. We also have a cute cottage and barn area. Because of the pandemic, right now, when guests arrive, they are greeted in our courtyard area with a menu and explanation of our new COVID protocols. Masks are required until guests are seated when they can remove their masks to enjoy our wines, but if they get up for any reason we require that they put their mask back on. A tasting room attendant greets the table and explains that there are three ways to enjoy our wines: by the glass, by the bottle, or through a shared flight. Water is offered as well.
What is the most popular tasting today?
JZ: Most guests choose to do the shared flight which means that the table receives four measured out decanters of wine for a "self-guided" tasting. We explain each of the wines when we drop off the decanters and let the customers know that if they need anything at all please just flag us down but that we will also check in midway through their tasting to answer any question, see if they need anything and ask how they are enjoying the wines. We also aim to provide table-side service for the check-out process.
Can you offer up your best restaurant and lodging recommendations?
JZ: For places to eat near the winery, we suggest Newbergundian, Ruddick Wood, Dundee Bistro, Trellis, or Red Hills Market—best to visit during the week when it's not as busy. I'd also recommend guests look for rooms at the Inn at Red Hills, The Allison, The Atticus (which is in McMinnville and sports a cool downtown scene), and The Vintages which is a place that offers "rooms" that are actually themed vintage trailers. There are also nearby hiking spots for ample outdoor activity!
DISTINCT STYLES AND "L.I.V.E." WINEMAKING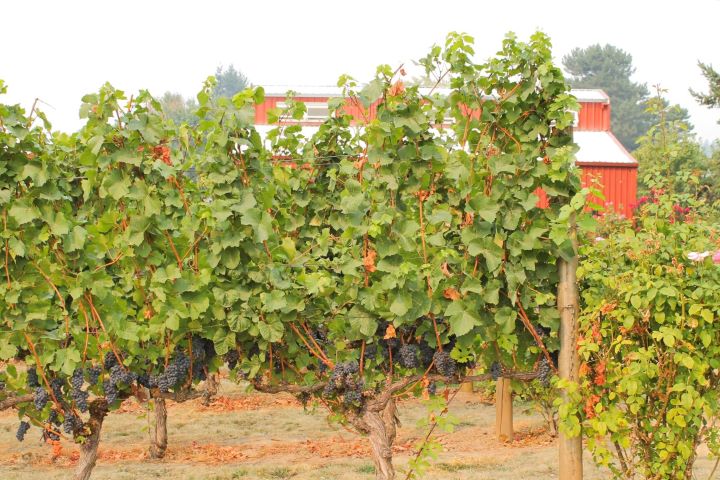 In a nutshell, how would you describe the style of wines at The Four Graces?
Tim Jones (TJ): Winemaking at The Four Graces is all about conveying a sense of place. Pinot Noir especially reflects the attributes of where it's grown, and how it's farmed. We are very fortunate to have some of the best vineyards in the Willamette Valley AVA, in the Dundee Hills AVA, Yamhill-Carlton AVA, and our newest vineyard in the Van Duzer Corridor AVA.
What are you going for stylistically with your Pinot Noir, Pinot Gris, and Pinot Blanc wines?
TJ: Before describing the characteristics of the wine, you have to talk about what's going on above and below the ground, as well as the climate, elevation, slope, and soil. In general, the Willamette Valley is a cool climate, with dry summers and wet winters. Beyond the shared cool-climate of the region, there is tremendous diversity to our vineyard sites; how the coastal mountains moderate the marine influence of the Pacific Ocean, the origin of the soil, and sun exposure. The soils can be volcanic in origin, ancient marine sediments, ancient flood silts—and when you start to factor in the effect of the vine and seasonal variations, the differences are exciting. Working in this region is also humbling as a winemaker, because I know I'm taking a backseat to what the site and season deliver.
Do you have a specific approach in terms of winemaking?
TJ: A winemaker can't make wine by a recipe here, so it keeps you on your toes, responding to the unique needs and qualities of each blend. I consider myself more of a "grape parent," guiding them through the early stages of the winemaking process, but knowing that their best attributes are probably derived from nature.
Stylistically, I am very much concerned with the texture of the wine—the balance of aromas, the impression of sweetness, acidity, all play a part in the how the wine is perceived on the palate. The best way we can showcase this is through our Pinot Blanc program—we make two versions. It's a low-yielding variety and is one of the last to ripen. We make a stainless steel fermented Pinot Blanc, with aromas of fresh pear, and refreshing acidity. We also make a small amount of Pinot Blanc that's fermented and aged in neutral barrels. The aging process helps it to develop secondary aromas of dried fruits, but it also provides a creamy texture, and length on the palate.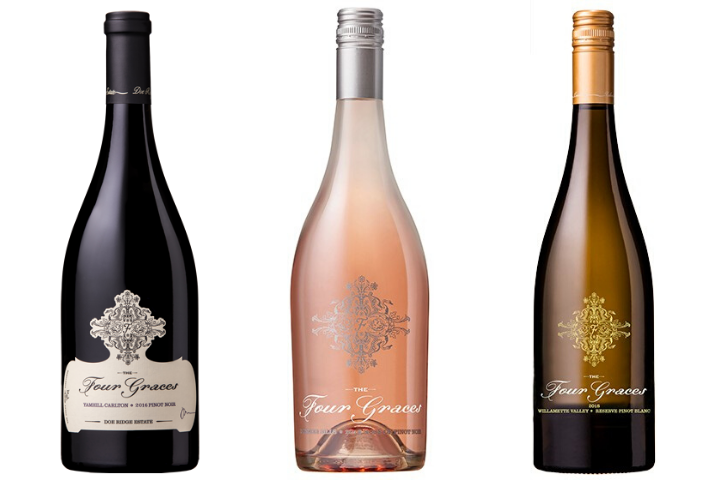 Take us through the AVAs and tell us about the vines planted in each.
TJ: In the Dundee Hills, our Foley Family Estate vineyard is planted in the famous volcanic Jory soils on an east-facing slope. We have some unique vines to work with here, including some own-rooted Pommard clone that was planted back in 1990. The wines from this vineyard are distinctive, typically lighter in color, with red fruit and forest floor aromatics, elegant and delivering a long finish. >>> Explore these wines.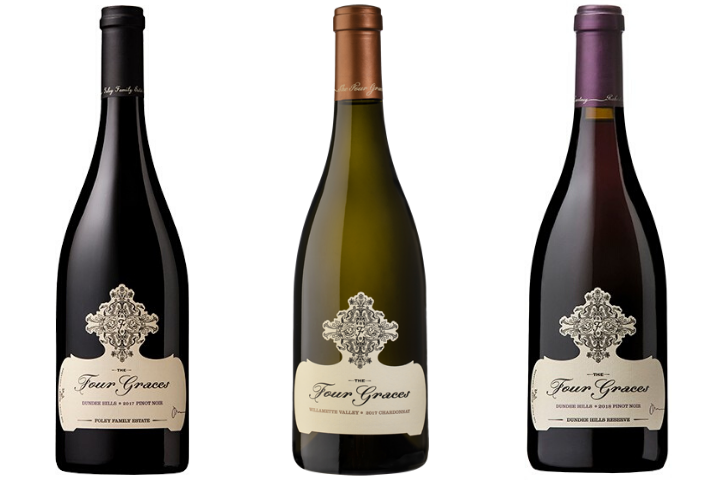 In the Yamhill-Carlton AVA, our Doe Ridge Estate vineyard is planted in ancient marine sedimentary soil. These are shallower soils with less water holding capacity, which tends to reduce vine vigor during the growing season. Darker in color, wines from this vineyard tend to be more structured, with aromas of blackberry, and violets. These wines "play well with oak" so we leave them in the barrel a little longer, which brings out nuanced secondary aromas of coffee and dark chocolate. >>> Explore these wines.
In the Van-Duzer AVA, our newest vineyard is known for the afternoon winds that sweep in from the Pacific Ocean. Wines from this vineyard are the darkest, and most structured in the winery, with common descriptors of black cherry, tobacco, and minerality. I'm looking forward to seeing how these wines age and develop over time.
Your vineyards are L.I.V.E. certified. What does that mean?
TJ: We are very proud of L.I.V.E. certified vineyards. LIVE (or low impact viticulture and enology) is an independent certifier for sustainability, based in the Pacific Northwest. I think of it as a commitment to do the right thing, to be environmentally and socially responsible when making wine.
>>> Shop The Four Graces Collection