There's no direct path to winemaking. Talk to any winemaker, and you'll hear much the same story: I was supposed to go into engineering, and then, I got bit by the wine bug. For Alicia Sylvester of Banshee Wines, however, winemaking may have been a calling thanks to her family. She grew up on a farm, focused on almond growing, but—there were vineyards planted as well. As she dives into the Banshee portfolio, she brings with her an impressive CV of experience from some of California's greatest winemaking talents.
Get to know Alicia in our Q&A below, and above all, get better acquainted with our Banshee portfolio, and of course, when it's safe for you and yours, come for a visit.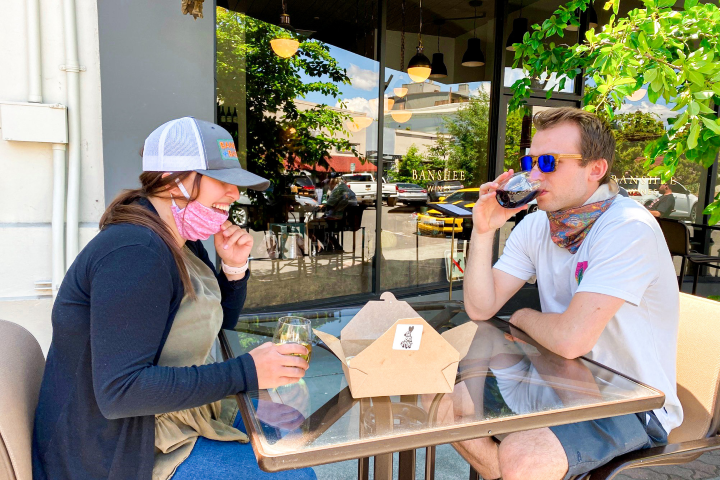 Banshee Wines tasting room in Healdsburg, California.
FFWS: How did you become a winemaker?
Alicia Sylvester (AS): I grew up in an almond-farming family, but we also had 20 acres of vineyards, so harvesting grapes has always been a part of my life. At Cal Poly, I majored in Agriculture Business and took on a minor in wine-related studies. I got hooked and never looked back. My roommates and I started wine tasting in Paso Robles on the weekends, developing our palates. I spent 10 weeks studying abroad in South Australia on all wine business-focused courses. Before graduation, I acquired my first harvest enologist position at Provenance in Napa and I vividly remember driving to my first day on the job, winding through the Valley, in awe of the beauty and its differences from the Central Valley and the Central Coast. I was met by the assistant winemaker, given a tour and tasting, and that was it—my mind was blown, and I knew right then and there that being a winemaker is what I would do for the rest of my life!
FFWS: Tell us about some of your mentors and how they've impacted your winemaking life.
AS: Having great mentors is very important in all industries but especially in our very small wine industry. I will never forget the lessons on sustainability that Tom Rinaldi taught me. As the Senior Winemaker at Provenance, Rinaldi was inevitably the one dumpster-diving to ensure recycling and trash were correctly separated! No job too small!
From Chris Cooney, I learned that attention to detail is critical in good winemaking. When filling new barrels, if I let even one or two drops of wine on each barrel, that was one or two drops too many! In Italy, I was the padawan and my winemaker Lorenzo Misciattelli Mocenigo Soranzo, the Jedi Master. It was my second harvest and I'll always remember the difficulties of owning and managing a castle, winery, vineyard, various agriculture crops, cattle, tasting room, and agriturismo. If you don't have the passion and drive; you aren't going to make it.
Working with David Drake at Lancaster Estate has helped me to stop and smell the flowers. "This is Sonoma County" he would say, insinuating the calmer, more relaxed vibe Sonoma County has to offer. We've been in the epicenter of a few large forest fires over the past years. It is something we don't much control over, and as winemakers, we typically like to be completely in control! So, these days, I take the "David Drake" approach and stay calm. Our lives and well-being are more important in the end.
Finally, when learning how to make Chardonnay at Sonoma Cutrer, Cara Morrison has always been an inspiration. Her drive for experimentation is crazy cool; we can never stop improving our wines! And being part of the planning committee for the Napa/Sonoma Women for WineSense, Winemaker's and Viticulture Roundtable, we have a group of solid strong women who I feel I can reach out for advice in any situation.
FFWS: It seems you've been focused on Bordeaux varieties, having made wine at Lancaster and Merus, and now that you're at Banshee your world must be expanding in terms of grape varieties and styles.
AS: Banshee is all about Pinot Noir. I have tasted lots of Pinots from all over the world and now I get the opportunity to make it in one of the best growing regions in the world. It's an exciting challenge that I'm ready to tackle. Bordeaux varieties are hardier grapes, while Pinot is more delicate, with more natural acidity, and prefers less new oak in terms of aging. Banshee has a wide range of grapes to play with, from sites in the Russian River Valley to Carneros—and some of our DTC (direct to consumer and wine club or tasting room only wines) are made from single vineyard sources, and some are only about four barrels. Very exciting!
FFWS: Giving us the 3,000-foot view, how would you characterize the style of wines being made at Banshee?
AS: Banshee strives to not be your "typical" wines. We are fun, relaxed, a bit different, and want the wines to reflect those values. We want our consumers to be able to have conversations about the wine every time they revisit the glass. Not just the typical "smells like wine" but more like "ooh, what's that?!"

FFWS: For any FFWS members new to Banshee where would you suggest they begin? For longtime Banshee fans, what would you say is the most out-there bottle to try next?
AS: If you are new to Banshee I'd suggest starting with our flagship Sonoma County Pinot Noir. If you're a long-time Banshee devotee, I would suggest trying out the Mordecai Red Blend or the Sullivan Pinot Noir from Sonoma Mountain. For all those Foley Food & Wine Society white wine drinkers out there—heads up! I'm currently blending the 2019 Sonoma County Chardonnay; so be on the lookout for its release. The Heintz Vineyard and Bohemian Vineyard Chardonnays should hold you over until then…and now it's time for some wine because my mouth is watering!