Follow these tips for creating the ideal cheese board that is heavy on flavor but light on carbs
If you received our Holiday Gift Catalog, you're already familiar with the cheese board pictured above. If you're seeing it for the first time, welcome. We're about to deconstruct it for you and, of course, recommend some wines to pair with those fabulous cheeses.
Cheese boards are easily prepared ahead of time, making them ideal for hors d'oeuvres to pair with your wine selections. If your version of entertaining includes a welcome bar cart, make room on that cart for the cheese board. If not, make the cheese board the centerpiece of your holiday entertaining table—guests will return to those cheeses all night long, which will make for a welcome snack for those who can't get enough.
A rule of thumb we're sticking to this year is—to keep it simple. For many households, the idea of entertaining again is new and exciting. But instead of overdoing it, keep focused on the idea of reconnecting with family and friends and celebrating the simple act of getting together.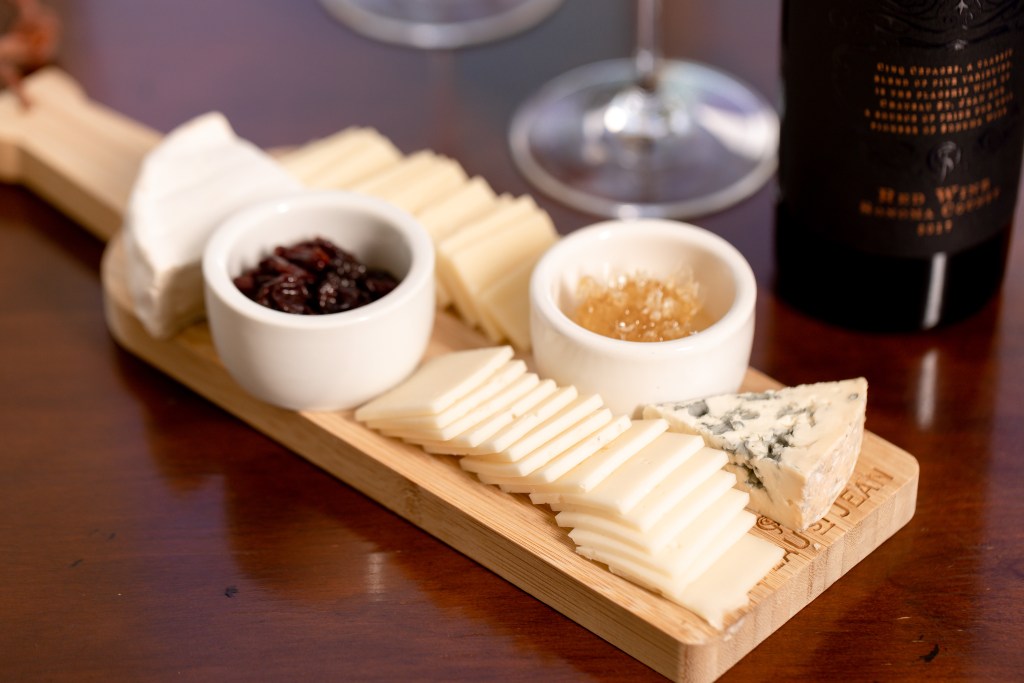 To that end, the ticket to crafting a simple, perfect cheese board that hits all the marks involves selecting 2-3 cheeses, working in fresh fruit, nuts, charcuterie, and perhaps a decadent plate of honeycomb.
As for the cheeses, pick a semi-soft and hard cheese (for some great cheese ideas, read our interview with Point Reyes Farmstead Cheese Co) Both can be sliced up and picked up with fingers — and if you skip the bread and crackers, guests won't fill up on non-essential carbs. With fruit, sliced apples or figs make for a welcome, cleaning bite, and figs in particular with their fleshy, nutty undertones tend to elevate just about any bite of cheese. Sprinkling around the board some dried nuts like apricots or cherries is not only festive and decorative but some dry-fruit fanatics will be thankful. Nuts should be plain and simple—nothing over-salted or honeyed. Stick with almonds or walnuts or pecans. Your charcuterie selection could also be simple—a firm, hard salami, sliced thin and piled in the center. And having honeycomb available is always a mouthwatering treat. Decorative accents of fresh-picked rosemary or thyme, or even edible flowers add a nice touch to the entire presentation.
Consider preparing one large cheese board, or two smaller identical boards and spacing them out at different ends of the tables or locations in your home.
Now for the wine. Here's how you're going to score a big win with guests: place bottles of wine near or around the cheese boards. If you've got extra serving trays, set bottles out on the trays, and if you've got ice buckets, fill them up and set them on a covered surface, and make them readily available for self-pours.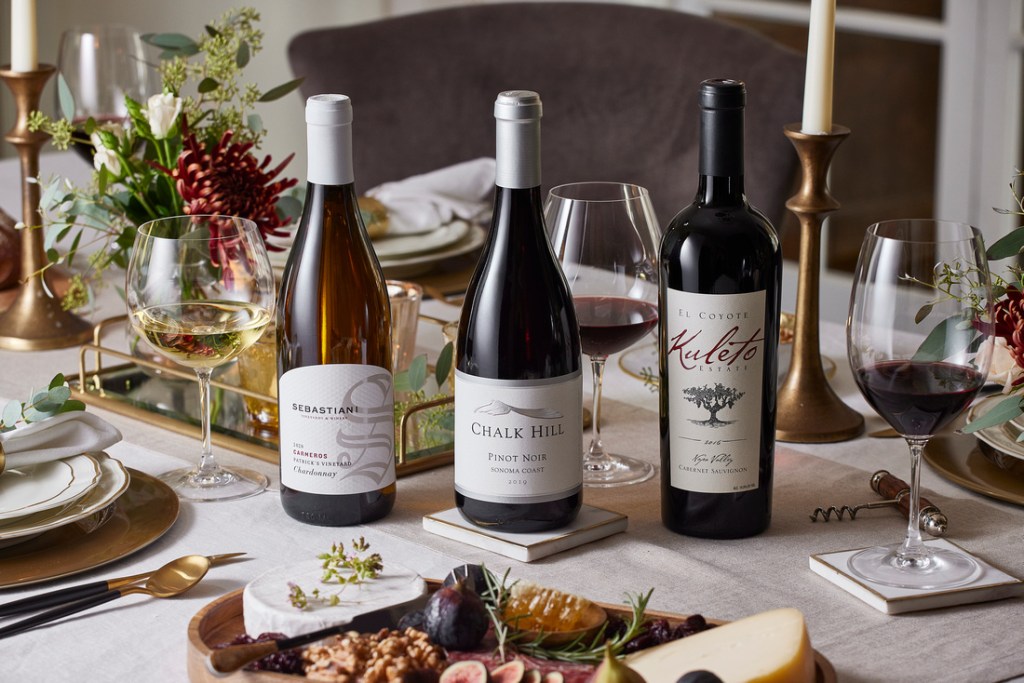 This season, we're popping corks on Chalk Hill Pinot Noir, Sebastiani Chardonnay, and Kuleto Estate Cabernet—all featured in our Perfect Pairings set. It's the kind of trio that will ensure everyone gets a glass of something they love.